The fight against cholera in Haiti
The British Government and Oxfam are helping to tackle Haiti's desperate lack of water and sanitation facilities – to help put a stop to the deadly disease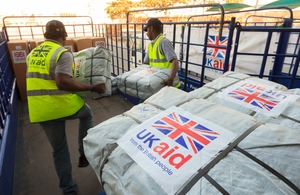 In October 2010, cholera broke out in Haiti and it quickly became the most critical health challenge the country faced since January's earthquake.
By the end of November, cholera had already sent more than 34,000 people to hospital and killed more than 1,750 across the country. By the end of December, 3,333 people had died from the disease with almost 150,000 hospitalised.
Cholera has now reached every province in the country, aided in its rapid spread by Haiti's poor infrastructure: 50% of Haitians don't have access to clean water, and more than 80% don't have latrines.
International Development Secretary Andrew Mitchell announced that, working with Oxfam, Britain would send trained medical staff and emergency supplies to Haiti, plus supplies of clean water and latrines to 340,000 people in Northern Haiti.
Latrines and boreholes
Local volunteers are helping to build some 700 latrines in the Petite Riviere area of the Artibonite province, the rice-growing region where the deadly waterborne disease first emerged.
The latrines are part of a multi-pronged effort which includes a public health education campaign to spread the word to 125,000 people in the area.
Oxfam is also tackling the outbreak in Cap Haitien, Haiti's second largest city, and in Port-au-Prince, the capital.
Along with the household latrines in Petite Riviere and the construction of 50 school latrines, Oxfam is planning to drill 50 boreholes to be fitted with hand pumps, and repair three water networks to provide people with greater access to clean water.
Careful talk saves lives
But as important as those initiatives are, stopping cholera requires education - how to prevent it and how to treat it.
Coordinating with the Haitian ministry of health, Oxfam has taken to the airwaves across Artibonite, broadcasting information on how to prevent cholera.
It has trained government community health workers as well as people from the community on key messages and they are fanning out across the country.
Health promoters are trekking through fields and across canals, sharing vital information with farmers as they work.
'I've always been careful'
Sixty-four-year-old farmer Altagrace Nicolas (pictured) lives with three of her six children in Akacite in Artibonite province. She grows spinach, okra, rice and peas for a living.
Altagrace recently received an Oxfam-supported latrine and visits from health workers. Oxfam is providing materials (wooden walls, roof, framing, and latrine cover), while families contribute by digging and assembling them.
She gets her washing water from a nearby well, or she goes down to a canal of the Artibonite River to fetch it. But for drinking water she goes to the town of Petite Riviere, or travels further to another town where it is free.
She brings home two buckets full on her horse, and usually she goes every other day to get it.
 "Oxfam told us to put aquatabs in the water and how to wash our hands," she says.
"And they told us not to put any containers in the water. You have to have somebody pour it for you when you wash your hands. They told us not to wipe our hands but to shake them."
When she first heard about the cholera outbreak, she says she wasn't scared because "I've always been careful with myself and my children."
"I've never been negligent. The reason it spread in some places is because people were not careful."
Oxfam will continue to work in communities in the coming months, helping to improve sanitation, and providing clean water and hygiene education.
Facts and stats
The UK Government provided Oxfam with a £1.9 million grant to supply 340,000 people with clean water and latrines in Northern Haiti.
Oxfam is targeting 249,000 people in Artibonite, 125,000 of whom are in Petite Riviere.
Oxfam is targeting 365,000 people in Cap Haitien.
Published 7 January 2011