Case study
Syrian refugees in Jordan
How UK aid is helping those who have fled the violence in Syria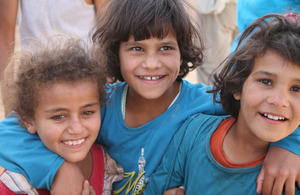 Since the violence in Syria began, hundreds of thousands of people have left their homes in Syria and fled to Jordan, Turkey, Lebanon and Iraq.
Over 516,000 refugees are now registered or awaiting registration, and over a hundred thousand more believed to be living unregistered in Jordan alone.
Safe from harm: Syrian refugees in a "child friendly space" at Za'atari Camp in Jordan. Picture: UNICEF
A critical humanitarian situation
Jordan is now hosting almost 150,000 refugees, some living in camps along the border, and the majority living in rented accommodation in host communities. As we witness the beginnings of a protracted crisis in Syria, the needs of those affected are growing ever more critical. As Liz Hughes, DFID's humanitarian advisor for Jordan and Iraq, mentions in her podcast, people are arriving in an increasingly poor state, and those who have been situated in Jordan for an extended period of time are running out of the savings they came with:
"In urban areas it's difficult [to ensure refugees are prepared for winter] because people are living in rented accommodation. A recent survey by one NGO indicated the 80% of the people they surveyed did not have the means of heating in their houses"
Listen to Liz's podcast from Jordan
Preparing for winter
The UK's first priority for Syrian refugees is to meet critical needs, and we are providing life-saving food, water and medical supplies to tens of thousands of refugees in Jordan. At the moment, the urgent need is to ensure that people are prepared for the freezing winter months ahead. Refugees are living in tents, and in rented accommodation which they cannot afford to heat or weatherproof. We are providing blankets, warm clothing and fuel to help people cope with the coming winter.
Child friendly spaces
Children, women and men arrive in Jordan having witnessed, and sometimes been subjected to, terrible violence. One of the agencies DFID is funding is UNICEF, which is helping refugees, especially children, to cope with trauma and stress through counselling and support techniques such as the 'Child Friendly Spaces' – safe spaces where children can play, learn and receive counselling among other things.
Hakim is a worker in 1 of Za'atari camp's Child Friendly Spaces. One of the techniques he learned with UNICEF's training is the 'heart contract'. A group of children choose their own rules or priorities together. Hakim says the children he works with have made such rules as "Love our families", "Don't fight" and "Respect our teachers."
"Now, when a child fights, I can show them the contract and remind them," he says. "It's made a big difference [in the children's behaviour]."
Read more about UNICEF's work in Jordan
Scaling up
Much more needs to be done, however, if the critical needs of Syrian refugees are to be met. The UN's appeal for Syrian refugees in the region, the Refugee Response Plan, is currently just 40% funded. Our humanitarian partners need further funding in order to scale up and meet the rising needs of Syrians crossing the border to safety.
Published 22 March 2013