Case study
Supporting pupils: managing poor behaviour
Saint Benedict Academy supports pupils who persistently misbehave in the turnaround centre and deals with poor behaviour consistently.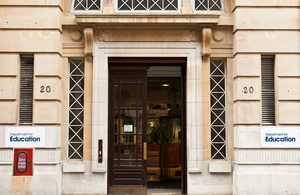 Saint Benedict Academy (Derby) is a Catholic school for 11- to 18-year-olds, which also welcomes pupils from other faiths. The school takes pupils from across the city, resulting in a diverse socioeconomic and ethnic mix. In November 2012, the school was rated by Ofsted as good in behaviour.
Turnaround centre
The school has a turnaround centre that offers a modified curriculum and behaviour management support to pupils who can't learn in mainstream school, frequently due to persistent disruptive behaviour. A pupil will usually spend a minimum of 6 weeks in the turnaround centre, depending on their need, with the aim of being reintegrated into mainstream school.
Pupils in the turnaround centre are monitored closely to ensure the intervention meets their specific needs. There is a daily written log, parents are contacted every week, and there are 3- and 6-week reviews to evaluate progress. When the pupil returns to the main school they are accompanied by a learning support assistant who supports their move back into mainstream school.
'C' system
The school also has a range of measures to tackle behaviour before it escalates into persistent poor behaviour. The school created the 'C' system to help staff consistently tackle behaviour:
| | |
| --- | --- |
| C1 means chance | This gives the pupil a chance to stop the behaviour and, if they do, nothing is recorded |
| C2 means choice | This means that the pupil chose to continue behaving badly and will receive a 30-minute detention during which the pupil and teacher will talk about the behaviour |
| C3 means consequence | This means that the pupil has continued to misbehave and will be removed from the classroom to the isolation room. The pupil will receive a 30-minute detention and a Friday after-school detention |
Published 25 March 2014