Case study
Success story: novel imaging system guides surgeons to cancers
Medical devices firm takes LightPath product on the journey from concept to marketplace in 3 years with the help of Innovate UK.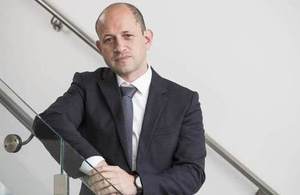 A Hertfordshire medical device company is launching a novel cancer-detecting imaging system on the European market after 3 years' intensive research and development.
The breakthrough for LightPoint Medical's first product, LightPath™, comes after it was launched at the European Cancer Congress in Vienna.
The innovation uses a science called Cerenkov luminescence. It relies on an imaging agent – a modified sugar – which emits a light signal when a cancer cell 'feeds' on it.
LightPath will help surgeons ensure they have removed all cancerous tissue while the patient is still on the operating table – without removing healthy tissue unnecessarily. It is the first molecular imaging device to be used in this way.
Traditionally, surgeons have relied on look and feel to identify residual cancer during surgery. In 25 per cent of breast cancer cases, tests reveal later that they have not been able to remove all cancerous cells and must operate again.
Critical support
Chief executive officer David Tuch set up the business on his own in 2012 and sought funding from Innovate UK, firstly to establish there was a market for his innovation and to prove the concept.
With nearly £1.5 million support provided at different stages of the company's innovation development, including from the Smart programme, Lightpoint Medical has been able to develop the innovation into a product, grow the company and attract private investment. David said:
Innovate UK provided 2 ways for us to overcome hurdles. The first, critically, was financial support. The second was the technical validation that provided a strong signal to investors on the feasibility for matched funding. Innovate UK has also been instrumental in introducing us to the broader innovation ecosystem.
Growth sets scene for LightPath success
LightPoint now employs 16 people at its Rickmansworth headquarters. There is also a Boston-based subsidiary in the US, where they expect to launch LightPath™ in 2016.
Earlier this year the company raised £2 million in a Series A financing round. Investors included Oxford Technology and business angel networks Cambridge Capital Group, London Business Angels, Envestors, Ruffena Capital, and crowdfunding platform SyndicateRoom. David added:
The UK is a fantastic place for early-stage medical device commercialisation, with the support of Innovate UK, a very sophisticated early-stage investment community, access to European markets and lower regulatory requirements compared to the US.
Published 30 September 2015