Case study
Success story: magnetics offer a safer future in cancer care
Innovate UK's Future Health Mission paved the way for Endomag to venture into US health market with radiation-free cancer tracing system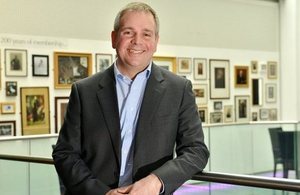 The fight against cancer has gained a new, safer diagnostic weapon – thanks to Sentimag, Endomag's nanoscale magnetic tracer system.
With the help of Innovate UK funding, Cambridge-based Endomag is now a significant leader in its field.
It wasn't always that way, as the company's chief executive Dr Eric Mayes explains: "In the early days I used to carry the 'office' around with me in my laptop bag, but it was okay because I was the only full-time employee."
How times have changed. Looking out from Endomag's new headquarters in Cambridge, Mayes notes: "We have maintained triple-digit revenue growth over the past three years and our revenues exceeded £2.5 million for the year ending April 2015.
"But what has been particularly meaningful for us is that we've grown a really creative and productive team and now have more than 200 Sentimag systems used across Europe, the Middle East and Australia."
Future Health mission to California
In 2009 Endomag received a grant of £275,000 from Innovate UK towards total project costs of £800,000 for a collaborative R&D project to develop a safe and convenient alternative to traditional cancer treatment.
With further funding from venture capitalists, the team set out to magnetically locate lymph nodes to determine the spread of cancer, without the need for radioisotopes. It means that clinicians can use safe, magnetic fields to power diagnostic and therapeutic devices, avoiding concerns around the safety, workflow and availability of ionising radiation.
After a couple of years' development and testing, Endomag secured a CE mark for its Sentimag instrument at the end of 2010. Mayes adds:
Without Innovate UK it would never have got off the ground. It would still have been in the lab.
But it wasn't just the money that helped us. Through Innovate UK we were invited on a Future Health Mission in 2011 to California. We went with other small companies from Britain involved in everything from artificial bone regeneration, to fluids that keep transplant organs safe, and digital patient record systems. During that Mission, we were able to develop a relationship with the University of California, San Francisco that now leads our US pivotal trial.
Endomag also successfully applied for a Biomedical Catalyst grant, which resulted in a trial to determine whether patients with malignant melanoma could benefit from its magnetic tracer system. Mayes explained:
Even though we are generating sales now, our resources are balanced towards sales growth. The thing about Innovate UK is that it has helped us leverage our development resources to do so much more.
Today Sentimag and its companion tracer, Sienna+, have been used to treat more than 6,000 breast cancer patients. In the US, it has investigational approval from the Food and Drug Administration and a pivotal trial is under way at 6 sites across the US. It is expected to be completed later this year.
The underlying technology is now being applied to develop new, more advanced laparoscopic and endoscopic probes for other types of cancer, including melanoma, prostate, bladder, thyroid, colon and cervical.
2015 is certainly proving to be an exciting year in the company's history, with Endomag also a finalist of the prestigious MacRobert Award from the Royal Academy of Engineering.
Published 13 July 2015
Last updated 5 August 2015
+ show all updates
Links corrected
First published.