Case study
Success story: informatics holds clue to 21st century health care
Innovate UK funding helps Aridhia to develop a cloud-based data science platform that can transform treatment for chronic diseases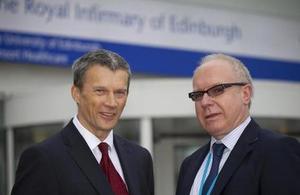 A pioneering health informatics company in Scotland is promising to revolutionise the way data and analytics is used to manage chronic disease and to accelerate collaborative research.
Aridhia Informatics has developed a secure, cloud-based data science platform, AnalytiXagility. It was launched in 2014 for use by healthcare providers, academics and life science organisations.
It enables them to pool, interrogate, analyse, and transform data from large or complex, anonymised datasets, enabling the transfer of knowledge from clinical research to clinical practice.
Researchers, along with precision medicine and integrated care teams, can access it in the UK through the government's G-Cloud initiative.
AnalytiXagility is one of several products to have been developed with the help of £1 million match-funding from Innovate UK through DECIPHER Health (The Dundee Edinburgh Cancer Informatics Programme: Harnessing Excellent Research).
Having emerged from R&D phase to become a fully-fledged commercial business, Aridhia is now setting its sights on the global market. Fellow Scottish health tech company Craneware is one of its partners in the US.
Aridhia has also been involved with 53 organisations and institutions in 6 proposals for Horizon 2020 funding, offering AnalytiXagility in a number of guises. They range from providing the data science platform for a collaboration to helping collaborative research teams to develop innovative decision support systems, analytical models and clinical apps.
Skills and knowledge
As a result, Aridhia is embarking on a 48-month project, aiming to develop and compare new models for safe and efficient health and care systems.
Closer to home, the company has begun work with a multi-disciplinary team of clinicians, service managers and ICT staff to deliver an application for interactive renal cancer pathway visualisation across hospital trusts in London.
Innovate UK became involved with Aridhia when the company needed to bring together a complex mix of skills and knowledge to pursue its ambitious informatics project.
It was the first project of its kind. It involved academics, the NHS and industry working together to create a comprehensive store of information services and expertise that could open up new possibilities for cancer research.
David Sibbald, co-founder and executive chairman of Aridhia, said: "The DECIPHER Health project was a unique opportunity to accelerate the development of an informatics platform to support next-generation cancer research and move towards personalised genetic medicine. We were only able to pursue it thanks to a £1 million investment from Innovate UK – matched by ourselves.
Without Innovate UK it would never have got off the ground, not just because of the money, but because of the way they brought together the right blend of skills – clinicians, software experts, data scientists, and academic researchers – from each of the partner organisations.
Aridhia's vision is to be a world leader in supporting the management of chronic diseases, stratified medicine and biomedical research through the use of biomedical informatics and analytics.
Newly appointed chief executive Chris Roche leads a workforce of 60 employees. They include data scientists, information governance specialists, computer scientists, software developers and healthcare experts. He said:
We've enabled research and clinical healthcare delivery teams from a wide variety of disease types including; diabetes, traumatic brain injury, multiple sclerosis and ovarian cancer, to name just a few. The breadth of data we are now processing includes genomic, clinical, imaging, sensor-generated and waveform data from bedside monitors.
The two men share a strong vision for the future: "We want to bring healthcare into the 21st century, grow a successful company in Scotland that exports solutions, and brings the benefits back to the UK. With the help of Innovate UK we're achieving that dream," said David.
Published 27 July 2015