Case study
Shopitize rolls out globally
UKTI support has helped technology firm Shopitize to a projected 900% increase in business.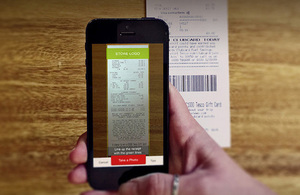 UK Trade and Investment (UKTI) support for Shopitize has helped this high growth technology business expand into the international advertising technology market.
In 2014, the company achieved revenues of over £250,000. As its exports grow, this is set to increase by 900% to a predicted £2.25 million in 2015.
Innovation
Shopitize is a unique mobile app that allows brands to reward shoppers for buying their products.
The brands then use the data provided to analyse consumer shopping behaviour, without having to rely on retailers.
International appeal
Looking to explore overseas opportunities, Shopitize joined UKTI's Passport to Export programme followed by a digital trade mission to New York. Over the course of 5 days, the team had 21 meetings and met a number of investors.
They also met with potential partners, including one of the biggest media corporations in the world which is looking for mobile distribution models to increase its advertising revenues.
The visit was also an opportunity for Carl Engelmarc, General Manager of Shopitize, to spend time with Neil DeFeo, CEO and Chairman of Sun Products Corp and pique his interest in the company. He is now part of Shopitize, leading the company's entry into the US.
Shopitize joined another UKTI mission, with London Lord Mayor Boris Johnson, to Singapore, Malaysia and Indonesia. The company plans to launch in these markets next year.
Carl Engelmarc, General Manager of Shopitize, said:
UKTI allowed us to make the most of our time in New York, this really triggered our US expansion.

Since then, we have been in touch with UKTI's teams in New York, San Francisco, Houston and Atlanta. It's really reassuring to know that they are there if we need anything.
Australian expansion
When a joint venture opportunity arose in Australia, Shopitize contacted the UKTI team in Sydney for advice on how to launch locally and introductions to potential partners in a range of sectors.
Since incorporating in Australia, the company has appointed a managing director with strong contacts through which to grow the business.
Carl added:
UKTI has been instrumental in getting us moving internationally and we are now expecting revenues of around £2 million from the UK, US and Australia in 2016.

UKTI's support has set us on the trajectory to making this happen.
Shopitize
Shopitize has 18 staff based at its offices in London, 1 in Australia and 2 in the US.
Since it was launched in London in 2012, Shopitize has been picked up by more than 20 UK consumer brands, including Danone, Budvar and Pfizer and retailers.
The company is currently working with PepsiCo on its flagship UK campaign to promote Walkers Crisps - a huge coup showing that a leading marketing brand is prepared to invest in its app.
Fast facts
Published 1 July 2015