Case study
Rise to the Top: hands-on apprenticeship provides a solid career foundation
Will Robinson is a first year mechanical engineering apprentice at the Defence Science and Technology Laboratory (Dstl).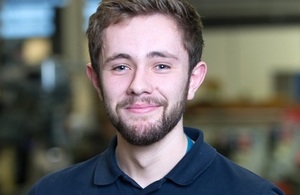 "I chose to join an apprenticeship scheme because I am a hands on person. University did not feel like the right route for me, the practical side of engineering is more exciting!
The Defence Science and Technology Laboratory (Dstl) apprenticeship scheme is highly rated; providing a solid foundation for a career in engineering. The pay is also competitive, with a good pension and other incentives. I had prior engineering experience before joining; however during my time at Dstl I have been able to expand on these skills, learning more advanced milling techniques and multiple welding methods.
My two week placement in the engineering workshop at Dstl earlier this year was great! I learnt how to weld in several different ways, including metal inert gas (MIG), tungsten inert gas (TIG) and manual metal arc (MMA). Welding is a skill that will prove valuable in the future, and will also come in handy outside of work too!
After my apprenticeship I hope to continue my career with Dstl, potentially working with vehicles, and will also look to become a chartered engineer to further support my development."
Published 16 March 2016