Case study
National Apprenticeship Week case study - Fay
Read Fay's inspiring story to become an engineering apprentice at Dstl.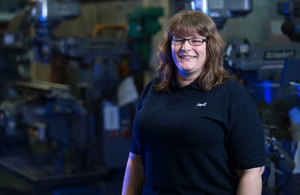 A book I read on holiday said you'd find the perfect job for you by thinking about when you were happiest and turning it into a career. Well, I was happiest working in the garage with my Dad repairing a beat up Vauxhall Viva we affectionately called the flintstone mobile because of the hole in the floor under the pedals. I never believed I could be an Engineer, sadly, I laughed, it was impossible, girls don't do engineering, but they do.
I started an applied biological science degree, completing the first year, I left with a student loan, it wasn't for me. So I swapped my degree for family and home life. Five children and 19 years later, having kept myself busy with part time college courses, voluntary work and various jobs, my life was going well. Money I'd saved was going to pay for new doors, right up until I was enrolling my son at college and joked about wanting to do the course myself. I was surprised to be taken seriously, and I did it.
At 42, I have started an Engineering Apprenticeship at Defence Science Technology Laboratory and have just completed City & Guilds Level 2 Mechanical Engineering diploma, with distinction. Apprenticeships are as diverse as you are, believe it, there is one out there for you, I'd encourage anyone, seriously, follow your dreams because anything is possible if you believe.Then pinch yourself every morning, like I do.
Follow in Fay's footsteps and become an apprentice at Dstl. Apply now
Published 8 March 2017