Case study
National Apprenticeship Week case study - Jamie
Meet Jamie - a third year mechanical engineering apprentice at Dstl.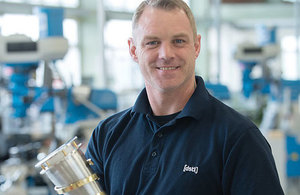 The decision to retrain as an engineer was not an easy one. I worked for many years in the construction industry so I had to take a large wage cut to do something that I've wanted to do since leaving school. I also live in Portsmouth, 50 miles away from Porton Down, so the cost of travelling featured highly in my budgeting plan. However, the opportunity was too good to miss, so the sacrifices have been worthwhile. I've now started my final year and beginning to produce work that I can use to finish my NVQ 3 Extended Diploma in mechanical engineering and achieve my EngTech qualification. After completing my technical certificate and associated exams at the end of year two I can now start to produce more technical, skill based products as the knowledge and skills, which I now have, allows me to do.
I particularly enjoy the fact that no two jobs are the same. During my apprenticeship I've been involved with every step of the process. Handing over a finished product that is well designed, manufactured and fit for purpose is enormously satisfying.
Of course, the fact that I get paid to enhance my future career prospects with a well-established, prestigious and ever developing company within the Civil Service is a massive bonus.
Apply now for a Dstl apprenticeship.
Published 10 March 2017