Case study
Randox: fighting global antimicrobial resistance
Northern Ireland company gains Industrial Strategy Challenge Fund support to develop technology that will help reduce unnecessary antibiotic use.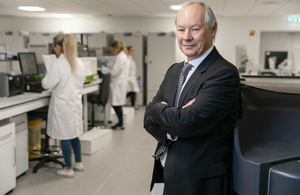 When people visit their doctor, they can't always get the treatment they need immediately due to the cost and time it takes to analyse and diagnose them. If it turns out they have a virus, this can't actually be treated by antibiotics.
Randox was set up in 1982 by Dr Peter FitzGerald with an aim to improve the speed and ease at which doctors can correctly identify an infection or disease using biochips, a type of microchip that allows multiple tests to be done on a single sample.
Its kits use DNA materials for genomic analysis across many different organisms at once. However, the current approach is not as efficient as it could be. It requires Randox to freeze-dry the molecular biology agents in its kits, and then send this to a specialist American company to turn into pellets.
Through a £700,000 Industrial Strategy Challenge Fund grant, Randox wants to bring this part of the manufacturing process to Northern Ireland.
The funding is part of the data to early diagnosis and precision medicine challenge, which will invest up to £210 million in industry and research to create new products and services for improved treatment in the UK.
Diagnosing patients faster and more accurately
The grant will allow Randox to further develop its freeze-drying technology. This will enable the diagnostic kits to be manufactured, stored and transported more effectively, producing better and speedier diagnoses.
Sending samples to a lab means it can take days before a patient receives their diagnosis. Using Randox's biochips – which test for ailments such as sepsis, sexually transmitted infections, and eventually meningitis – cuts the time down to within 5 hours.
Randox hopes to reduce this to an hour and a half in the near future, and in the long-term, to 20-30 minutes - vastly improving patient diagnosis and continuing the global fight against antimicrobial resistance.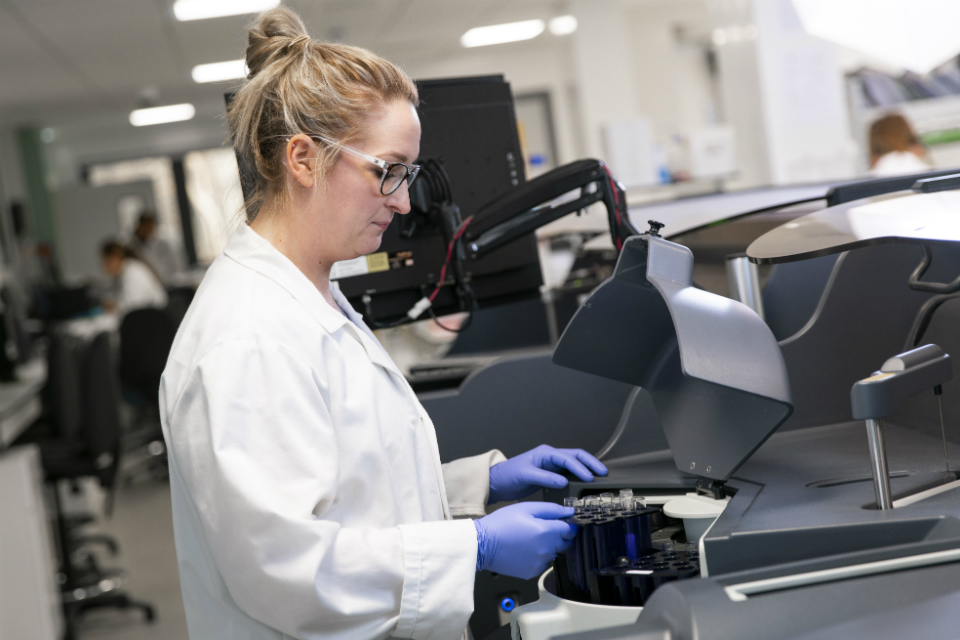 How the biochips work
Randox's biochips include enzymes and primers, which are little pieces of DNA.
They measure the DNA of different microorganisms, such as bacteria or viruses, that are present in a sample taken from a patient.
This DNA is then matched with what's on the biochip to identify the exact strain of infection or disease so that a health professional can make an informed decision about an effective treatment.
Dr FitzGerald explains:
If you have a respiratory infection, we can measure many different bacterial pathogens, so doctors would know what antibiotic you would need.

This is opposed to starting by prescribing amoxicillin (a type of antibiotic used to treat bacterial infections), then having to go back and try something else if it doesn't work. That causes antibiotic resistance.
Evolving technology
To improve the stability and shelf-life of Randox's product, the biochips' molecular biology agents are freeze-dried to remove moisture.
Dr FitzGerald says:
You basically evaporate the liquid at very low temperatures and pressures and in a controlled fashion so as not to destroy the material – just like coffee beans.
While Randox has the capability to freeze dry biology agents in-house, they've not put these materials into pellets before.
Doing this themselves would increase independence. It also, as Dr FitzGerald notes, means they would be able to offer this service to other companies, boosting its own business and the economy.
The molecular biology market is growing and the stronger our own manufacturing and innovation is, the better for the country.

You could argue that pandemics could occur, and the UK needs a capability to respond to things like that.
Published 4 January 2019