Case study
Pakistan: In school for the first time
Support from the UK government is helping children from poor and disadvantaged backgrounds in Sindh go to primary school and improve their life chances.
Eight-year-old Uzma is excited about the future. Thanks to support from the UK's Department for International Development (DFID) Uzma can attend school for the very first time and pursue her dream of becoming a doctor.
From housework to school work
Uzma hails from a very poor family in Gulzar Colony, a slum in Karachi, Pakistan. She is supported by her grandmother and brother - her mother died when she was a year old and her father is unable to work due to illness. Her 2 older sisters and brother have never been to school.
Uzma and her sisters help their grandmother to sell clothes while their brother works as a labourer.
"I used to get up early in the morning and help my grandmother bring water for the house from wells 4-5 km away, and then went to sell clothes on the streets. We managed to earn Rs 4,000 a month, which was used to cover all household expenses," said Uzma.
Uzma believes that an education will allow her to acquire knowledge and become a better human being.
"This support has allowed me to attend school for the first time without putting any burden on my family. Some of my friends are going as well. We are extremely excited to be learning about the world around us, pursuing our dreams and becoming better human beings. I want to become a doctor when I grow up so I can help people."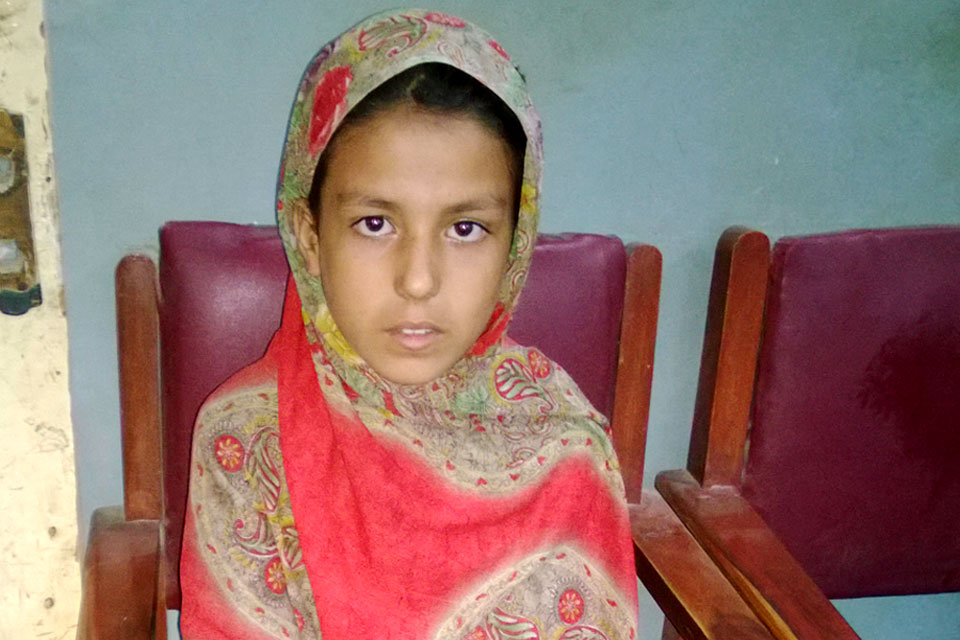 A platform to succeed
Uzma's grandmother Rukhsana Bibi believes this will mark a turning point – not only in the lives of these children but also their families.
"This support will allow these children to begin their education, which will provide them the platform to succeed in the future. I was not fortunate enough to attend school – but I am glad that my grandchildren will see that wonderful world."
Uzma is one of 34,500 children from the poorest areas of Sindh to attend school for the first time this year, thanks to UK support. This assistance will help a total of 199,000 children to complete 5 full years of primary school in the poorest areas of Karachi, Khairpur and Qambar Shahdadkot. These children are from the poorest families in Sindh, where the majority of children would otherwise be unable to attend school.
The UK's support will enable tens of thousands of the poorest and disadvantaged children in Sindh to gain literacy and numeracy skills, not only dramatically improving their life chances but also benefitting their families and communities as they get better jobs and earn more money.
Facts & stats
Pakistan is in an education emergency - more than 12 million children are not in school; half the adult population and two thirds of women can't read or write; and Pakistan's population of 180 million is expected to increase by half again in less than 40 years.
The UK is working closely with provincial governments and partners across Pakistan on ambitious plans which will benefit millions of children and improve the standard of their education.
Published 26 March 2014