North East manufacturers thrive on knowledge transfer programmes
Manufacturing firms boost their competitiveness through partnerships that exploit Northumbria academics' knowledge, technology and skills.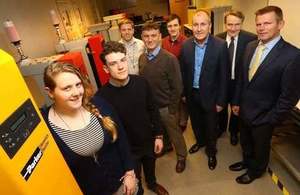 Northumbria University Knowledge Transfer Partnerships
Manufacturing businesses in the North East are reaping tangible rewards – and profits – from innovation programmes driven by Knowledge Transfer Partnerships at Northumbria University.
A customer-centred approach to innovation devised by academics at the university persuaded Parker Hannifin Manufacturing Ltd in Gateshead to give industrial clients a say in the how their gas separation and filtration products should look.
The business, part of a US-owned global engineering group, changed the design for the first time in 40 years and enjoyed an "overwhelming" response to the launch of the new product range at the Hannover Messe trade fair in Germany.
Increase in annual pre-tax profits
KTP programmes are part-funded by Innovate UK and encourage businesses to improve their competitiveness and productivity by drawing on the knowledge, technology and skills within UK universities.
Parker Hannifin (UK) estimates that the impact of their KTP will be to boost annual pre-tax profits by £1.5 million within three years.
The new approach was implemented over two years through to June 2016 by marketing graduate Ellie Jones and industrial designer Callum Whitehead. Both are now employed full-time by Parker Hannifin. Ellie, who is studying for a PhD in marketing at the university's Newcastle Business School, said:
I got to do my undergrad, get this amazing job started and then do a PhD part-time at the same time. It's the best opportunity I could have asked for.
Callum, who has a Masters degree from the Northumbria School of Design, added:
It's helped me out massively with my design skills, my work in industry and general experience.
The KTP has also helped to establish the gas separation and filtration facility at Gateshead as a 'thought leader' on product and marketing innovation within the business. Corporate HQ in Ohio has recognised several of the tools, methodologies and approaches as 'best practice'.
'Outstanding' for the quality of collaboration
Neil McPherson, marketing manager at Parker Hannifin in Gateshead, said:
Within the first year of these colleagues working in the business, they mapped out two or three significant opportunities… It's been a great experience working with the university and the Knowledge Transfer Partnership.
An independent panel of assessors from Innovate UK has rated this KTP 'outstanding' for the quality of the collaboration.
Matt Lievesley, Director of Engagement and Enterprise, School of Design, added:
Parker Hannifin is a really good example of where we've brought two disciplines together – from the Business School and Design School – and offered something that suits our region so well, because we've got a fantastic manufacturing base here in the North East.
Another KTP, also rated 'outstanding', led to Northumberland-based Multichem Ltd creating a new type of permanent ink that complies with international environmental and child safety regulations.
Queen's Award for Enterprise
The PP200 ink secured the biggest single order in the company's 43-year history, with monthly production at Multichem's Hexham plant rising by 20% as new business came in from Latin America and Asia. The company sells to 30 countries and has been awarded a Queen's Award for Enterprise.
Justin Perry, Professor of Chemistry, Northumbria's department of applied science, worked with chemistry researcher Dr Tom Winstanley, as the post-doctoral KTP associate, and the team at Multichem to improve knowledge of ink technology and lift product development capability within the firm.
Dr Winstanley, who has since become product development manager at Multichem, said.
Working with Professor Perry and Northumbria's applied sciences department allowed me to really advance my understanding of inks.
The sales which are predicted for 2017 are already exceeding our sales projections for five years' time, which is an incredible achievement.
Environmentally-friendly ink products
The KTP yielded other products too, including a bespoke ink additive, created using renewably sourced materials. Prospective customers in Latin America are already involved in production trials.
Multichem's managing director, Michael Nelson, said the impact of the KTP had exceeded their expectations, adding:
The knowledge transfer from this KTP has enabled us to position Multichem as a leading supplier of sophisticated and environmentally-friendly ink products.
We have significantly improved our in-house product development process which is now based on science-led, quantitative, robust, well-documented procedures.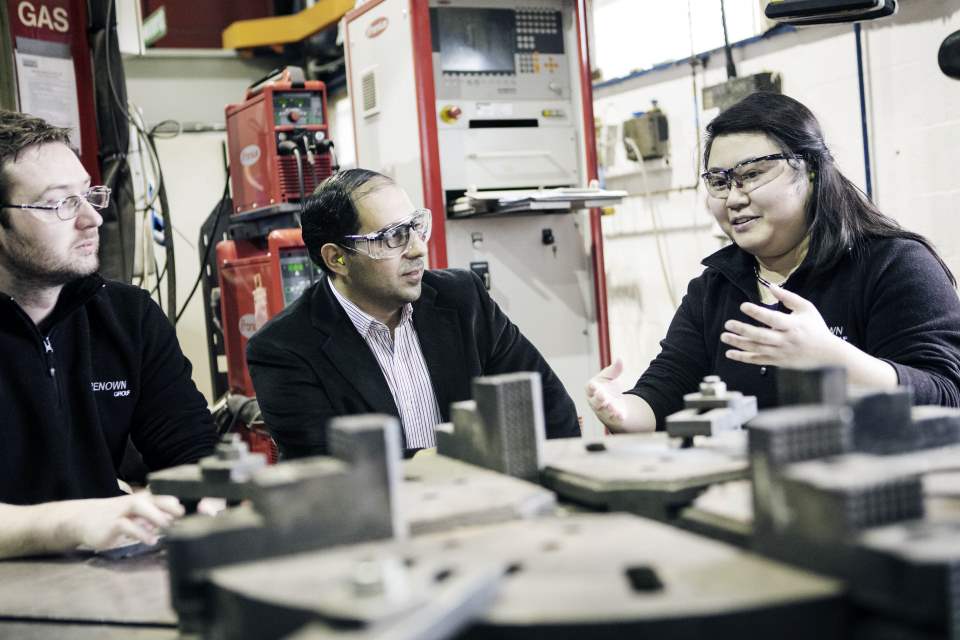 The associate on a third Northumbria University KTP with Renown Oil & Gas Ltd at Washington, Tyne & Wear is being taken on as a project engineer by the company.
Now nearing completion, the KTP set out to develop a bespoke manufacturing platform that would improve Renown's capability and capacity to fabricate components for offshore marine applications in extreme environments. This was specifically concerned with cladding and machining of steel/nickel super alloy stacks. It was led by Northumbria's Dr Islam Shyha, drawing on his research into advanced machining of composite and super-alloy materials.
The associate, Lydia Chan, along with KTP colleagues, has published two high-quality publications that provide insights into raw materials specification as well as advancing research knowledge in the field.
Tangible benefits to business growth
This is the third KTP that Northumbria has undertaken with Renown Group, all led by the company's managing director, John Hamilton, who said:
Academic knowledge and research has been helpful in our strategic thinking and planning, and the KTPs continue to deliver tangible benefits to the growth of the business
Professor George Marston, Northumbria's Pro Vice Chancellor for Research and Innovation, added:
Our KTP Associates are highly-skilled university staff, spearheading challenging projects in business settings which result in measurable impact for both companies and university - and they can look forward to employment as business leaders of the future.
Published 17 March 2017