Case study
Micro-turbine charger boosts market appeal of electric vehicles
Innovate UK backs Silverstone company's range-extending technology, already sparking interest from car manufacturers around the world.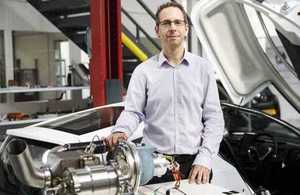 Opening up the road to long-distance journeys
Delta Motorsport micro turbine range extender
A company based next to the home of British motor racing at Silverstone is attracting interest as far afield as China with low-cost micro-turbine technology that can help electric cars match petrol or diesel-powered equivalents for range.
It's the holy grail of electric vehicle (EV) development, to allow users to plan longer journeys without worrying about finding a charging point – or worse, running out of juice.
Delta Motorsport has developed its MiTRE (Micro Turbine Range Extender) in a collaborative R&D project supported by Innovate UK, which had funded an earlier feasibility study, and the Office for Low Emission Vehicles.
The device features small, lightweight turbo-machinery attached to an electric generator, which keeps the battery pack charged up or at least slows the power drain. Suddenly, an EV is no longer just a runabout restricted to 100 miles or so between recharging.
Potential partners in China
Engineering Director Nick Carpenter has recently been in China talking to potential partners, who then spent a week at Silverstone Technology Park taking a closer look at Delta's technology. European vehicle manufacturers and their Tier 1 suppliers are also showing interest.
Nick and his co-founder, Managing Director Simon Dowson, originally offered a range of engineering services to motorsport teams when they set up Delta in 2005. Within three years, however, they were exploring hybrid vehicle technologies, as Nick explained:
Whether it was arrogance, naivety or optimism, I don't know, but we said: 'Let's turn this into a car and see where we get'.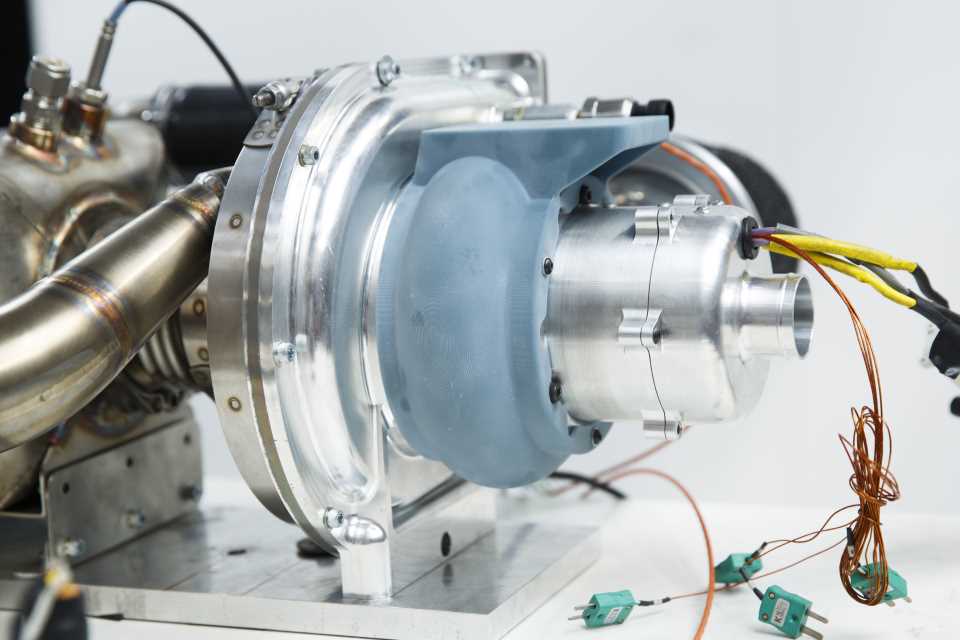 In 2009 they won a grant from East Midlands Development Agency to part-fund the build of an all-new electric passenger car, the E-4 Coupe. Innovate UK then picked up the baton through the LCV Demonstrator programme which supported the build of four more E-4s and their demonstration on public roads.
Consultancy work for Jaguar Land Rover
That led on to Delta's first substantial project for a road car manufacturer, designing the battery pack and helping to develop the composite chassis and rear frame on Jaguar's hybrid sports car project, the C-X75.
That was really the start of an ongoing relationship with Jaguar Land Rover, doing paid consultancy project work as well as hooking up on Innovate UK R&D programmes, including Evoque-E where we took more responsibility as the project developed.
Having had help from Innovate UK to explore other low carbon vehicle technologies, such as bio-composite structures, hydrogen storage and battery packs, Nick sees MiTRE as Delta's opportunity to generate a really high-volume product.
Delta is working closely with British sports car manufacturers Morgan and Ariel, with ambitions to be a Tier 1 supplier in that niche sector. The company is also developing a 35kW device for larger vehicles through Innovate UK's HIPERCAR programme.
Self-funded growth
All this activity means that over the next few weeks 4 more staff will join the 20 employees already on the payroll. Nick is proud that they have grown the business without the need for any external investment to date.
We're perhaps getting close to that in terms of getting MiTRE to market but we're trying not to. We're fiercely independent.
We've got some Chinese interest, keen to put a joint venture together. That's one possibility but we've got European-based Tier 1 suppliers and vehicle manufacturers interested too. We have to decide soon whether we take some investment and go into production ourselves or partner up and share the existing IP.
The experience of working on so many Innovate UK programmes has paid off "massively" in building productive relationships within the automotive supply chain, according to Nick.
My biggest message as a small business to anyone considering an R&D project like that is: just do it. It's a fantastic opportunity to show the bigger companies who you are and what makes you tick.
Published 14 September 2016