Market women secure a decent trade in Ghana
A UK aid funded scheme helps women in a Ghanaian market organise fair taxation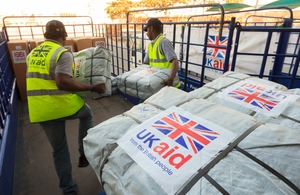 Cynthia Mensah is a working mother living in the Brong Ahafo region of Ghana. Like most working mums Cynthia's day starts early, she gets up at 5.00am to prepare her children for school and then makes her way to work for 7.30am.
Cynthia owns her own stall at the local market, using a wholesale depot to secure goods on credit so she can sell cooking oil, tomato paste and spices.
But Cynthia does not just work as a trader; she is also the president of the 1,500-member Brong Ahafo market women's association. As president she takes time during her day to address the concerns of women working in the market. Their concerns range from health and sanitation issues within the market, to security and tax liabilities.
Pressured into payments
Thanks to a scheme funded by UK aid from the Department for International Development (DFID), Cynthia and the women of the Brong Ahafo market have recently improved their working conditions.
DFID contributed £2.5 million to the Business Associations Challenge Fund (BUSAC), a grant mechanism which empowers people to lobby their local, regional and national authorities to improve their business environment.
Previously the association members found it difficult to earn a living from their stalls due to regular visits from tax officials. The officials asked for payment of fees and taxes from the women but the taxes were often unrelated to their income or profits and the officials gave confusing advice.
"The level of tax and the way it was being collected meant that I was often unable to provide a roof over my children's head, pay for their education and sometime even feed them," says Cynthia.
Most of the market women, including Cynthia, are illiterate. With no access to reliable tax guidance they were often pressured into making unnecessary payments. This constant demand on their income prompted many of the women to hide when the tax officials arrived at the market.
Campaigning and book keeping
In 2008, Cynthia and the market women's association succesfully applied for a BUSAC grant which allowed them to campaign for a better tax system for all market women. They met with the tax authorities, who were very receptive and actively reviewed their recommendations.
It was agreed that the market women would learn book keeping and show their profits at the end of each month. This means that the women can be taxed based on their reported incomes. For those women unable to maintain accounts, a flat rate was agreed, which would be collected at a set time during the year.
Providing for their children
With assured incomes Cynthia and the market women are able to plan ahead, expand their businesses, generate more jobs and ensure that their children can get an education.
"When people make their own money they can build better lives," says Cynthia.
"My business and that of other women in the market is better because we spoke up and took action about our concerns. Some of us are expanding our business and with stable incomes we are also now in the position to provide for our families." 
The market women's group is not the only BUSAC success story. Since it launched in 2005, the fund has supported 360 associations, most of which are poor groups made up of rural farmers and traders.
Facts and stats
BUSAC aims to support the growth of a competitive private sector in Ghana.
Grants are allocated to private sector business associations seeking to influence public policy formulation, usually at the local level.
BUSAC grants are available through a competitive and transparent selection process.
DFID, DANIDA the Danish development ministry, and USAID supported the fund until December 2009. BUSAC-2 is being taken forward by DANIDA.
Published 21 September 2010