Case study
Kenya: Maternal and Newborn Health
How UK aid is saving lives through enhanced health workers skills on emergency maternal and newborn care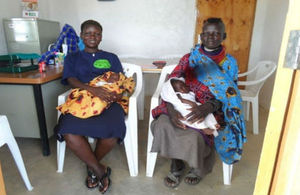 Ebei Eyapan is a 38-year old mother of seven children. Thanks to support from UK aid from the Department for International Development (DFID) she is the proud mother of twins who were delivered safely and are in good health.
Ebei lives in Turkana County, one of the poorest counties in Kenya with poor infrastructure, high fertility and a nomadic population. She delivered five of her children at home but her last pregnancy with twins was affected by obstetric complications in the third month.
I noted that this pregnancy was different compared to the previous pregnancies as all of my body was aching and I could not sleep, sit down and even walk properly," she says.
Taking her husband's advice to go to a health facility, she sought medical advice at the nearest health centre. Tilda, the nurse in charge, discovered that Ebei was carrying twins and she would also require close monitoring as one of the babies was not positioned well.
Life-saving healthcare
Tilda is one of 65 health workers in Turkana who have received Basic Emergency Obstetric and Neo-natal Care (BeMONC) training. The training is part of UK aid's five-year maternal and newborn health (MNH) programme designed to help prevent the deaths of mothers and babies in Kenya by increasing access to quality health services. The programme supports Kenyan counties to provide more skilled birth attendants and improve the quality of delivery care at birth. The programme also works with communities to create better understanding of what they can expect from health services and increase their demand for good services.
After six hours of labour, Ebei was escorted by two friends to the health centre. Nurse Tilda confirmed that one of the twins was in breech position and because of the training she received, was able to deliver both babies safely.
This was the first breech delivery that I have conducted in the health facility thanks to knowledge and skills I gained from the training. Before the training, we used to refer such cases to the county hospital in Lodwar, which is a 2-hour drive away," Tilda says.
Home vs. Hospital delivery
With her twins now home, Ebei is grateful for the life-saving medical care she received.
Hospital delivery is not as painful as home delivery. I appreciate the nurses' help because were it not for them my life would have been in danger," she says. "In case of any other pregnancy I will go to the hospital because if there is any complication or infection the nurses will assist and give the correct advice and medication.
The UK's support will improve the coverage and quality of maternal and newborn child health services across Kenya by training health care workers in important lifesaving skills, ensuring that mothers like Ebei have access to quality health care during childbirth
Facts and Stats:
Kenya's maternal mortality ratio is high at 360 deaths per 100,000 lives.
The UK is working to support Turkana, Homa Bay, Garissa, Kakamega and Bungoma counties in strengthening of health systems, promoting solutions to improve service delivery and increasing demand for these services through reducing current barriers to access for the poorest women.
UK aid's Maternal Health Programme runs from 2013 to 2018. It aims to reduce maternal and newborn deaths by increasing access to quality maternal and newborn health care services throughout Kenya.

To date the programme has managed to achieve the following results:

4000 health workers were trained on competency based training package in Emergency Obstetric Care and Early Newborn Care.

More than 8,000 women were supported by skilled birth attendants to deliver their babies safely in health facilities in five counties.
Published 9 July 2015