Case study
Dstl case study - Verity, Mechanical Engineering Apprentice
Verity is a second year Mechanical Engineering Apprentice at the Defence Science and Technology Laboratory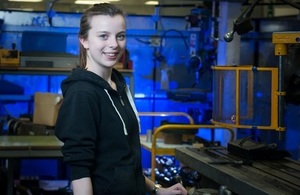 "I've always been interested in how things work from a very young age. I could always be found taking things apart in order to put them back together again, and would often help my dad work on his various cars, bikes and engines. I loved hands on tasks and therefore engineering seemed like an ideal career choice for me.
At school, I chose to study photography, history and sport on top of the core subjects such as science and maths. After leaving school, I was keen to move away from home and start earning a living. Starting an engineering apprenticeship with the Defence Science and Technology Laboratory (Dstl) allowed me to gain my independence while working towards a fulfilling career and qualifications. Since being at Dstl, I have been able to work on some really interesting projects, including manufacturing components in the workshop and working on ideas and designs for initial steps in manufacturing processes. The experience at Dstl has also helped me develop as a person, especially my communication and organisational skills.
My highlight at Dstl so far has been my placement with the CAD (computer aided design) team, where I learnt how to create successful models on the 3D printer. I found that my time in this team was the most personally challenging since beginning my training, something that made it all the more enjoyable.
I find that being a woman in a male-dominated industry poses a few challenges, however it motivates me to strive for greater things. I would highly recommend taking STEM (science, technology, engineering and maths) subjects at school to anyone, especially girls. STEM subjects are interesting to study and broaden your education as well as opening up lots of exciting opportunities for the future. There aren't enough people taking STEM subjects at school at the moment and as such, engineers are in high demand so it's a great time to consider it as a career. Also, remember that it's never too late to take it up; you can join straight from school, or even start later in life as part of a career change."
Published 22 June 2017