Case study
India – women's rights
A case study from the 2014 Human Rights and Democracy Report.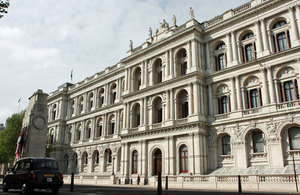 The World Economic Forum Gender Gap Index showed that India's ranking dropped from 101 out of 136 countries surveyed in 2013, to 114 out of 142 countries in 2014. Under-five female mortality exceeds male mortality by 20-30% in some districts across most Indian states, and rises to over 50% in parts of north-east India. Girls also have less access to education, and two out of three nonliterate15- 24 year olds are female. Indian government data shows 35% of women in India (between the ages of 15-49) experienced physical violence.
The Indian Parliament has passed legislation to tackle these issues, including the Protection of Women from Domestic Violence Act 2005, the Sexual Harassment of Women at Workplace Act and Rules 2013, and the Criminal Law Bill 2013. However, implementation challenges remain.
On 9 June, India's President Pranab Mukherjee made a commitment that the government would adopt a policy of "zero tolerance for violence against women". Indian Prime Minister Narendra Modi used his Independence Day speech on 15 August to highlight the importance of women's safety and of changing boys' attitudes towards violence against women. Modi also committed to launching a campaign to educate young girls, improving opportunities for women and young girls, and setting up one-stop crisis centres across the country – the first being in Madhya Pradesh, enabling women to receive medical treatment, psychological counselling, and legal aid.
In August 2014, there were amendments made to the Juvenile Justice (Care and Protection of Children) Act 2000, including strengthening sentences for offences committed against children by juveniles, and making funds available for treatment of acid attack victims. Other developments include more girls entering education and improved maternal health.
The British government is committed to working with the Indian government on women's rights. DFID's India programme has a long-established record on empowering women. ATV series called "Main Kuch Bhi Kar Sakti Hoon" ("I, a woman, can achieve anything") supported by DFID, was launched in March 2014. It focused on issues such as gender-selective abortion, early marriage, and family planning, and the launch of a second season is planned for March 2015.
In March, the FCO, in conjunction with the Lawyers Collective Women's Rights Initiative, launched two booklets: "Locating the Survivor in the Indian Criminal Justice System: Decoding the Law" and "Frequently Asked Questions: A Guide for Survivors of Sexual Violence." India's then Chief Justice pledged to distribute them to judges across India during the launch; and demand from NGOs meant we published Hindi language versions on Human Rights Day.
Empowerment of girls and women will continue to be a key priority in 2015. Our development partnership with India will be based on sharing skills and expertise, investing in private sector projects that benefit the poor whilst generating a return, and working together on global development issues.
Published 12 March 2015