Case study
Helping save lives if terrorists attack the rail network
Dstl's analysis and human science capability is improving the response from rail network staff, helping to save lives in the event of a terrorist attack.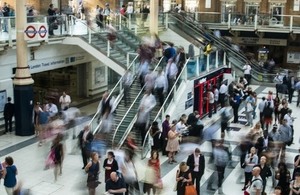 Recent marauding terrorist attacks around the world highlight the need for clear guidance on what action the public could take in the event of such an incident. Examples of such barbaric acts over the past few years include the Westgate Kenyan Mall attacks in 2013, the Kunming Railway Station attack in 2014, and the Paris attacks in 2015.
As such, the Department for Transport (DfT) is reviewing emergency response procedures on the UK rail and London Underground networks, as well as international train services through the Channel Tunnel.
An analysis and human science team from Dstl's Defence and Security Analysis (DSA) Division is supporting this review by identifying, developing and assessing possible staff response options. The focus is on identifying actions that could be taken at the start of a marauding terrorist attack involving the use of knives and firearms, before the arrival of an armed response.
The team considered a range of railway station sizes and train rolling stock types, emergency responses achievable by staff without compromising their own safety, as well as public and staff behavioural response to the attack and any staff responses.
This work will help generate updated guidance for rail staff and emergency services, and includes scripts for effective audio messages that will alert the public during such an incident. The final outputs are being submitted for evaluation by the DfT Rail Board and transport ministers, with the aim of ultimately rolling out across the UK rail network for use during an unmanned evacuation. Material that was developed to examine the public and staff behavioural responses is now also a regular part of British Transport Police training.
The DfT's Head of Channel Tunnel Security Policy said:
DSA's work is really helping us to make a difference to Channel Tunnel security and to the safety of those people that use the service." A number of other government departments, including the Cabinet Office and the Centre for Protection of National Infrastructure, have also expressed an interest in the outputs of this work.
Published 11 January 2018