Analysis and scientific advice for operational commanders
Dstl's analysts provide a world-leading deployable advice capability, supporting operational commanders in the field.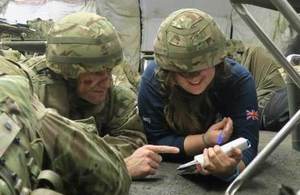 Dstl can provide immediate analysis and scientific advice to operational commanders in the field, to allow rapid decision making based on the best available evidence.
Operational commanders increasingly require immediate analytical and scientific advice to ensure their decisions are fully informed. The Operations Support Team in Dstl's Defence and Security Analysis Division provides the lead for all deployed science and technology (S&T).
A pool of operational analysts and scientific advisers is maintained and ready to deploy at 30- and 90-days' notice. They can be deployed to support front-line operational headquarters, as well as be fully embedded in the NATO Allied Rapid Reaction Corps or UK Permanent Joint Headquarters.
"Scientific advisers can provide to the HQ a world of knowledge and insight only they can bring. Invaluable." Commander, 3 (UK) Division
"I am a big fan of the capability that operational analysis can bring to the party." Commander 102 Logistics Brigade
"I always want operational analysts on my shoulder and behind my chief of staff." Commander 20 Armoured Infantry Brigade
"Operational analysts were a force multiplier and provided science and evidence behind the military decisions." Chief of Staff, 1 (UK) Division
A 24-hour reachback service to Dstl is maintained 365 days per year to provide urgent, operationally focused analysis and S&T advice. The capability draws on expertise from across Dstl, government, industry and academia. Reachback provides support to crises, contingencies and operations and is available to UK defence and security operations, incidents, and formation exercises.
Recent examples of high-impact operational support include:
Embedded analysts and reachback advice to support targeting and campaign assessment on Op SHADER, ultimately ensuring the effective degradation of Daesh in Iraq and Syria.
Embedded analysts providing advice to support campaign assessment for Op TORAL, where UK forces are training the Afghan National Army in their mission to improve the security and stability of their country.
Reachback advice following the discovery of unexploded ordnance in Birmingham.
Reachback advice to forces deployed on Op GRITROCK during the Ebola crisis in West Africa to inform planning for bed spaces, that ultimately ensured adequate provision of life-saving medical treatment to those infected with the virus.
Published 11 January 2018