Haiti, two years on: getting back home at last
How UK aid has helped thousands of families return to their homes in Leogane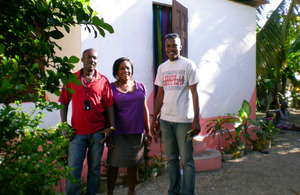 Two years after the devastating earthquake, UK aid is still helping people to rebuild their lives
"We were seven people under a tent, and I couldn't take it anymore. I wanted to repair my house but I could not afford it."
This was the experience of Lormil Marie, a resident of Leogane, the city twelve miles from Port-au-Prince, Haiti, that was at the epicenter of the earthquake which struck on 12 January 2010.
Her story is far from unique. Home to 130,000 people, 90% of the city's buildings were destroyed by the earthquake, and many of those that were left standing were badly damaged.
Thousands of families were made homeless. Even those whose homes weren't completely destroyed did not have the resources, or the expertise, to safely make repairs themselves.
Two years on, damage and debris from the earthquake is still visible in Leogane. But with support from UK aid, the international NGO ACTED (Agency for Technical Co-operation in Development) is continuing to help. Since September 2010 locally trained engineers have assessed structural damage of over 16,000 houses and completed the repair of 266 houses - providing safe homes for Lormil Marie, and for 340 other families.
Moving on from trauma
The structural assessments were carried out in conjunction with the Haitian Ministry of Public Works, Transport and Communication (MTPTC). Once assessed, buildings were marked with a spray-painted green 'tick' (structurally sound), a yellow circle (damaged but repairable) or a red cross (dangerous, structurally unsafe). This process allowed ACTED to identify houses that could be repaired and made safe.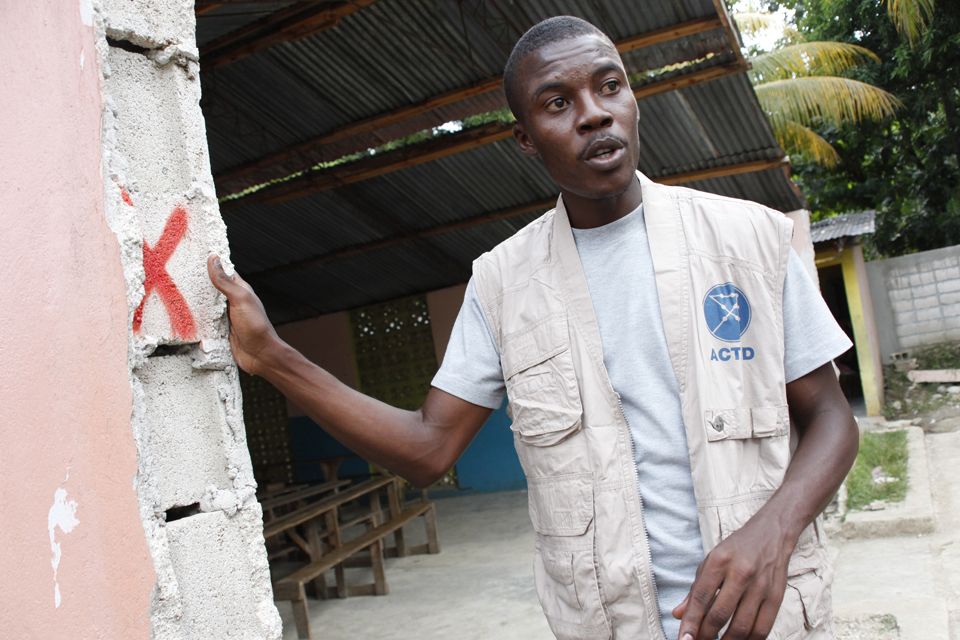 "These families feel they are moving into a new home", said Gerald Serve, ACTED's co-ordinator for Leogane in Haiti, "which is vital if they are to move on from the trauma of the disaster and start rebuilding their own lives."
The project has not been without its challenges, including political transition through elections and a widespread cholera epidemic. But with a determined and enthusiastic team of locally trained engineers, some of the most vulnerable families are beginning to be able to move on from the earthquake and plan for the future.
"I am thankful for having been selected as beneficiary, and really happy with the final result", says Lormil.
"It is more that I could imagine. I would have never been able to do this work by myself. I'm home, at last."
About ACTED
Supported as part of the British government's humanitarian response to the earthquake, ACTED assisted thousands of people in the early stages of the disaster, providing clean water, sanitation, emergency shelter and cash-for-work schemes.
The organisation currently has a team of 198 in Haiti with significant stocks of food rations, hygiene kits and safe water supplies pre-positioned on the island in case of future emergencies.
ACTED is an international humanitarian organisation, non political and non religious, based in France and working since 1993 and now active in 29 countries. The organisation's mission is to save lives, respond to humanitarian needs and assist vulnerable populations during crises, through Emergency, Early Recovery and Development activities.
ACTED has a long term experience in post-crisis contexts, helping rural and urban communities recover from the impacts of disasters, re-launch economic cycles and reconstruct habitat and local infrastructure.
It has developed a core expertise in humanitarian response to natural disasters by implementing programs of shelter construction, emergency distributions, water, sanitation and hygiene (WASH), assistance to displaced populations, support to livelihoods and rehabilitation of community infrastructure.
For more information on how ACTED is helping in Leogane, please visit the ACTED website.
Published 12 January 2012