First steps towards a new home
How DFID is working with Save the Children to help victims of the Pakistan floods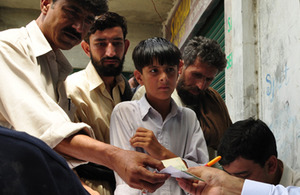 Shelter kits, funded by UK aid from the Department for International Development (DFID) and delivered by Save the Children, are helping people affected by the flooding in Pakistan.
Fourteen-year-old Saqlain lives in the city of Bahrain in Khyber Pakhtunkhwa province, Pakistan. On July 28 2010, unprecedented monsoon rains caused flash floods and entire streets and hamlets were washed away within 24 hours.
Bahrain was one of the worst affected cities in Khyber Pakhtunkhwa. The suburb of Jail, which lies on the banks of the river Swat, was devastated by the flood water and Saqlain's family house was completely destroyed.
But shelter kits, funded by UKaid from the Department for International Development (DFID) and distributed by Save the Children, are providing a temporary home for Saqlain and his family while they start to rebuild their lives.
When the floods came
"It had been raining for 2 days when we were told that Jail was surrounded by water," recalls Saqlain. "Our neighbours were hastily running uphill. We collected all our precious goods and moved into an uncle's house in a safer area of Bahrain.
"Later that day we found that our house had been destroyed by the flooded river."
Saqlain's father was shocked to see his entire apple farm had also been ruined by murky flood water. He was devastated - he'd only just got the farm up and running again after conflict in the area had temporarily forced the family to leave their home the year before.
Shelter from UK aid
Saqlain, the eldest of 5 siblings, lost all his books, clothes and toys when the water came. But the morning after the floods, he travelled for 5 hours with his uncle to reach a Save the Children distribution centre in Fatehpur. The centre was distributing UK aid funded shelter kits and Saqlain was at the front of the queue.
The neediest families, from the worst affected areas, were given kits first. Because Saqlain and his family had lost their entire home, they were immediately selected to receive shelter support. Saqlain was given a tent, bamboos, buckets, water containers and other shelter items. 
Salqlain's family were relieved when he returned home with the materials to set up a temporary shelter. The UK aid funded tents have given them a chance to move into their own home and start rebuilding their lives.
"I did not know when we would ever have a place of our own," says Saqlain.
"I know these things will not replace my old house but at least it will be my family's first step towards a new home."
Words and pictures supplied by Save the Children.
Published 29 October 2010