Case study
External wall insulation and a new combi boiler made Teresa's home more energy efficient
How the Nottingham Energy Partnership made Teresa's home more energy efficient.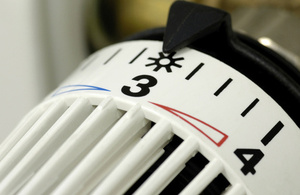 Before home improvements were made to her privately owned 3-bed property in the Nottingham area of Aspley, Teresa suffered from drafts coming through her windows, and the house lost heat through the brick walls. The house was very cold even with the heating on as the old boiler didn't work properly, 'All the parts were mucky, it didn't fire up, the pump was broken and the overflow pipe was pumping hot water outside.'
Teresa sought to get her old leaking boiler replaced, however she was unable to because of the cost, 'I'd had some quotes for new boilers and they were coming in at £2,500, which was more than we could afford.'
Teresa lived with her boiler problems for just over 5 years before she was put in contact with the Aspley Super Warm Zone Scheme, through the Nottingham Energy Partnership.
After the initial Green deal Assessment took place, Teresa's house was fully qualified for an energy-saving upgrade. 'The scheme came just at the right time. They put the external wall insulation on the house, which has really smartened up its appearance, and then installed a combi boiler with a timer and two new radiators that have independent controls.'
Whilst the works took place, there were hardly any disruptions as all the walls were insulated externally. 'They were a lovely bunch of builders who left my home looking neater and cleaner on the outside; almost like new.'
Previously, Teresa's boiler was firing up all day long and sometimes the radiators weren't even getting hot. Now with the new radiators installed, they can be set to a lower level and the boiler is set on a timer so it's only on for a few hours in the day and not at all in the evening.
Adding to this, Teresa now enjoys constant hot water, 'The new boiler is great. I've got constant hot water as soon as I turn the tap on and the heating is really hot, too.'
Overall, Teresa found it a 'fantastic deal' and loves that her home looks and feels so much more inviting.
Published 19 September 2013