Case study
External wall insulation has helped Jodie keep on top of her energy bills
Since having external wall insulation fitted, Jodie has not only noticed a dramatic difference to her energy bills but also to her family life and comfort in the home.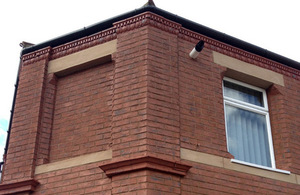 Jodie rents a privately owned semi detached property in the Thornhill area of Dewsbury with her husband and two young children. With four mouths to feed and a busy household to run, Jodie had previously struggled to keep on top of her fuel bills as her heating was constantly on, 'At our house the heating is on constantly and so is the dryer' explained Jodie. 'I knew that we were very high energy users.'
At the start of the year, Kirklees Council launched the Kirklees Energy Saver Scheme, a new Green Deal Demonstrator programme offering homeowners and private renting tenants a whole house approach to energy efficiency. 'A lady knocked on the door to check if we were eligible for a new scheme in the estate. She mentioned that they were doing all sorts, like fitting new windows and doors. At first I wasn't too convinced as I thought that there might be some sort of catch. But when I found out that the Council was behind it, I decided to get involved.'
The advisor listed all the energy saving home improvements available on the programme including external wall insulation. 'I'd always wondered why the house next door stuck out a bit further than ours. It turns out that all the Council houses on my road had already had external insulation fitted and now we could get the same.'
Once Jodie registered on the scheme a surveyor visited her home to carry out a full Green Deal Assessment. The surveyor asked Jodie a series of questions about her property and lifestyle to determine the most suitable energy saving measures. The property already had double glazed windows and a new condensing boiler, so external wall insulation was recommended. 'A bloke came round and measured everything up. He asked us a few questions about our energy use, like how much washing we dry outside and how much we put in the dryer. He was very professional and was in and out in no time.'
After seeking the owner's permission, contractors started work a week later and in just over 2 weeks, the insulation panels were fitted. 'The Green Deal installers were brilliant, they kept us informed every step of the way, working really hard to ensure that they didn't bother us at all.'
Jodie has already noticed a difference since having the insulation panels fitted. 'Before any work was done, my house was losing heat and the temperature just dropped as soon as you turned the boiler off. But now it's red hot! It's so much warmer. I have actually turned the heating down. I used to have my thermostat set at 21 degrees C but now I've turned it down to 18 degrees C, already there is a big difference and they haven't even finished it yet. I'm confident that the insulation will help reduce my bills.'
Having taken advantage of external wall insulation and the effects it's had to her energy bills and standard of living, Jodie is keen to encourage others to look into getting an assessment done on their homes as the benefits it could have could be life changing.
Published 19 September 2013