Case study
'Now we have a warm house and are using less gas thanks to external wall insulation'
After reading an article in his local paper about the grants available for solid wall insulation, Trevor jumped at the chance of getting a Green Deal assessment done on his house.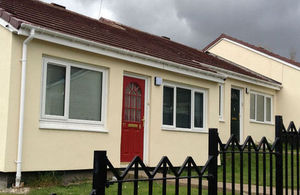 Built in 1955, Trevor's detached three-bedroomed property in Bristol had un insulated solid walls which meant that the house was constantly cold and draughty. Despite the loft insulation and double-glazing Trevor had installed, he has always considered it a difficult house to heat. To ensure that they weren't constantly cold, Trevor had to keep the heating on for the whole day, resulting in huge energy bills, eating through his life savings.
At the end of January, Trevor came across an article in his local paper on the possibility of securing a grant for solid wall insulation. This involved cladding the outside of the house with special thermal panels. The panels are then treated, rendered and painted.
An initial Green Deal assessment was made and works were carried out under the Bristol Home Energy Upgrade Scheme, which involved external wall insulation with Envirowall Enhanced EPS. 'I didn't think it was possible to insulate solid walls' Trevor commented, 'When they came to assess the property, they said we were losing about 45% of our heat through the walls.'
Conveniently for Trevor and his neighbours, there was virtually no disruption and as the house already had a rendered exterior, there was no major change to the way it looks.
The new external wall insulation fitted has made a tremendous difference, 'Now we have a warm house, whereas a month or so ago we had a cold house. Every so often I go out and read the gas meter and whereas before we were using up to four units a day, that's certainly down below three now.'
Furthermore, Trevor has been told he can expect to save around £600 a year on his energy bills, which could be a cut of over 40%.
Trevor is delighted with the works that he has been encouraging his friends and neighbours to get a Green Deal assessment done on their properties.
Published 19 September 2013