Case study
Engineering case study - Bethan
Bethan has just graduated from Dstl's mechanical engineering apprenticeship programme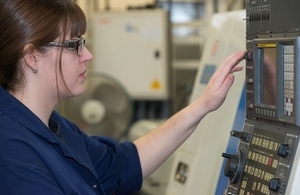 Dstl Engineer/Machinist - Division: Engineering. Location: Porton Down, Salisbury.
"Living in Salisbury, Dstl has always intrigued me, given the vital scientific work it does in support of the UK's defence and security.
I did try University for a few weeks but soon realised that it wasn't really for me. I still wanted to gain more qualifications and so, looked for an apprenticeship. I thought it would work for me because you get so much more from that style of learning; the qualifications I wanted as well as hands-on experience, and all the while you're earning money.
I began my Mechanical Engineering Apprenticeship in September 2013. Right from the start you're learning something, from the essential health and safety aspects of your work to engineering principles and using lathes and milling machines.
The apprenticeship gave me a fantastic all-round experience. It made me more confident and comfortable with my abilities and the experience you get is second to none.
Since graduating in September 2016, I have become an integral member of Dstl's engineering workshop, not only using the milling machines and lathes to make components for various programmes but also being trained to work the Computer Numerical Control (CNC) machines – a really useful skill to have. I am also undertaking a HNC in Engineering at a nearby university, going there one day a week to continue my learning and development and gain another nationally recognised qualification.
I am excited to see where my career will go and the opportunities I have open to me."
Engineering isn't just for boys
"Getting an apprenticeship was one of the best things I ever did. The combination of practical hands-on work and classroom-based theory is the way I learn best. I knew that university didn't work for me and that I wanted to get an apprenticeship – other members of my family started their successful careers as apprentices.
I feel very proud to have started my career in this way. I especially like the fact that I was earning a good salary, gaining great working experience, meeting fantastic new people and learning skills every day.
When I joined Dstl as an apprentice two of us were a bit different to our colleagues. Why? We were women. I attend lots of STEM events in schools and at careers fairs and, sadly, the majority of children visiting our engineering stalls are boys. I want to encourage young people, particularly girls, to consider the benefits of an engineering apprenticeship.
I've found out that across the UK women make up less than 10% of the engineering workforce. It is different at Dstl though, as over 30% of the engineers and scientists are female."
Published 18 January 2017