Case study
Drive System Design: motoring ahead with expansion in the US
Research projects supported by Innovate UK help Midlands firm find a niche in electric and hybrid vehicle transmissions.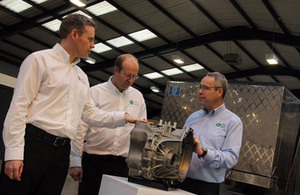 UK engineering consultancy Drive System Design (DSD) is expanding rapidly in both the UK and the US, thanks to its innovative approach to transmission design and control capability.
DSD specialises in hybrid and electric vehicle transmissions, with much of their technology developed during Innovate UK-funded projects. This has helped DSD to develop one of the first 3-speed transmission systems for electric vehicles.
The company was formed in 2007 by Alex Tylee-Birdsall and Mark Findlay who ran the business out of Mark's sitting room for the first 12 months. The firm has now expanded to a team of 90, with 15 of those based in the US. DSD plans to take workforce numbers beyond 100 by the end of 2017.
Collaboration with Jaguar Land Rover
DSD has participated in several Innovate UK projects, which have helped the company develop a range of innovative technologies. They were awarded £90,000 to take part in the Ultra Cost-Efficient Hybrid Powertrain project, where they collaborated with Integral Powertrain and Jaguar Land Rover.
The funding allowed DSD to enhance their technical knowledge of hybrids and transmission control systems to improve their engineering service offering and expand the business.
In 2011 DSD led an Innovate UK-funded collaborative project, where they were awarded £240,000 to develop a 3-speed transmission for electric vehicles. DSD proved that multi-speed transmissions were more efficient than single speed, which was the first time the theory had been proved in what was still a formative industry.
Co-founder Tylee-Birdsall explained the impact of the project on DSD:
That project gave us a huge marketing tool. It showed we were unconventional thinkers and gave us something we could talk about, something we could show to customers, something we could take to conferences. That really ramped up an influx of work for us, in terms of hybrids and electric vehicle work.
In 2013 DSD collaborated again with Jaguar Land Rover to design clutch systems for hybrid vehicles, receiving a grant of £320,000.
Then in 2016 they took on a major role in an Advanced Propulsion Centre (APC) project known as TRANSCEND, receiving a £2,115,000 grant to develop advanced control systems for hybrid dual clutch transmissions.
Control software capability
Through both projects, DSD has been able to further develop its control software capability, a technology that the firm is now renowned for.
Increasing commercial success and high-profile collaborations on research projects have helped DSD expand to the size they are today. Now based in Leamington Spa, DSD's current premises contain the largest independent transmission and driveline test house in the UK.
The effect of Innovate UK's support has had on DSD's expansion over the last 10 years is not lost on Tylee-Birdsall:
We have to be seen to be at the forefront of our industry. And these Innovate UK programmes are significant strategic investments to build capability. They have really helped us fuel our growth.
Published 19 September 2017