Case study
Dressipi: fashioning your own digital wardrobe
Machine learning technology developed with support from Innovate UK powers personalised styling service for customers.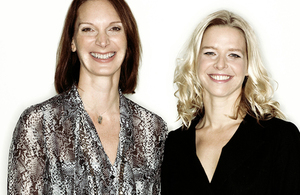 Dressipi: fashioning your own digital wardrobe
A London-based technology business has teamed up with leading high street retailers to give customers their own personal styling service powered by artificial intelligence (AI). The technology has yielded 5% to 8% increases in net incremental revenue per visitor for the firm's retail clients.
Dressipi was founded by Donna North and Sarah McVittie, helping apparel retailers give each customer their own personalised shopping experience, both online and instore.
By deploying unique data sets and a comprehensive set of machine learning and AI technologies, Dressipi enables retailers to match customers with products and experiences to influence buying behaviour at scale. They now work with around 30% of the retail womenswear market - Arcadia, John Lewis, Shop Direct and many others.
Complex behavioural data
Dressipi also turns complex customer, garment and behavioural data into actionable insights on why customers buy and return specific products, allowing retailers to improve predictions and efficiencies in the buying and merchandising processes.
Much like a human stylist, Dressipi analyses a customer's profile and the way they shop for clothes in the context of their own wardrobe and sentiment towards fashion trends.
The machine learning technology continuously evaluates the performance of its recommendations to predict what a shopper is mostly likely to buy and keep. It learns and evolves with their lifestyle, fashion requirements, activity, purchase and preference data, as Style Director Natalie Theo explains:
We teach you how to know what styles suit your shape – and to suit your style better. That totally eliminates so many garment choices that you have to make and takes the stress out of that aspect of shopping.
Customers still favour the high street
Some 80% of fashion is still bought on shopping trips rather than online and most women shop from multiple retailers, so Dressipi recognised the need to tap into this market. Sarah McVittie outlined:
The next stage… was really to understand what a customer buys in-store, what kind of advice will they want whilst shopping, so that they can take that profile and shop anywhere.
With £437,000 in grant funding provided by Innovate UK, the company embarked on a 12-month collaborative project with Arcadia Group, Marks & Spencer and Shop Direct. Their aim was to demonstrate a new approach that uses a range of data sets from multiple retailers linked to artificial intelligence algorithms. Sarah explained:
It was ground-breaking – with 3 competitors who would never normally work together. Having that funding and support from Innovate UK allowed it to be a true R&D project and these big retailers felt very comfortable in that environment.
Your personal stylist in any store
Former Marks & Spencer chief executive Lord Stuart Rose, now Chairman at Dressipi, acknowledged the vital role that organisations such as Innovate UK play for innovative companies:
When you are starting and you want to innovate, support from agencies like Innovate UK is immensely helpful.
Dressipi's latest technology is cutting-edge because it allows customers to shop across all retailers and to benefit from a higher degree of personalisation, informed by more detailed content. Sarah added:
Fashion is very dynamic and changes with every season, so it's a very complex problem from an artificial intelligence perspective. But we've had very exciting results from the partners we've been working with.
Published 31 August 2017