Case study
Doing business in Spain
Spanish businesses are achieving trade and investment success overseas and foreign companies continue to identify business opportunities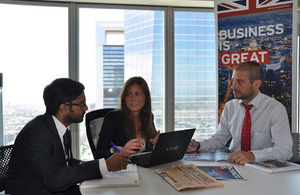 The UK Trade & Investment teams in Madrid, Barcelona and Bilbao are increasing the number of British firms doing business in Spain and encouraging Spanish investment in the UK. Martin Phelan, Director of UKTI Iberia, explains more about doing business in Spain.
Martin Phelan, Director of UKTI Iberia,
Also, London School of Economics and Tunstall companies talk about their experience and how UKTI has helped them to success in the Spanish market.
Adam Austerfield, London School of Economics
Joe Killen, Tunstall
Despite Spain's current economic situation there is vibrant international and domestic business activity. The country is the fourth largest economy in the Eurozone and 13th largest worldwide. Spain continues to enjoy significant export success, increasing its exports by 18% between 2010 and 2012.
Spain is an easy place to do business. It represents a diverse market for UK goods and services worth more than £15bn a year. British companies enjoy strongly positive perceptions and their Spanish counterparts like doing business with them. Opportunities exist across the country in sectors like healthcare and life sciences as well as education and aerospace. The Spanish Government has undertaken significant public sector reform and there are many opportunities through service delivery contracts.
Spain is home to some of the world's largest companies, including four of the world's biggest infrastructure groups. Eight companies (Santander, Telefónica, Repsol, BBVA, Iberdrola, ACS, Gas Natural y Mapfre) are on the 2012 Fortune Global 500 list of the world's biggest companies by revenue.
Spain is Europe's second largest car manufacturer after Germany. The country also benefits from the world's second largest tourism revenue after the USA.
UK Trade & Investment's experience in industry and the private sector, together with our links with key industry sectors, makes us the best provider of business advice that can help your company to grow.
Contact one of our experts direct to find out more:
Madrid
UK Trade & Investment British Embassy Paseo de la Castellana, 259-D Torre Espacio - 28046 Madrid Tel: +34 917 146 412 Email: uktimadrid@fco.gov.uk
Barcelona
UK Trade & Investment British Consulate-General Avda Diagonal, 477-13º Edificio Torre de Barcelona - 08036 Barcelona Tel.: +34 93 366 6207 Email: uktibarcelona@fco.gov.uk
Bilbao
UK Trade & Investment British Consulate-General Alameda de Urquijo, 2-8 - 48008 Bilbao Tel.: +34 91 334 47 67 Email: british.consulate@fco.gov.uk
Published 21 March 2013