Caso de estudio práctico
¿Qué puede hacer UKTI por tí?
Los negocios y las inversiones de las empresas españolas en el exterior tienen éxito y, al mismo tiempo, empresas extranjeras siguen identificando atractivas oportunidades de negocio que ofrece España.
This case study was withdrawn on
This page has been withdrawn because it is out of date.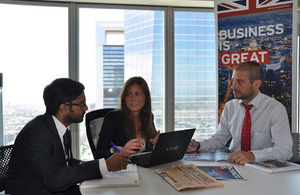 Los equipos de UK Trade & Investment (Departamento gubernamental británico de negocios e inversiones) de Madrid, Barcelona y Bilbao, contribuyen a que el número de empresas británicas que hacen negocios en España sea cada vez mayor; así como a impulsar la inversión española en el Reino Unido.
Martin Phelan, director de UKTI Iberia, explica con más detalle que ofrece España a la empresa británica.
London School of Economics y la empresa británica Tunstall hablan de su experiencia en el mercado español y cómo UKTI ha contribuido a su éxito.
A pesar de la actual situación económica en España, existe una gran actividad empresarial internacional y nacional. El país es la cuarta mayor economía de la zona del euro y la 13 a nivel mundial. España ha mantenido el crecimiento de sus exportaciones, que aumentaron un 18% entre 2010 y 2012.
En España es fácil hacer negocios. El país representa un mercado muy diverso para los bienes y servicios de Reino Unido, y su valor supera los 15 mil millones de libras anuales. La percepción de las empresas británicas es claramente positiva y a sus homólogos españoles les gusta hacer negocios con ellas.
Existen oportunidades en todo el país en sectores como la sanidad y las ciencias de la vida, en educación y en el sector aeroespacial. El Gobierno español ha llevado a cabo una importante reforma del sector público y han surgido oportunidades a través de contratos de prestación de servicios.
En España se encuentran algunas de mayores las empresas globales, incluyendo cuatro de los mayores grupos de infraestructuras del mundo. Ocho empresas (Santander, Telefónica, Repsol, BBVA, Iberdrola, ACS, Gas Natural y Mapfre) se encuentran en la lista Fortune Global 500 de 2012, que recoge las empresas líderes internacionales por su cifra de ingresos.
España es el segundo fabricante de coches más grande de Europa, detrás de Alemania. En el sector turístico, el país ocupa igualmente el segundo puesto mundial en ingresos, detrás de Estados Unidos.
La experiencia de UK Trade & Investment en los sectores industrial y privado, y los enlaces con los principales sectores de la industria, hacen de UKTI el mejor proveedor de asesoramiento empresarial a la empresa.
Contacte con nuestros expertos en asuntos comerciales para más información:
Madrid
UK Trade & Investment British Embassy Paseo de la Castellana, 259-D Torre Espacio - 28046 Madrid Tel: +34 917 146 412 Email: uktimadrid@fco.gov.uk
Barcelona
UK Trade & Investment British Consulate-General Avda Diagonal, 477-13º Edificio Torre de Barcelona - 08036 Barcelona Tel.: +34 93 366 6207 Email: uktibarcelona@fco.gov.uk
Bilbao
UK Trade & Investment British Consulate-General Alameda de Urquijo, 2-8 - 48008 Bilbao Tel.: +34 91 334 47 67 Email: british.consulate@fco.gov.uk
Published 21 March 2013