Case study
Divido: revolutionising point-of-purchase finance
Business supported by Innovate UK is on course to process more than $1 billion of finance via its innovative platform.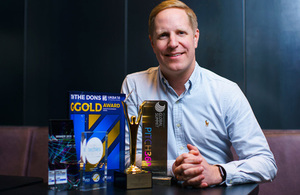 A business set up by 3 friends is on course to become the world's largest point-of-purchase finance platform.
Christer Holloman, Anders Hallsten and Fredrik Borgquist established Divido in 2014 after realising that point-of-purchase financing - which offers finance to customers at the checkout - had not changed in 50 years.
They believed they had the complementary skills in technology, sales, retail and banking to revolutionise the sector - enabling customers to access finance from multiple, competing lenders, with higher acceptance rates and lower fees.
Simpler, better access for customer
Taking time off from their day jobs, the 3 gave themselves 12 months to develop a customer-focused retail finance platform.
The resulting platform connects customers with multiple lenders in-store, online and via mobile, in various countries. It can be accessed through a retailer's own website, which means a user only has to fill out a finance application form and sign a contract electronically.
The benefit to customers is faster and wider access to finance, while businesses are able to offer more options and flexibility to customers.
Christer said:
We are friends and we often talked about opportunities and business ideas, and how point-of-purchase finance had not really evolved at all.

It was a perfect storm in terms of recognising the opportunity and realising that we were the right people to execute it.
Innovate UK award gives credibility boost
While the trio quickly attracted support from Europe's largest early-stage tech investor, Seedcamp, they were on the verge of giving up after being turned down by more than 50 investors.
The breakthrough came in 2015 to 2016 when they won dual private and public investment.
Innovate UK provided grant funding to allow Divido to further develop its platform, while investment by seed investor, Initial Capital helped to grow the company.
Christer is grateful for the Innovate UK support in giving the business the time and space for development, but also added:
Perhaps even bigger than that, and something we have been able to make work for us for far longer than the money and still can today, is the legacy. I am still name-dropping that we had an R&D grant from Innovate UK.

It's been extremely helpful in validating our proposition with customers and explaining that we are a force for good.
Divido on course to process $1 billion of finance
Within days of Initial Capital's involvement, other investors joined to offer a total of £1 million in Divido – double what they were initially looking for.
Since then, the London-based business has not looked back. It now has more than 1,000 business and retail customers in the UK, Germany and Spain, is on track to have processed more than $1 billion of finance by 2019, and is more than doubling in size year on year.
It was recognised as the most disruptive business model at the UK Business Awards 2018.
Increased sales for partner businesses
As well as being a success in its own right, Divido is driving increased sales at its partner businesses. This includes the likes of BMW, Mercedes-Benz, HTC and Lenovo, as well as high-growth small businesses, Simba and Boxt.
It offers an attractive proposition to customers, with 90% of the finance issued through the Divido platform interest-free over 12 months.
Christer said:
Traditional British banks are not very innovative, they are not quick at deploying technology. British consumers and businesses are suffering as a consequence, and it's more expensive than it should be.

Divido is introducing efficiencies and transparencies. We make our technology available to all the incumbent banks and give merchants the ability to connect to multiple banks and give customers the best offer.

It is good for British consumers and it's good for businesses.
Business backed by Mastercard and Amex
The company will soon employ 75 people, and continues to grow rapidly.
It recently attracted a $15 million investment from traditional venture capital investors, including Dawn Capital and DN Capital, as well as 2 of the world's biggest consumer finance brands, Mastercard and American Express.
Christer added:
We are already halfway to our vision of being the world's largest point-of-purchase finance platform.

We will be live in more than 10 countries in 2019. That's more than most of the incumbent providers. We are signing up larger and larger merchants and processing larger and larger volumes.
Published 10 January 2019