Dignified futures: how hard work builds hope
How we're giving South Africa's vulnerable communities something to smile about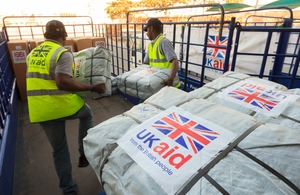 The continuous blare and buzz of vuvuzelas is a sure sign that the 2010 World Cup is still in full swing in South Africa.
But 200 kilometres from the Royal Bafokeng Stadium in Rustenburg, it's noise of a different kind that's keeping Gladys Ngoma occupied.
It's a busy lunchtime in the creche at the Tshaba Dimaketse community project. But nursery worker Gladys Ngoma has 1 of the quieter children in her arms, free for a few moments from the bustling feeding ritual going on around her.
Gladys lives in 1 of the most marginalised, rural and poverty stricken regions in South Africa. Unemployment is rife and trying to make ends is a constant challenge.
Although South Africa has made remarkable progress in addressing the legacy of apartheid, it remains a highly unequal society and 26% of the population lives on less than $1.25 a day.
But for Gladys, the UK aid funded Community Works Programme (CWP) has brought her hope. She now has a job that she loves and the chance to steer herself and her family out of poverty.
"I am passionate about caring for these children and the money I earn in the creche means I can feed my family too.
"No-one else is earning in my family and before the Community Work Programme life was very hard.
"Now I can buy my own four children some of the things they need and get them into school."
Steady work
UK aid, from the Department for International Development, supported the initial phase of the CWP with £1.15 million of funding.
Four CWP sites were set up on a pilot basis in South Africa's poorest districts, offering sustainable work to local people.
At the Tshaba Dimaketse community project, where Gladys works, close to 1,000 men and women build drainage channels, improve the roads, cultivate community gardens and look after children in the creche.
For 2 days a week, Gladys washes, feeds and supervises children aged between 0 and 5 years old. The predictable nature of the work means that she's able to lift herself out of poverty with dignity as well as contributing to the future of her community.
Improving lives
So far, CWP has generated steady work for more than 55,000 people, many of whom are women.
Like the creche at the Tshaba Dimaketse community project, all the activities supported by CWP are managed by the local communities themselves and designed with their specific needs in mind.
"The aim for the CWP sites is to leave dependency behind," says CWP regional manager George Moulala.
"With just a little help these people have taken ownership of their futures and want to build a self-sustaining community."
So far the success of the CWP pilots has led to its inclusion in the South African government's Expanded Public Works Programme (EPWP) and the project has already been extended to a further 41 sites.
Find out more about DFID's work in South Africa
Dignified futures
By the end of 2010 the global economic crisis is predicted to push 64 million more people into poverty.
Projects like CWP offer a vital safety net to vulnerable South African communities who already struggle to gain access to basic necessities like food, shelter, jobs and education.
And the sustainable nature of CWP means that communities are able to pull themselves out of poverty and stay there, which has wider implications for the African nation as a whole. South Africa's emerging economy plays a pivotal role in the development of the region and improvements in the South African economy are quickly felt by surrounding African countries.
Outside the creche building, pockets of men and women clear a wide but overgrown space destined to become a community meeting and leisure area.
"This project means people can come together to make a difference," says CWP worker Joanna Mangangi, as she shifts rubble and grass.
"Giving the children a place to play is one of the most important things we can do.
"But we need more work through CWP because the people here all want the same thing: to help themselves make things better."
Facts and stats
UK aid from the Department for International Development supported the pilot phase of CWP with £1.15 million of funding.
Pilot sites were set up in Munsieville, Bokfontein, the Alfred Nzo District Municipality and Greater Sekhukhuneland District Municipality.
So far CWP has found jobs for more than 55,000 people.
Twenty-six percent of people in South Africa live on less than $1.25 a day.
By the end of 2010, sixty-four million more people around the world are expected to be living on less than $1.25 than would have been the case without the economic crisis.
Published 21 June 2010