A community built from within
How DFID helps South African communities work together to combat poverty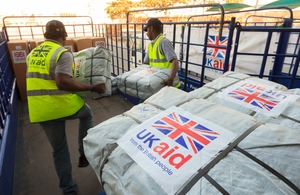 "My 6 year-old daughter goes to school now. She loves to sing and I hope she will have opportunities for such things that I did not."
While she stops to speak, mother of 3, Conny Ranaselr, adjusts the large plastic container of garden waste she is carrying on her head.
Conny is helping to clear land that will form a leisure space for children at the Tshaba Dimakatse community project. On 1 of several dusty roads close by, other women carry topsoil destined for ditches which have been dug to form water drainage channels.
She is convinced that her work at the project is steering her life in the right direction.
"I am earning more now than I ever had before. I can afford the little things that help the lives of my children such as food and some clothes.
"There is a creche here and I want to pay for my 1 year old to go there while I work."
Working her way out of poverty
Twenty-six percent of people in South Africa live on less than $1.25 a day and making ends meet is tough for people like Conny.
Jobs are hard to find acnd many families struggle to meet basic needs like food, shelter and education. 
But, thanks to the UKaid funded Community Works Programme (CWP), Conny now has two days of work a week at Tshaba Dimakatse and the chance to offer her children a more hopeful future. 
Tshaba Dimakatse is one of several CWP sites which give regular paid work and opportunities to around 1,000 people, many of them women, from the local area.
Improving roads, cultivating crops, clearing communal spaces and constructing community buildings are just some of the jobs keeping Conny and her co-workers busy.
Each CWP site is run by the community's own people in the form of a development forum which manages agriculture, health support, youth services and education.
Future plans
Through CWP, Conny and her co-workers are creating a sustainable, self-sufficient community and the predictability of their work allows them the opportunity to look to the future.
"I enjoy my work here a lot but it is only a start," she says.
"I need to be working more days to look after my family and start saving some money."
Find out more about CWP from Gladys who works in the community creche
So far, CWP has found paid work for more than 55,000 people for two days a week.
And DFID's £1.15 million support for CWP's 4 pilot projects led to the programme being adopted by the South African government's wider Expanded Public Works Programme.
The project has now been extended to a further 41 sites which means that more people like Conny are able to work themselves out of poverty with dignity. 
Facts and stats
UK aid from the Department for International Development supported the pilot phase of CWP with £1.15 million of funding.
Pilot sites were set up in Munsieville, Bokfontein, the Alfred Nzo District Municipality and Greater Sekhukhuneland District Municipality.
So far CWP has found jobs for more than 55,000 people.
Twenty-six percent of people in South Africa live on less than $1.25 a day.
By the end of 2010, sixty-four million more people around the world are expected to be living on less than $1.25 than would have been the case without the economic crisis.
Published 21 June 2010