Demand Logic: energy savings breakthrough in buildings
Real-time data analysis developed with support from Innovate UK reveals how commercial properties can transform energy efficiency and productivity.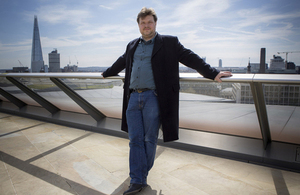 Ground-breaking data analysis technology is helping to save commercial property owners as much as 40% on energy bills – and creating more comfortable working environments.
The web-based platform devised by London-based Demand Logic extracts huge amounts of data from the plant, machinery and control systems that heat and cool some of London's biggest landmarks, including the 'Walkie-Talkie' tower at 20 Fenchurch St.
Demand Logic's cloud-based analytics engine offers flexible modelling of plant and virtual metering along with fault and performance diagnoses. It allows clients to see in greater detail the energy consumption behind their utility meters.
More than 80 commercial properties are now on the company's portfolio, mainly in the capital, but also in the US and Malaysia as a result of overseas missions organised by Innovate UK.
Property managers and maintenance staff
The environment in the 34-storey Walkie-Talkie tower, recently sold for a record-breaking £1.3 billion, is controlled by 1,200 air conditioning units[SM1] , with over 175,000 data points and generating 17 million data values on building performance every day.
Demand Logic's technology reads all this data in real time and presents the information on a user-friendly dashboard via a computer or mobile device. Property managers and their maintenance staff can then easily identify any problems and correct them.
Co-founder Joe Short, now Chief Technology Officer, explains the huge potential to save energy, even in the most prestigious office buildings:
Sometimes chillers are left on at weekends but that's not surprising. Large plant is coupled with hundreds of smaller items which create complex demands on the building's systems. Human beings can't be expected to see all that detail and keep track of it.
Any problem can scale up into a huge issue so it's by scanning the data that we find the needle in a haystack. The results are seen in massively reduced energy use.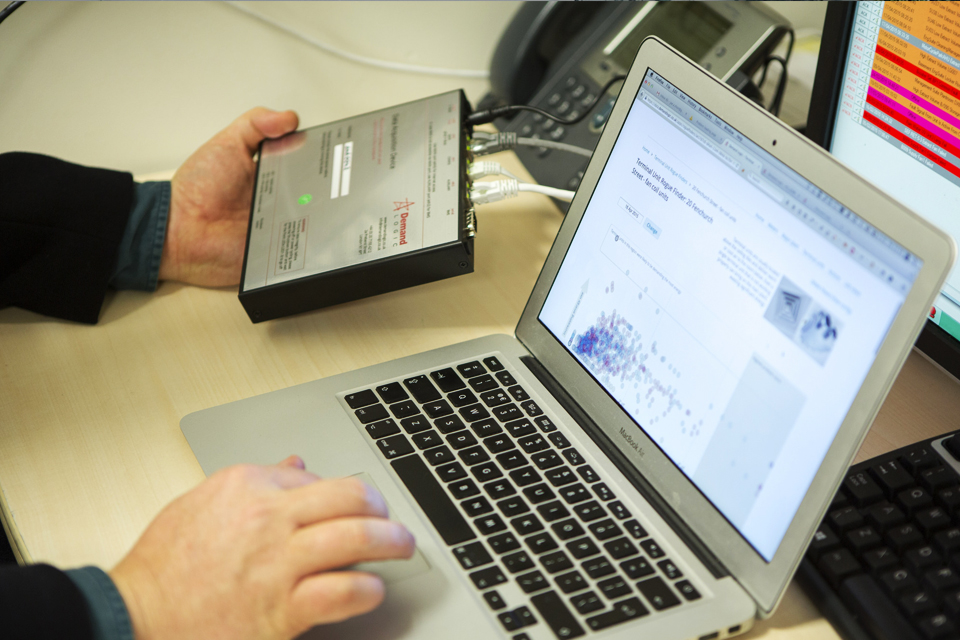 Demand Logic's client list includes BT, Financial Times, Landsec, The Crown Estate, TH Real Estate and Transport for London. Typically, a customer can see savings of 10 to 30% on their total energy bill.
Maintenance costs can also be reduced by up to 50% through a targeted approach based on the data. Complaints by occupants about their comfort have been cut by more than half and in some cases eliminated altogether.
Demand Logic can also be effective at the design and commissioning stage of a building, helping to shorten the process and improve energy efficiency and occupant well-being from the outset.
3-year collaborative project
The business, based at Plexal innovation centre in Stratford with 15 employees, emerged from a conversation in a pub between the 3 founders, men with backgrounds in software engineering, environmental campaigning and building services.
Early experiments encouraged the founders to seek Innovate UK support and the company was awarded £263,000 in 2014 to develop its innovation through 3-year collaborative R&D project, which finished this summer. CEO and co-founder Mike Darby said:
That gave us a huge morale boost at a time when there were just 4 four of us. The mentoring from experts at Innovate UK was very beneficial, as was bringing together a collaborative team.
Multi-billion dollar opportunity
Those project partners were Environmental Design Solutions Ltd (EDSL), who created thermal models of buildings, energy management specialists Verco Advisory Services and London South Bank University who supplied artificial intelligence expertise.
Landsec also provided their properties as a test-bed for this R&D. Mike added:
There is absolutely no reason why we can't change the way all commercial buildings are managed. It's a multi-billion dollar opportunity to save energy. We feel the scalability of the platform can support that growth.
Published 12 October 2017