Case study
Community networks linking older and younger people
How The Cares Family community networks are reducing loneliness and improving wellbeing by bringing older and younger neighbours together.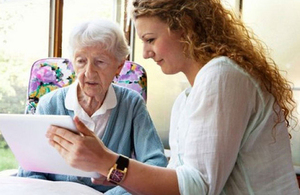 The Cares Family is a group of community networks of young professionals and older neighbours coming together and helping one another in a rapidly changing city.
The project aims to reduce loneliness and isolation, improve people's neighbourliness, wellbeing, connection, skills and resilience. It brings people together across social, generational, digital, cultural and attitudinal divides. The project has branches in north and south London and Manchester, with another opening soon in Liverpool.
The first branch, North London Cares, opened in 2011. Over 3 years it developed programmes to bring older and younger neighbours together to share time, friendship and new experiences.
Social clubs offer a range of activities throughout the week and the Love Your Neighbour friendship programme matches people one-to-one to share time and foster friendships.
Proactive outreach work has also made a difference. The Winter Wellbeing project has run for 7 years with the aim of helping over 65s stay warm, healthy and connected. In 2017 to 2018, North London Cares talked to 731 older people and provided further help for over 200 people in 6 months.
South London Cares opened in 2014. The 2 branches have now recruited 4,000 older people and 4,000 young professionals to be part of the community networks.
The latest branch of The Cares Family opened in Manchester in 2017. In just a few months, 150 older people and 150 younger people have been part of Manchester Cares' Social Clubs and Outreach, and its Community Fundraising and Love Your Neighbour programmes are now developing.
Published 5 November 2018