Case study
Code Club at Cardiff Central Library Hub
A code club increasing digital literacy and contributing to education and economic priorities.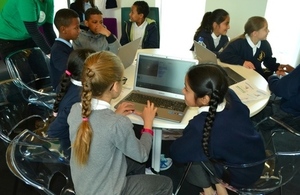 Contribution to corporate priorities
Code clubs are part of the incoming digital curriculum outlined by the Donaldson Report to be implemented across Wales. Whilst the recommendation was to bring it in for the 2016/17 academic year, schools in Cardiff have decided to try to implement this academic year (2014/15), so we are happy to be in a position to offer this support working with Code Club and Samsung.
They also help increase :
digital literacy and competency within the area, building a strong base for Cardiff's economy within the digital arena
increase in number of citizens accessing services digitally in libraries, which fulfils one of the Welsh Public Library Standards
Description of the work
Cardiff Central Library provided free code learning clubs for kids in partnership with Code Club. The library provided the venue, host equipment and WiFi; Code Club the expertise and the running of sessions.
There were a number of co-promotional opportunities, eg bringing people in for participation and promotion of our new digital floor.
Code Club provided 'demonstration' events as part of both National Coding Week and European Coding Week, which helped demonstrate the value of the floor to visitors from the Welsh Government and European Commission.
Outcomes achieved
Since September 2015, there was an increase in attendees over the opening period. 26 attended the launch class. Class size grew steadily from 5 to 11 over the initial month.
There was an increase in confidence both among library staff to support these types of events and among library users due to the competence and professionalism of how these events were run. This also allows for expansion to host other types of events, including the initial attempts to commercialise digital curriculum support with another partner organisation.
Headteacher of Ysgol Pencae said, "as headteacher, I would like to thank you for the opportunity and for arranging these workshops for the Year 5 and 6 pupils of Ysgol Pencae. The support and expertise was excellent!"
Accomplishments
There has been:
an increase in attendance, and good retention figures initially
some good co-promotion from Samsung
Lessons learned
Partners have learned that:
for clubs to continue running, they need to help the clubs sustain their level of volunteers
communications material must be designed into the lifetime of strategy, and not something only necessary for the startup
an increase in the ability to think commercially for a free product, simply to get attendance and value from it
code clubs are transferrable to chargeable services
There has been a good initial experience of working with external volunteers. Where talk of volunteers participating in delivering library services is increasing, this gives an idea of what general levels of commitment, attendance, and retention can be expected from volunteers.
Future plans
Cardiff Central library will continue running as a central hub for Code Club Wales. Aim to run co-promotions for recruitment of volunteers for Code Club, in particular to increase participation of adults.
They are hoping to get other council employees involved to increase skillsets within the authority, which will feed into widening the range of options of delivery towards the digital curriculum.
There has been an increased social media/digital presence for these aspects of the library, which could feed into a working partnership with Google as well as Samsung - both companies have vested interests as Samsung's hardware operates mainly on Google's Android OS.
Google development groups can tap into local partnerships and sponsorship, which is aimed at generating revenue for the library service through venue and equipment hire. This will feed into the local economy by retaining generated expertise and be strengthened by links to recognised technology brands.
Published 16 December 2015