Case study
AVID: saving fuel and reducing emissions from vehicles
Innovate UK funding helps sustainable vehicle component supplier launch product and grow their business in the North East of England.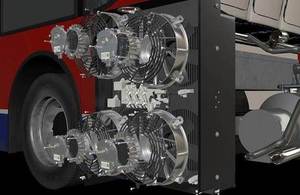 AVID: saving fuel and reducing emissions from vehicles
Ryan Maughan left a career building racing cars to set up a business that could make a difference. He founded AVID Technology in 2004 to improve air quality by making vehicles more efficient.
AVID design and develop powertrain components - the parts of vehicles that generate and deliver power to the road - specialising in electric and hybrid technology. Sales are set to increase over the next few years as automotive companies pursue greener products.
AVID produce traction motors, electric cooling pumps, cooling fans and other electronic devices used in the vehicle drivetrain - all essential on electric and hybrid vehicles. They also manufacture components to improve the efficiency of conventional vehicles.
AVID receives Smart Award
In 2012 AVID received its first award from Innovate UK, securing a £248,000 grant. They developed micro-hybrid systems to replace conventional cooling packs on buses and trucks.
This was followed in 2016 by a project to develop a hybrid powertrain system for trucks and buses. AVID received a £172,000 grant to build a vehicle demonstrator and carry out track testing. Both projects produced fuel savings and emissions reductions.
They are currently working on a collaborative research and development project with Caterpillar. Here AVID is developing electrified powertrain components for CAT engines and vehicles, with huge future production potential.
AVID's success owes a lot to the R&D they have undertaken on these projects, as Ryan Maughan explains:
The support from Innovate UK has been essential for the growth of the business because we were pioneering the technology before it was really accepted. This support really allowed us to become the leader in the marketplace. Really, without the Innovate UK funding, those projects wouldn't have happened.
Rapid expansion
AVID now has the knowledge, experience and the products to develop into a tier one supplier of more efficient vehicle components.
Turnover is expected to more than double this year along with staff numbers significantly increasing from the 60 currently employed at its Newcastle base. And with further demand coming from aerospace and robotic companies, Ryan Maughan is convinced the future's bright for AVID:
We're seeing huge demand in the market for our experience, knowhow and IP. That's allowing us to launch new products and win a lot of new business with global vehicle manufacturers. AVID will grow from being a SME into a significant tier one supplier, specifically of powertrain technology for electric and hybrid vehicles, in the future.
The business probably wouldn't exist as it is today if we hadn't had the Innovate UK funding in the past. It's made a huge difference.
Published 6 September 2017