Case study
Apprentice myth busting: Work-based career progression doesn't happen
Former engineering apprentice Emma Treadwell is now an Item Manager for Dstl.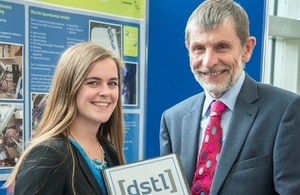 "Towards the end of my apprenticeship I started being trained for an Item Manager role. This role involves organising jobs from all across the Defence Science and Technology Laboratory and managing the design and making of varied parts.
After finishing my apprenticeship I was given lots of support to continue building my understanding of my role. I have also been given opportunities to receive extra training, such as completing a Higher National Certificate (HNC) in Engineering through a local college.
Coming from a hands on apprenticeship to my current role allows me to understand the true engineering behind different products, thus allowing me to give much more technical guidance to my customers and those manufacturing the parts."
Find out more about our apprenticeship schemes.
Published 11 March 2015