Case study
Apprentice myth busting: Engineering is just for boys
Dstl engineering apprentice Bethan Warner busts the myth that women don't do engineering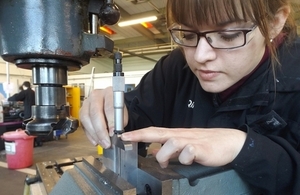 "Getting an apprenticeship was one of the best things I have ever achieved. The combination of practical hands-on work and classroom-based theory is perfect for me.
I knew I didn't want to go to university and I knew I wanted to get an apprenticeship – other members of my family started their successful careers as apprentices.
I feel very proud to have started my career as an apprentice, and I like the fact that I'm making a living for myself, earning a good salary, gaining a great work ethic, meeting fantastic new people and learning skills every day.
Two other colleagues and I are a little bit different to the other engineers and apprentices though. Why? We're women.
I do many Science, Technology, Engineering and Maths (STEM) events in schools and careers fairs and the majority of children visiting our engineering stalls are boys. I will continue to inspire the younger generation to think about apprenticeships, while confirming that women can do engineering.
On a daily basis, I haven't had any problems with being a woman in the engineering industry. Maybe it's because I've grown in confidence since having the responsibility of an apprenticeship or maybe it's because the people I work with realise that I'm no different to my male colleagues.
Man or woman, apprenticeships are the best start for rewarding careers – I really believe they are the way to go."
Published 11 March 2015