Case study
Apprentice myth busting: apprenticeships are geared towards 16 year-olds
36 year-old Dstl engineering apprentice Jamie Moore busts the myth.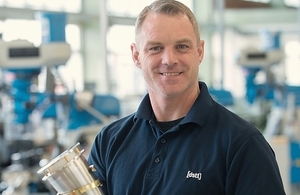 "I previously worked in construction but felt that I wasn't getting the most out of my ability and wanted to do something much more challenging and fulfilling.
I have children who are older than some of my colleagues, but I am at a stage where it is feasible, emotionally and financially, for me to retrain as a mechanical engineer. You are never too old to learn.
I have always had an interest in how things work and the science behind how things work and the Defence Science and Technology Laboratory (Dstl) is at the forefront of up to date training and education in this field amongst many others.
I have been heavily involved in some interesting projects, from the design and planning and manufacture right through to completion and handover.
I am very proud to be a civil servant. During my time here I have learned a great many new skills and will continue to be educated throughout my career at Dstl."
Published 11 March 2015