Case study
Alert Technology: saving lives with better asbestos detection
Devon firm on the verge of launching world's first real-time warning device for deadly airborne asbestos fibres, thanks to a new innovation loan.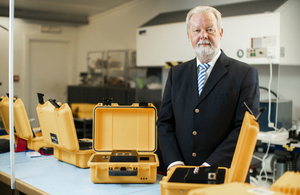 Though the use of asbestos was made illegal in 1999, it still claims the lives of 20 tradespeople every week due to the disturbance of legacy asbestos in building insulation, water tanks and wall coverings.
This figure could be cut if it was easier to detect airborne asbestos. Currently, air samples are sent to a lab for analysis. This is a costly process and results can take days, potentially after the damage has already been done.
Paignton-based Alert Technology saw an opportunity to use real-time detection to avoid tradespeople entering potentially dangerous environments - and ultimately save lives. It has now received an innovation loan to help commercialise its Asbestos ALERT product.
Supporting site safety
The most common way to identify hazardous airborne asbestos at worksites is to filter the air, count the number of fibres and then analyse them with X-ray technology to determine if they are asbestos.
Alert Technology Managing Director, Alan Archer says:
This approach requires expensive lab work and hours of wait time.

An alternative method is to use a real-time fibre detector, but the current, commercially-available versions are unable to distinguish between asbestos and other less dangerous fibres, like mineral wool, gypsum and glass.
Alert Technology's asbestos detector will notify tradespeople within minutes if they have disturbed and released asbestos fibres into the air and provide a real-time monitor of the working environment.
In doing so it helps limit exposure to workers but doesn't hold up work while waiting for lab results in an area suspected of having asbestos, returning a quick and cost-efficient result.
How the device works
The device uses lasers and a light scattering technique that takes advantage of the magnetic properties of the asbestos mineral.
It uses light-scattering techniques to first identify single airborne fibres. Then it carries them through a magnetic field before repeating the light-scattering to see if the fibres have reacted to the process.
This is because when asbestos fibres are exposed to a magnetic field, they rotate and align themselves – a property that is almost entirely unique among fibrous materials that are most commonly found in the same environment as asbestos.
Alan says:
If the fibres have aligned in the magnetic field, they are highly likely to be asbestos and the device will warn the user of the risk of inadvertent exposure to airborne asbestos.

This early warning allows them to take immediate action to either leave the vicinity or wear a suitable protective breathing mask.
On the path to commercialisation
Alert Technology is now collating feedback on sample units under trial within various fields in the construction sector, such as demolition and environment services.
To assist in the commercialisation of its technology, the company applied for one of Innovate UK's innovation loans.
Innovation loans are being offered through a pilot programme. Up to £50 million is being made available to UK businesses with late-stage experimental development projects that are close to market.
The support will see the company to explore the production of 2 products: the ALERT Pro 1000 and Pro 2000, with GPS and wireless remote communications.
Alan says:
[We want to] empower organisations such as housing associations, schools and hospitals to monitor properties with known asbestos-containing materials to ensure inhabitants and employees are not being put at risk of prolonged exposure during repair and maintenance.
Because there is currently no other real-time asbestos monitoring equipment commercially available, Alert Technology believes it will be the first to enter the market. It has already received over 1,200 expressions of interest from around the world prior to launching.
Published 20 September 2018