Foreign travel advice
Iran
Summary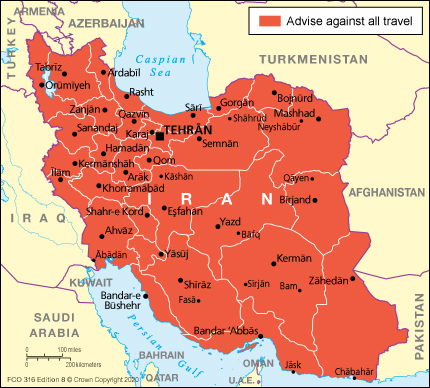 The Foreign and Commonwealth Office (FCO) advise against all travel to Iran. Additionally, the FCO advise against all air travel to, from and within Iran. If you're in Iran, you should review your departure options and consider leaving the country.
There are heightened tensions in the region and tensions between Iran and other countries could escalate rapidly. On 8 January 2020, Iran fired missiles against two military bases in Iraq containing US personnel, following the death of Iranian General Qasem Soleimani in a US strike in Baghdad on 3 January, which caused anger inside Iran. There is a possibility of an increased threat against Western interests and the security situation could worsen with little warning.
On 8 January, Iranian air defence systems mistakenly shot down Ukrainian International Airlines flight PS752 following take off from Imam Khomeini International Airport in Tehran. Investigations are ongoing. If you decide to travel by air against FCO advice, contact your airline or travel company for the latest information before travelling. Flight schedules may be subject to cancellation at short notice. There are alternative land and sea-based routes to leave Iran.
In the event of a sudden deterioration in the security station, there may be limits to the assistance the FCO can provide, depending on the security and transport situation. You should not assume that the FCO will be able to provide assistance to leave the country.
If you decide to remain in Iran, you should maintain a low profile and keep up to date with developments, including via this travel advice. Avoid any rallies, marches and processions, keep away from military sites and follow the instructions of the local authorities at all times.
There is a risk that British nationals, and a significantly higher risk that British-Iranian dual nationals, could be arbitrarily detained or arrested in Iran. The criminal justice process followed in such cases falls below international standards. If you are a dual British-Iranian national and are detained in Iran, the FCO's ability to provide consular support is extremely limited. See Safety and security
Several provinces, particularly Khuzestan, Golestan and Lorestan, continue to suffer from damage to infrastructure, following severe flooding in March and April 2019. You should follow any advice given by the local authorities. Given the damage to infrastructure, take particular care when driving and walking, keep a stock of food and bottled water, and make sure your phone is charged.
Terrorists are very likely to try to carry out attacks in Iran. Attacks could happen anywhere, including in places visited by foreigners. On 22 September 2018 there was an attack on a military parade in Ahvaz, capital of Khuzestan province. On 7 June 2017, there were 2 attacks in Tehran – one in the Majles (the Iranian parliament) in central Tehran and another at the Imam Khomeini Shrine near Imam Khomeini international airport. See Terrorism
Iran is a Muslim country in which Islamic law is strictly enforced. You should respect local traditions, customs, laws and religions at all times and be aware of your actions to ensure that they do not offend. See Local laws and customs
There have been sporadic protests across the country about the economic situation in Iran. You should exercise caution and avoid any protests or rallies and follow the instructions of the local authorities.
It is possible to exchange GBP in certified exchange bureaux, though you may still experience difficulties in changing money. Official restrictions were placed on bureaux de change for some of 2018, but these have now been lifted. See Money
British nationals need a visa to travel to Iran. You should make your visa application well in advance of your date of travel. The application process for an Iranian visa can be long and unpredictable. The Iranian Embassy has told the FCO that to get a visa you must either apply as part of an organised tour, or have a sponsor in Iran. See Entry requirements
Consular support is limited in Iran. If you need consular assistance you should contact the British Embassy on telephone: +98 (0)21 6405 2000 to make an appointment. See Consular assistance services
Take out comprehensive travel and medical insurance before you travel.