Crush incident between containers on deck of ro-ro cargo vessel Tyrusland with loss of 1 life
Location: Berthed at Tripoli, Libya.
Accident Investigation Report 19/2014
Investigation report into marine accident including what happened and safety lessons:
Tyrusland.pdf (5,695.39 kb)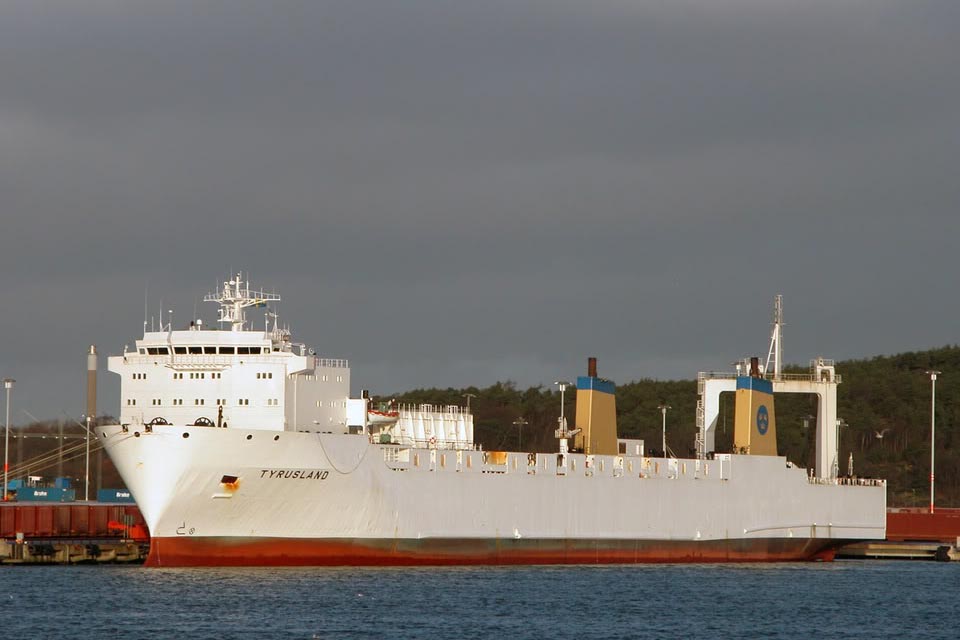 Summary
On 15 May 2013 an able seaman sustained a fatal crush injury on board the United Kingdom registered ro-ro cargo ship, Tyrusland in Tripoli, Libya. The able seaman was working with a fork-lift truck driver in the ship's main deck to remove containerised cargo. His role was to remove twistlocks from containers before they were loaded onto waiting trailers. This meant routinely working in the immediate proximity of moving vehicles transporting loaded containers. During the offloading operation, a container was being handled by a forklift truck. The able seaman was out of the field of view of the fork-lift truck driver who was manoeuvring his vehicle in preparation for loading the container onto a waiting trailer. During this manoeuvre, the container which was being moved by the fork-lift truck collided with a static container, fatally crushing the able seaman in between.
Safety lessons
Tyrusland's crew and its embarked team of vehicle drivers did not have a safe system of work for the cargo handling operations which they were conducting

a risk assessment for deck operations existed but did not properly identify the hazards associated with the work being conducted. In particular, the danger of a crew member being unsighted by a fork-lift driver while in the path of a moving container had not been addressed

the absence of a safe system of work or a thorough risk assessment meant that a dangerous condition emerged where ship's crew were routinely operating in close proximity to moving vehicles without the necessary safeguards in force

prior to the accident, weaknesses in the ship's organisation had been identified in an internal audit by the company and a UK flag state audit by the MCA. However, the investigation identified that the company had not given a sufficiently high priority to management actions to address the identified shortcomings. In addition, the MCA's follow-up action regarding non-conformities could have been more effective
Recommendations
This was the fourth accident, two of which were fatal, in less than a year involving UK flagged ships managed by Imperial Ship Management AB. The company has since conducted a safety management review and has developed a plan for improving procedures and safety culture across its fleet. We have previously made a recommendation to the MCA aimed at improving its processes for managing audits and follow-up action. In view of this recommendation and the action taken since by Imperial Ship Management, no recommendations are made in our report.
Published: 16 July 2014
Published 23 January 2015