Guidance
DVLA's Richard Ley Development Centre (learning facility)
The Richard Ley Development Centre is a conference and training facility located in Swansea.
About the Richard Ley Development Centre (RLDC)
The RLDC has 2 facilities: the Innovation Facility and the Learning Facility. Both buildings have a welcoming reception area which can be used for course or event registration. The 2 facilities are joined by our 130-space car park with an additional 7 disabled parking bays.
The Innovation Facility
The Innovation Facility is a modern conferencing venue.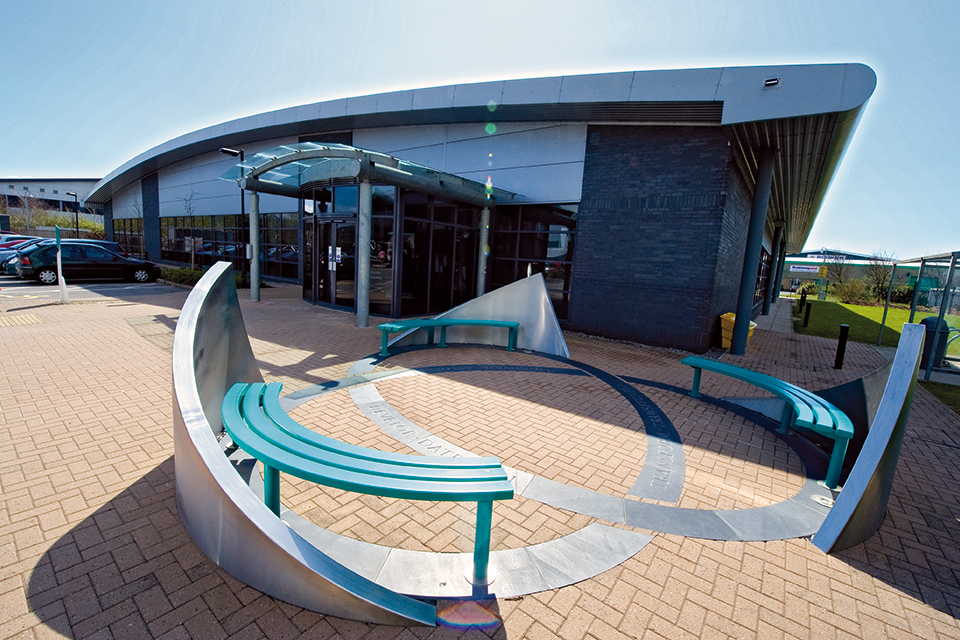 It has:
an impressive high-tech digital theatre
7 conference rooms
an IT training suite
'the zone' - used for small workshops, problem solving and thought provoking sessions
an on-site cafe
free wireless internet capability
The digital theatre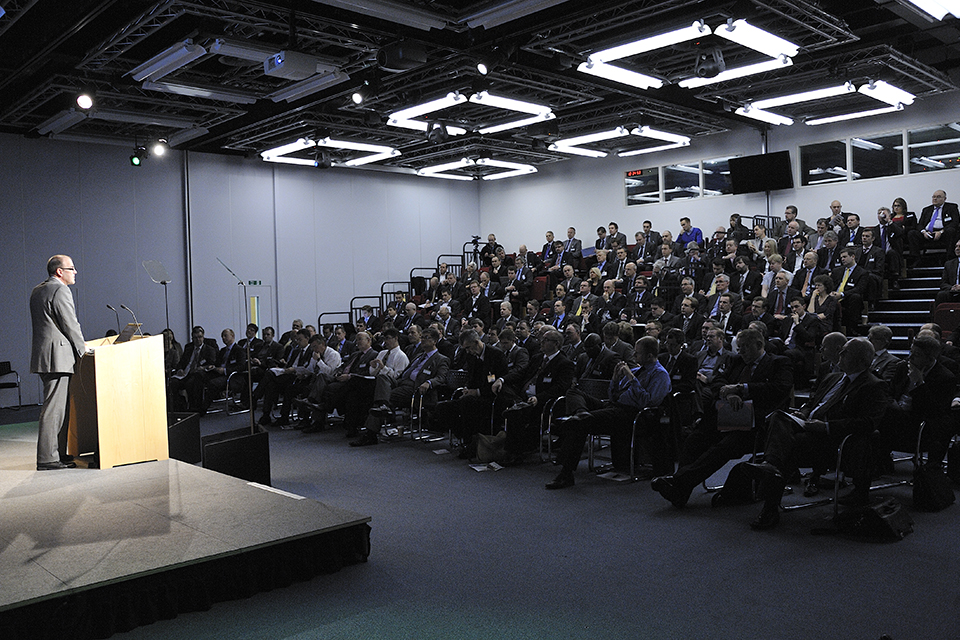 The digital theatre is ideal for conferences, seminars or large-scale presentations. It can seat up to 240 people theatre style, or up to 96 people cabaret style. This large flexible space is fully equipped with modern IT and AV technology, including interactive audience voting and autocue equipment. All digital theatre events are fully supported by the RLDC's in-house creative production team.
Conference rooms and IT training suite
The 7 conference rooms offer differing capacity. Some of these rooms are sub-dividable to allow maximum utilisation. All the rooms have either a ceiling mounted projector with screen or a large LCD screen. The IT training suite has a fixed classroom layout with 10 networked computers.
The café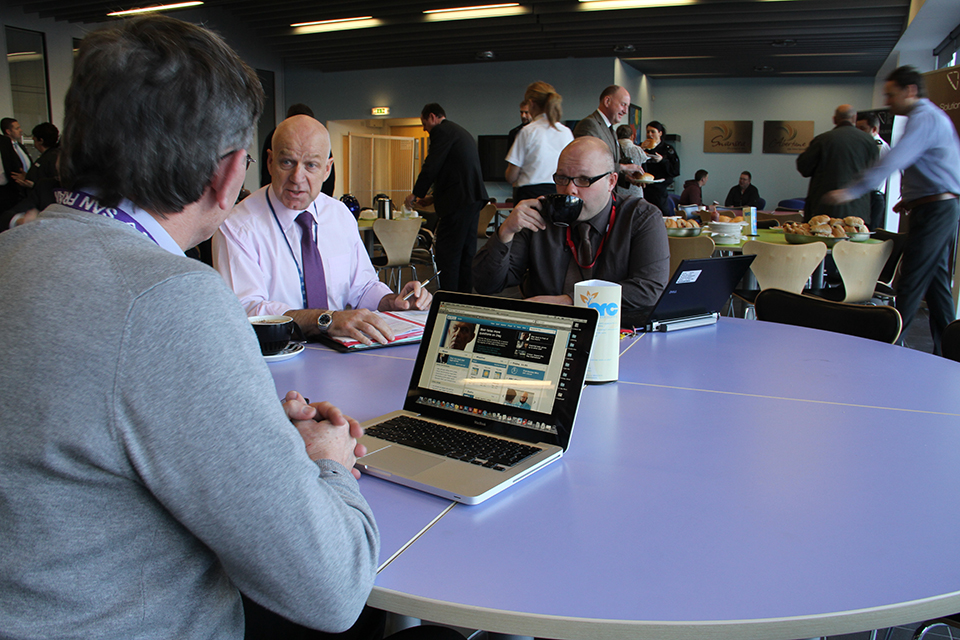 The café is located in the Innovation Facility and is open from 8am until 3pm, Monday to Friday. There's a selection of hot and cold snacks and drinks. Vending facilities serving snacks and cold drinks are also available in this area.
In addition to the wireless capability the café has a drop-in PC with full internet access available from 8am until 4:30pm, Monday to Friday.
The zone
The zone is ideal for small workshops, problem solving and thought-provoking sessions. The curved walls promote participation and encourage creative thinking. Doubling as white boards they assist the capture of your innovative ideas.
The Learning Facility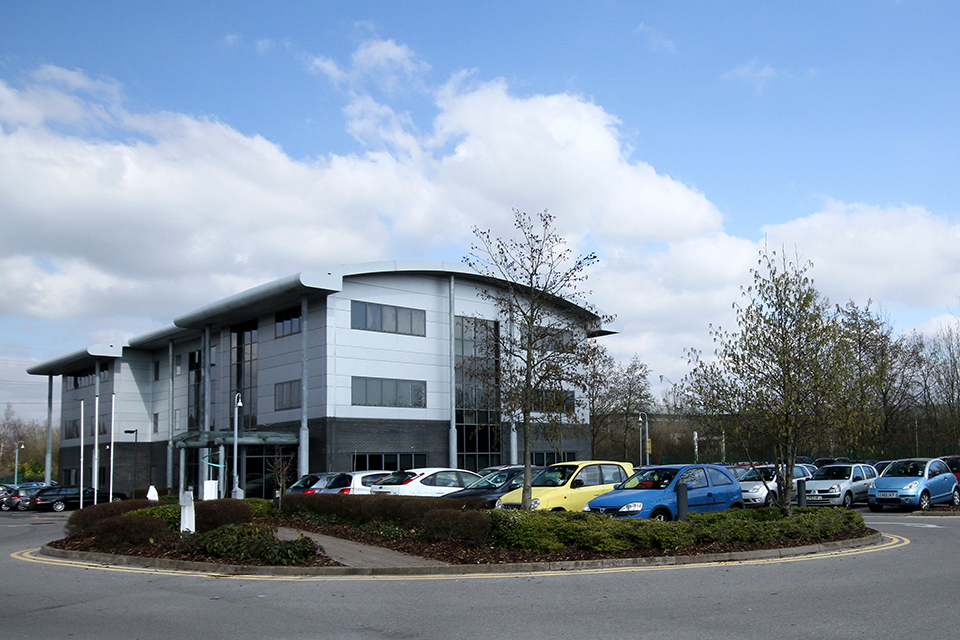 The Learning Facility is a purpose built training centre. It has 14 modern, naturally lit, air conditioned classrooms, all equipped with audio visual and IT facilities. All classrooms have free WiFi.
The media suite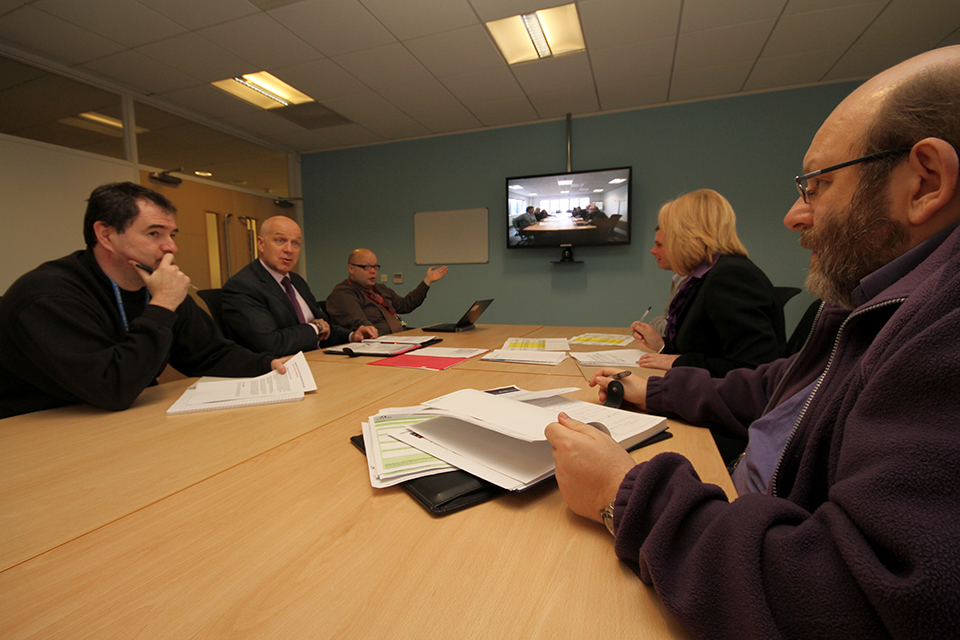 On the ground floor is a media suite, for web, video and telephone conferencing. It can accommodate a video conference of around 12 to 15 people over either ISDN or the web. Both types of conferencing allow you to display and interact with visuals and presentations at both ends of your conference call. It also provides a comfortable location for an audio conference.
For larger video conferences the digital theatre also has both ISDN and web based conferencing capability. With the exception of the IT training suite, all training and conference rooms have flexible furniture which allows a choice of room lay-outs.
All rooms are equipped with a desktop computer, flipchart stand with paper and a standard supply of stationery items.
Booking an event
Booking a room or the digital theatre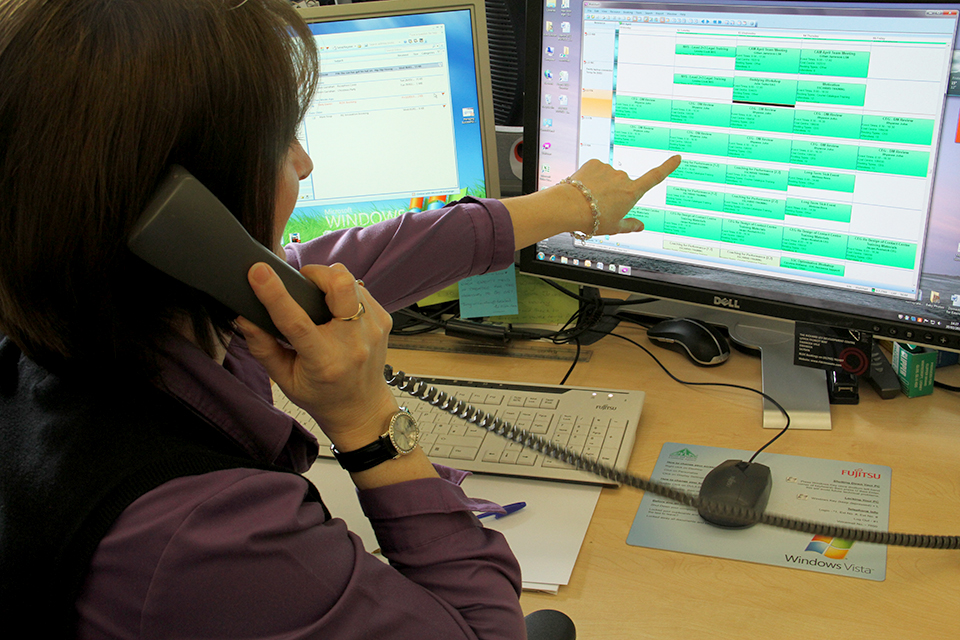 All events are booked through our dedicated team of booking clerks.
The bookings service is open from 8am to 4:30pm Monday to Friday to help you to select which type of conference or training room, room layout and equipment best meets your needs. The RLDC provides an attractive day delegate package for theatre groups of a 100 or more.
The booking team will check availability and suggest suitable accommodation for your event. When you have agreed your booking you will then be asked to complete and return a form. When we have received your form, your booking will be scheduled and entered onto our electronic booking system. If there are any queries about your booking, the booking clerk will contact you directly.
Finally an email confirming your booking details will be sent to the email address supplied.
If you need to cancel your booking with us for any reason, please inform us immediately as there may be a cancellation charge. For details on our cancellation policy, please see the terms and conditions on your booking form.
Room layout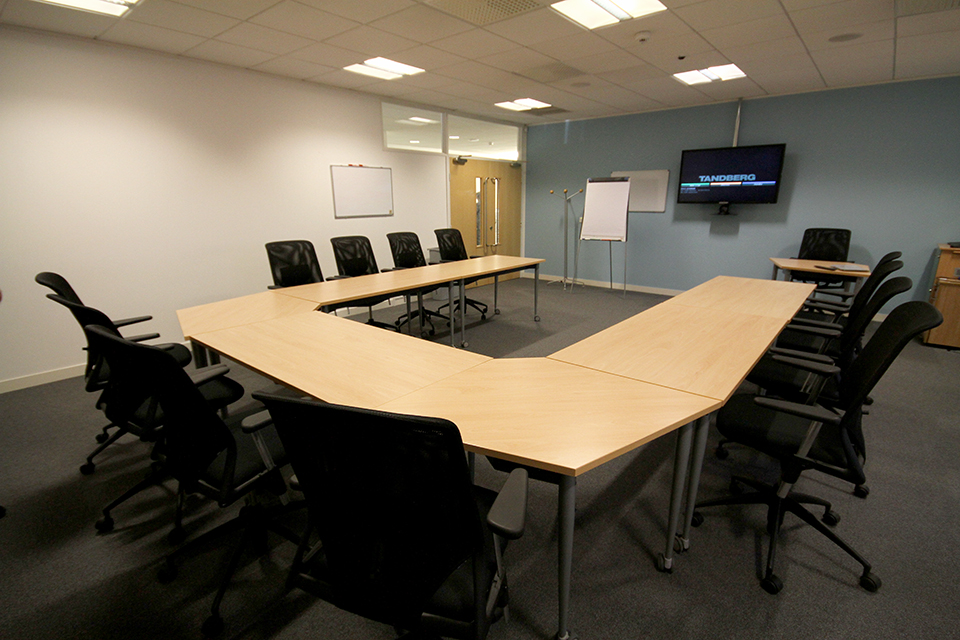 With the exception of the raked seating in the theatre and the IT training suite, all furniture is flexible and can be set up to meet your individual needs. The most common set ups are:
theatre
classroom
boardroom
horseshoe
cabaret
Each room's capacity will differ depending on the furniture setup you choose. All rooms are equipped with a desktop computer, flipchart stand with paper and a standard supply of stationery items.
Hospitality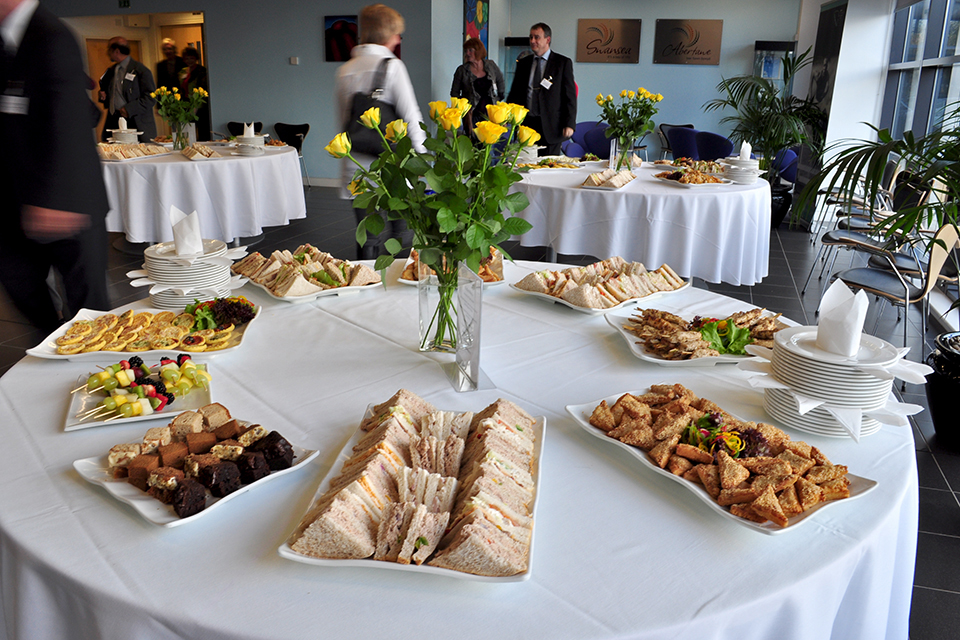 A full hospitality and catering service is available to compliment your event, from a continental breakfast on arrival to a selection of cold or hot fork buffets and afternoon tea and coffee. The RLDC also provides an attractive day delegate package for theatre groups of 100 or more. You can indicate your hospitality requirements by completing the relevant section of the booking form. The bookings team will be happy to assist you when making your choices.
Your event organiser will confirm any hospitality requests for you, including any special dietary requirements you may need to cater for.
Please note that our catering suppliers require 48 hours notice to cancel hospitality requests. Failure to notify in time may result in having to pay the full cost of any hospitality ordered.
Planning an event
Event management service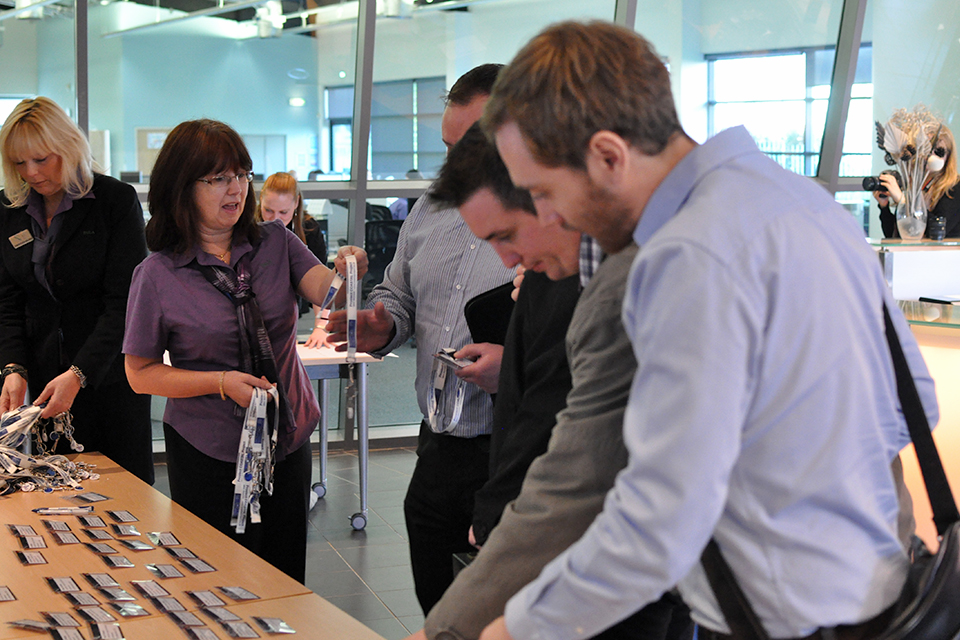 All events held at the RLDC are appointed an event co-ordinator.
Following the confirmation of your booking, your event co-ordinator will contact you to discuss your requirements and will remain your single point of contact from preparation to the conclusion of your event.
If you need advice about event management before booking with us please contact a member of the event management team.
Your event co-ordinator is available to advise you about:
planning your day
use of the audio visual and IT capabilities (including our ground floor media suite, for web, video and telephone conferencing)
room or theatre lay out
any hospitality or parking requirements
Where you have more complex technical requirements your event co-ordinator can arrange for you to meet one of our equipment officers or a member of our creative or IT teams.
Additional equipment
In addition to the standard equipment available in each of our rooms, there's a large selection of equipment available to compliment your event. For example:
laptops
flipcharts
interactive voting system
autocue
microphones
digital photography
The team provide in-house support for the full range of equipment available. Please ask your event co-ordinator to arrange any additional equipment you may need.
Attending an event
Opening times
Opening times are 8.30am until 4:30pm, Monday to Friday. Weekend and evening bookings are available by appointment.
Passes
Reception staff will issue you with a visitor pass or name badge which must be worn throughout your stay with us.
Fire exits
In the Innovation Facility, the fire exits are located at the 4 corners of the building. The Learning Facility has fire exits at both ends of each floor. The marshalling point for both buildings is the central reservation of the car park.
Emergency officers
All staff are trained emergency officers.
First aiders
A number of staff are trained as first aiders or emergency aiders. Please see the notice boards for contact information or report any incidents immediately to a receptionist.
Accessibility
There are 5 accessible toilet facilities throughout the centre all equipped with emergency alarms.
With the exception of the raked seating at the rear of the digital theatre and the IT suite, there are no fixed seats at the RLDC. Wheelchair spaces can be positioned anywhere in the meeting or conference rooms or to the front of the theatre. A wheelchair ramp can also be fitted to the theatre stage for speaker access, and wheelchair access can be easily provided for the IT suite.
There is an induction loop available in the digital theatre and portable induction devices available for all other accommodation. Guide dogs, hearing dogs and other assistance dogs are welcome.
Smoking
Smoking is not allowed inside the building, it is only permitted in the smoking shelters located outside.
Getting here and parking
Getting to the RLDC
The RLDC is a short distance from Junction 45 of the M4, on Upper Fforest Way in Swansea Vale. If you are using a satellite navigation system the post code is SA7 0AN. We are a short taxi ride from both Swansea and Neath railway stations.
When you arrive please go to the appropriate reception area (as indicated on your booking confirmation), where you will be met by our reception staff who will give you directions to your booked conference or meeting room.
Car parking
There are 130 on-site bookable car parking spaces. Disabled delegates arriving in a vehicle displaying a disabled permit will be allowed to park in one of the 7 disabled parking bays.
Please speak to a member of the bookings team or your event co-ordinator about your parking requirements.
Creative and IT services
Creative services
The creative production team is an in-house design team that provides a complete and professional service, from design and presentation to theatre support and multimedia design activities, digital photography, web and poster design.
Artworks, videos and presentations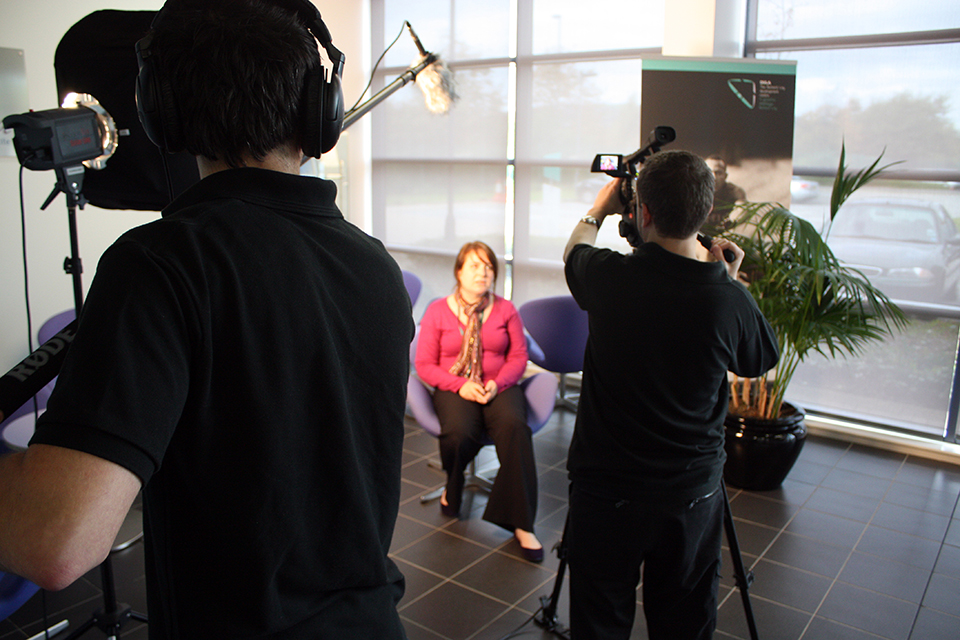 The team is made up of 6 fully qualified designers with a wealth of experience in the production of artwork and graphics for audio-visual productions. They are fully equipped to use multiple camera filming, green screen technology and autocue facilities, to capture produce and edit video and sound recording (including live presentation and drama based training videos). For presentations, corporate messages, communications and the production of learning aids.
Theatre support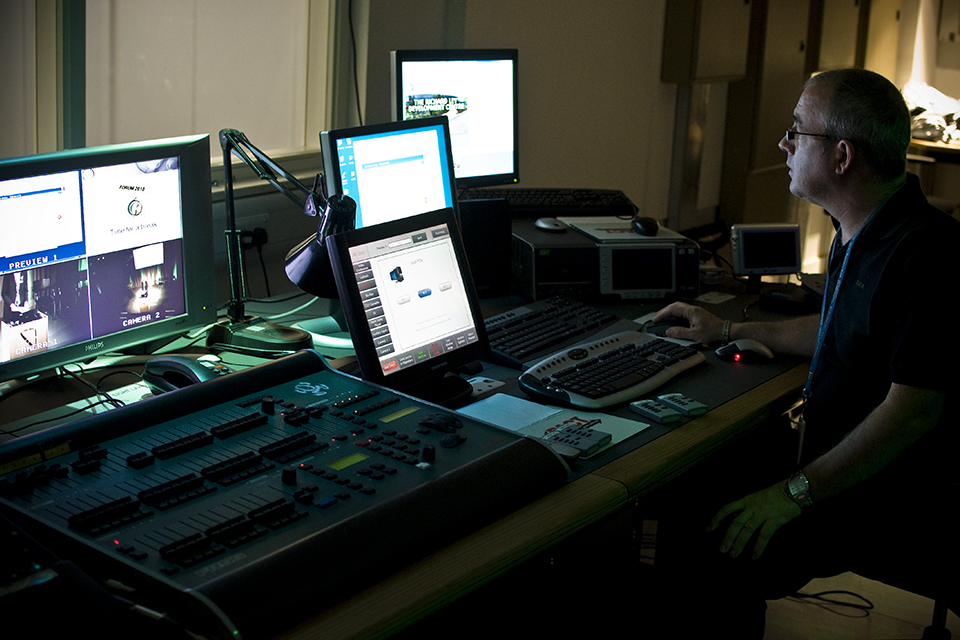 Creative production are on hand to support all theatre events, operate lighting and sound, and to assist with video and all on-screen presentations. Additional theatre equipment can be supplied when needed, including autocue and an electronic audience voting system (including associated analysis).
The autocue speech prompting equipment allows the speaker to read a script whilst maintaining eye contact with the audience. Scripts must be provided a minimum of 2 days before your event. The interactive audience voting system allows audience feedback to be captured and analysed instantly. Questions must be provided a minimum of a week before your event. The autocue and interactive audience voting will be operated by a member of the creative production team on the day of your event.
The RLDC also holds both PRS and PPL music licences, which allows the public broadcast of recorded music and video to support your event.
Multimedia, product testing and product simulations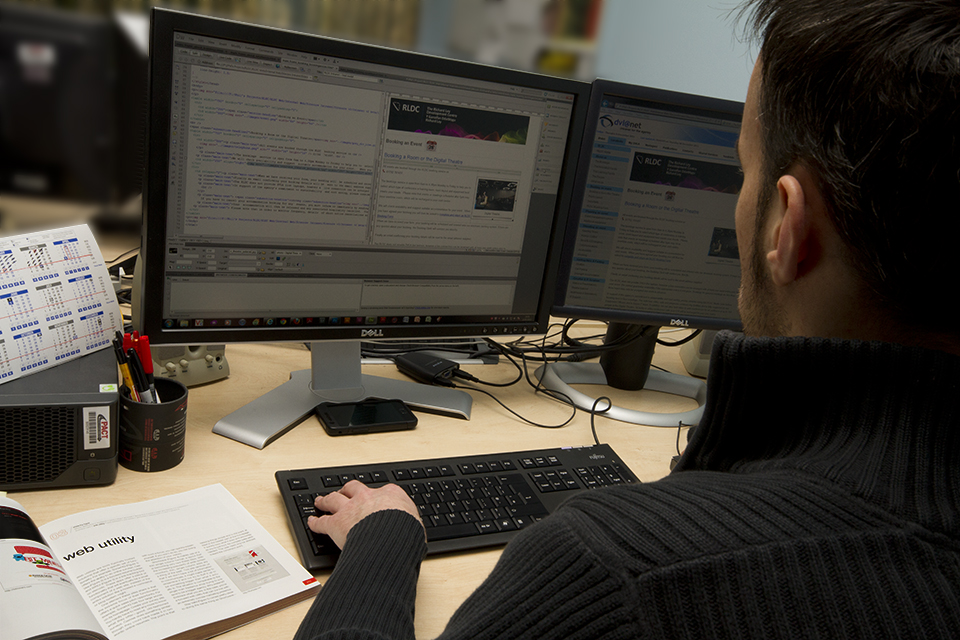 The team can develop multimedia applications in Authorware, Flash and other software and have been responsible for the technical build of many training and promotional products.
In addition, members of the team have HTML web experience as well as knowledge of 3D modelling software, print-based graphical design and crossover technology such as interactive PDFs.
Creative production also provides a number of activities to support development work and product testing. The team has been responsible for developing system simulations. Simple automated examples that prospective users can watch to get an overview of a process. These products have been used to train staff and help stakeholders develop many different aspects of their business.
The team can also provide usability testing using 'Morae' screen capture software webcams and microphones to user test your product before release.
IT services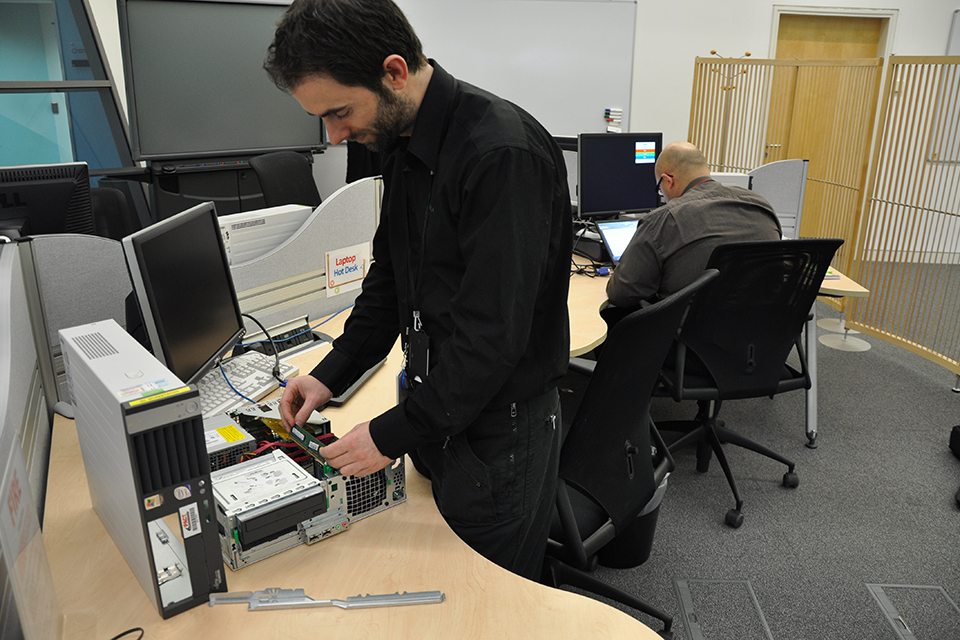 The in-house IT team provide full support for the computer networks and associated equipment for all bookings and events. The team run a virtual server environment which offers the opportunity to develop ideas free from constraints in a secure environment using the version of server or desktop of your choice.
There's a wireless internet access and the ability to run training activities. For a discussion about your needs please ask your event co-ordinator to contact the IT team.
Contact RLDC
Telephone
(01792) 761 497 or 765 438
Fax
(01792) 766 001
Post
The Richard Ley Development Centre
Upper Forest Way
Swansea Vale
Swansea
SA7 0AN

Published 5 June 2013
Last updated 30 August 2016
+ show all updates
Booking form updated.
Updated RLDC brochure
Booking form updated.
New external booking form updated
New booking form added
New edition of the RLDC brochure added.
First published.