Guidance
Social media playbook
This playbook explains how we use social media at GDS. In it, we share our best practice, what we've learned and what we're planning to do.
A playbook is 'a notional range of possible tactics in any sphere of activity'.
A good social media strategy meets the needs of an organisation. We hope this will be a useful resource for anyone managing social media accounts in the UK government.
We discuss:
setting objectives
social listening
community management
creating content
social media at events
evaluation
tips and advice
our own approaches with examples
GDS approaches social media in the same way as it builds its services: to meet user needs.
We're interested in connecting with the people who care about what we're doing. We want to share what we've learned from our work and meet the needs of our audience in a prompt and effective way.
If you want to get in touch with us about anything you read here, tweet @gdsteam or contact us.
The case for social media
In the UK, Facebook has more than 45 million users. There are more than 13 million UK users who scroll through Twitter's newsfeed, with 80% of them via a mobile device.
LinkedIn gains 2 new users every second. There are roughly 14 million Instagram users in the UK. And Snapchat has notched up 10 million daily active users worldwide.
From open policy making through to customer service and user insight, social media is a valuable tool for the public sector.
Making the most of social media
To ensure you're making the most of social media, it's important to undertake planning and research to:
establish the objectives of your channels
identify your audience
build your strategy
Social media campaigns should follow the Oasis model - a framework used across government to ensure campaigns are planned, implemented and evaluated effectively.
We've outlined some steps to follow so you'll end up with a clear social media strategy that will allow you to demonstrate the benefits of social media to your organisation.
Establishing objectives
Objectives may change over time but it is important to define them at the very start. They underpin your social media strategy and inform your key performance indicators (KPIs).
Start by identifying the role you want social media to play across your organisation. Ensure that your objectives are measurable and follow the Oasis model.
At GDS, we use social media to inform and engage.
We want to to raise awareness of the digital transformation of government services. We also want to share best practice across government. We use several channels to do this.
Social media listening
The first step in planning a social media strategy should be social listening. Listening to online conversations will help to shape your objectives. It'll give you a deeper understanding of your audience and will determine your approach.
Government departments use several social media listening tools. They include Brandwatch, Crimson Hexagon, Coosto, Ripjar, Pulsar and Sysomos. At GDS, we use Brandwatch.
Essentially, all these tools do the same thing. They monitor online conversations to understand what people are saying.
The cost increases with the volume of mentions you want to analyse and the number of admins. We analyse more than 200,000 mentions of both GOV.UK and GDS every month across all digital channels. This includes mainstream media sites, blogs, forums and social media. This allows us to:
plan our social media strategy to ensure our focus and processes are correct
provide a real-time overview of government services, which enables quick responses
evaluate campaigns and programmes of work
We use both Brandwatch and the analytics of each social media channel to track performance. We try not to over-complicate things by using more than 2 or 3 monitoring and evaluation tools.
If you have any specific questions about social media monitoring we're happy to help. We work with several government departments to support them with monitoring and evaluation.
Audience insight
Monitoring tools provide audience insights including demographic data, location and interests.
Each social media platform has built-in analytics for insights into your audience. Some will give you further insights to help with reaching new communities and improving how you communicate with your existing followers.
Facebook's analytics will tell you what time of day and days of the week your users are online, which is useful when deciding when you should be posting content. Twitter's native analytics tool allows you to compare the interests of your followers with those of your organic audience. This is useful as it can suggest new communities to target and can be used for paid advertising.
LinkedIn's native analytics can tell you the industries your users work in, their seniority and job functions. This can help you to create more effective and targeted company updates. Similar to Facebook, Instagram's insights shows you which days of the week your followers are most active and at which times.
BlueNod, Pulsar or Coosto will enable you to produce visual representations of your Twitter community. These are useful if you want to know whether you're an 'isolated island' or part of an engaged community.
We also use audience insights to identify influencers and opportunities for collaboration.
Influencer engagement
Influencers can help you reach a bigger audience and create more engagement online. An influencer can be a person, group or brand.
When budget is low or non-existent, a network of influencers can help boost your profile.
BlueNod and Hashtagify can help to identify influencers.
We use Brandwatch for an initial sift but there's no substitute for doing desk research. Spend time reviewing user feeds, networks and forums. It will help when you make an initial approach, as you'll understand exactly how your content is going to fit.
You can identify potential influencer partnerships by looking at:
the quality of their content
how engaged their followers are
their connections - a small list of well-curated influencers is better than a list automatically generated by a tool
Before contacting anyone, look at your objectives and ask yourself the following questions:
what do you need to achieve by engaging this particular influencer?
what do you want them to do?
what's in it for them?
If there's no budget, think about the quality of content you are providing them. If you have time, ask for their input – what would be of value to them?
Make sure your brief is clear.
Influencer outreach is not easy. It takes time to build good relationships. Do not blanket-email 100 individuals. Each approach needs to be sincere. Do not think that these relationships exist just online. If you can, set up face to face meetings. Putting in the effort goes a long way when you have great content which deserves attention.
Choosing your channels
At GDS, we manage 5 different Twitter accounts, as well as having a presence on YouTube, Instagram, Flickr and LinkedIn.
Our objectives determined the creation of each channel. We considered the role social media needed to play to deliver our messages. We also looked at the programmes of work we needed to support and the audiences for our messaging. You should choose your platforms based on your analysis of your organic audience, coupled with the communities and people that you know you want to reach.
Our @GOVUK followers are very different to those who follow @gdsteam. It's important to develop distinct content for each channel.
Setting up a new channel
You need to have the resource in place to manage a new channel. You also need a well-maintained process for creating content. You need to ensure you're engaging well with your community in a timely way.
Running one channel well is better than running 5 channels poorly.
The correct branding, messaging collateral or an initial post should be in place before you launch a channel.
No one wants to see default logos, empty or incomplete 'about us' information or a community with no content.
Your logos and header images should be consistent across all communications channels.
Creating a content strategy
Your content strategy should include:
online conversations using a social listening tool
messaging and campaign priorities for your department
cross-government messaging and campaign priorities
events and awareness days to leverage
evidence from previous campaigns
your process for crisis communications
a press contact in the department, so that urgent points are communicated efficiently
content pillars of 3-5 areas that any social output must align with to make sure messaging meets priorities. A content pillar is a specific piece of content that can be broken into sections.
Using an editorial calendar will help you get the balance right. More on this can be found in the 'Creating an editorial calendar' section.
Community management
Accountability
At GDS, we believe that once you start using social media to talk to your community, you have a responsibility to engage.
You have to be a part of the conversation, especially when people are asking you questions. If you don't have the resource to answer enquiries, then you don't have the resource to use the channel.
Day-to-day management: social customer service
If you have several social media platforms, community managers should track user interactions. They can do this with the help of a social monitoring tool.
At GDS, we aim to provide an initial response to all enquiries within 2 working days, although it's usually within a matter of hours. We use Sprout Social to track user queries. It allows us to assign them to individual community managers, and ensure a good response time. Other tools that allow you to do this include Falcon Social, Sprinklr, Buffer, Conversocial and Hootsuite.
Sometimes it's difficult to know which social interactions demand a response. If they do need a response, it's hard to know what kind of response is appropriate.
At GDS we use 2 processes:
a standard responses document which lists our most regular queries and pre-approved responses. Having these in place ensures consistency in messaging and tone of voice.
an escalation process - a document which identifies urgent queries, using a traffic light system to signify importance.
This work is part of a wider commitment to deliver better user support across government. For @GOVUK on Twitter, we are the face of government services but we at GDS do not deliver them.
We work closely with other departments. To help streamline user responses we've worked with HMRC, DVLA, Cabinet Office and HM Passports Office.
Get in touch if you'd like to hear more about the work we are doing in user support.
Day-to-day management: engagement
We use our social media monitoring tool to identify opportunities to engage with our audience. This can be by liking or retweeting tweets. We only retweet if we consider this of value to our followers. That's not to say that this would be inappropriate for your department or agency. It depends completely on the role social media plays and the tone of voice you have chosen to adopt.
Dealing with detractors
Unfortunately, as soon as you become active on social media, there are going to be people who are not happy about it.
Detractors talk about your account in a derogatory way for no good reason. Do not confuse detractors with people who have valid complaints or questions.
There are several ways to deal with detractors.
Start by creating some rules of conduct for your social media channels. This will be a list of behaviours which you will not accept from users. For example this will include content which is:
abusive, violently graphic, defamatory or obscene
fraudulent, deceptive or misleading
in violation of any intellectual property rights
promoting other social media channels, websites or content considered spam
'flame-baiting' - in which the aim of the post is to start a fight
Be clear about the consequences. For example, when we deal with detractors on @GOVUK, we will always try to help in the first message. If the user continues to tweet without engaging with our offer of help, we ignore later tweets.
Your can post your rules of conduct on your social media channel or host them elsewhere. Direct users to this if they behave in an unacceptable manner. You can read GDS's rules of conduct.
Banning people on social media
Banning a person should always be a last resort. If a user continually breaks your rules of conduct or is abusive, you can report or block them.
Escalation policy
Have an agreed escalation policy. It should include a list of subject areas or scenarios to look out for and a procedure on how to deal with them if they arise.
We use a traffic light system to identify the levels of severity for an issue. For low-level issues, a standard response may suffice.
Make high level issues known to senior individuals or departments. An official statement might need to be shared. These documents should be regularly reviewed, updated and re-circulated.
Social media content
Social media and storytelling
Brands use social media to craft stories. Doing so can increase sales, fans and loyalty.
In contrast, government is not selling or asking for anything. Government uses social media to communicate policy.
For @gdsteam, one of our storytelling themes is transparency. We keep users informed about the transformation of services. We share how they're built, the people behind the transformation and the process.
We also blog to tell stories. We blog to:
talk about our work and how we do things
share things we learn
raise awareness of the services we help to build
promote our culture and talk about our people
We ask people in GDS to write on their community blogs. We reserve the main GDS blog for the bigger stories with broader appeal.
We run short campaigns around topical announcements. We also run themed weeks around our processes. Past campaigns include #accessibilityweek, #govtransformation and #govukis5. These showcase expertise both in GDS and across government. It allows us to test new ideas and can help us with recruitment.
Storytelling visuals
We've included a handful of examples of how we've used social media to tell stories. This could be a short campaign we've led, or a cross-government campaign we've amplified with our own visuals.
Below is an example of a tweet we posted during a mini-campaign to celebrate the 5th birthday of GOV.UK. This tweet introduced the mini-campaign with a strong visual asset, and we then used the #GOVUKis5 hashtag to group related tweets together throughout the week.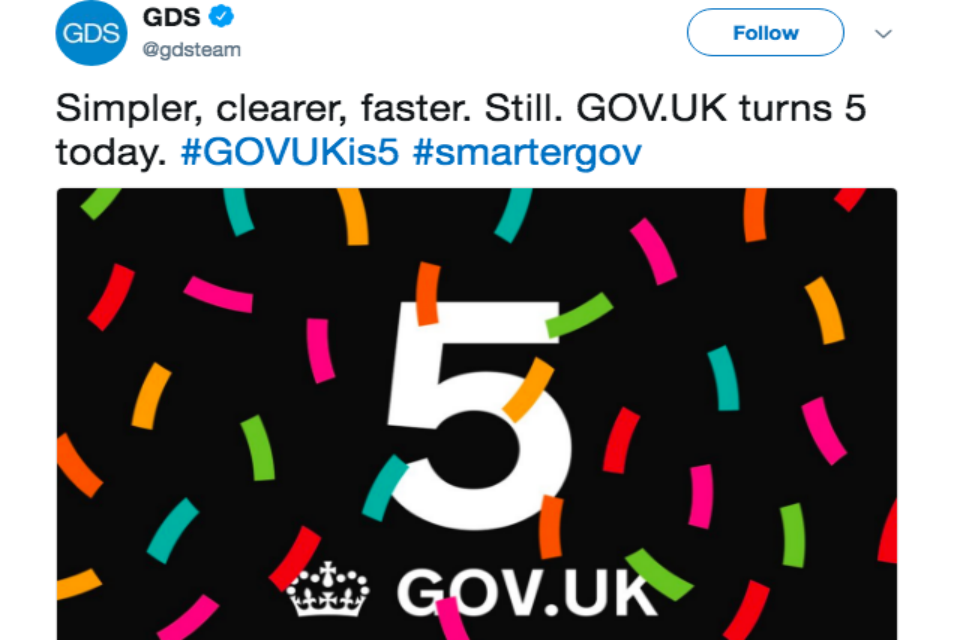 The examples below are 2 tweets we posted to launch a mini campaign to mark the first year of the Government Transformation Strategy. Two tweets were threaded together to provide more context for users and enabled us to group 2 graphics together for higher visual impact.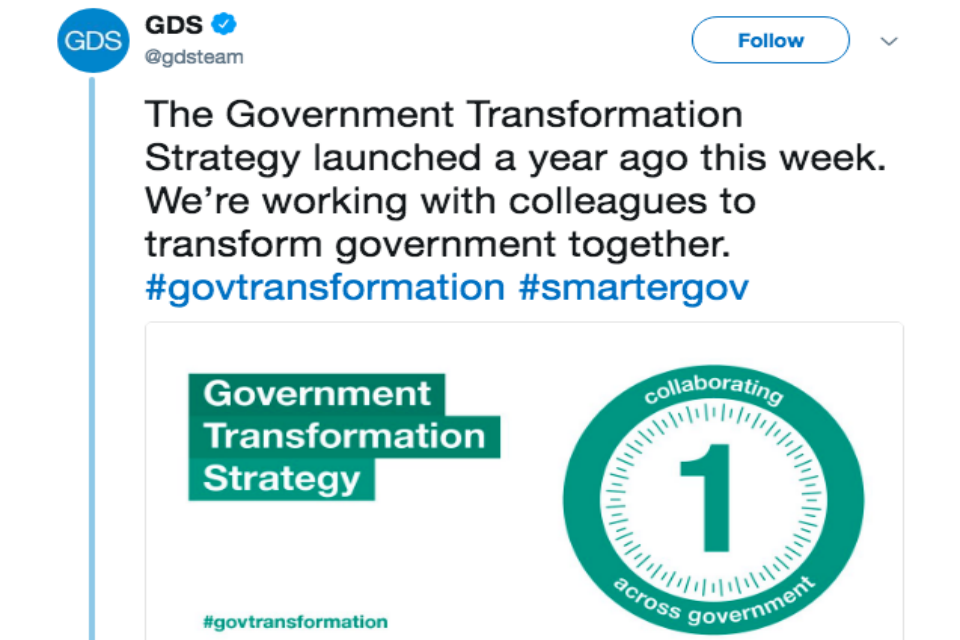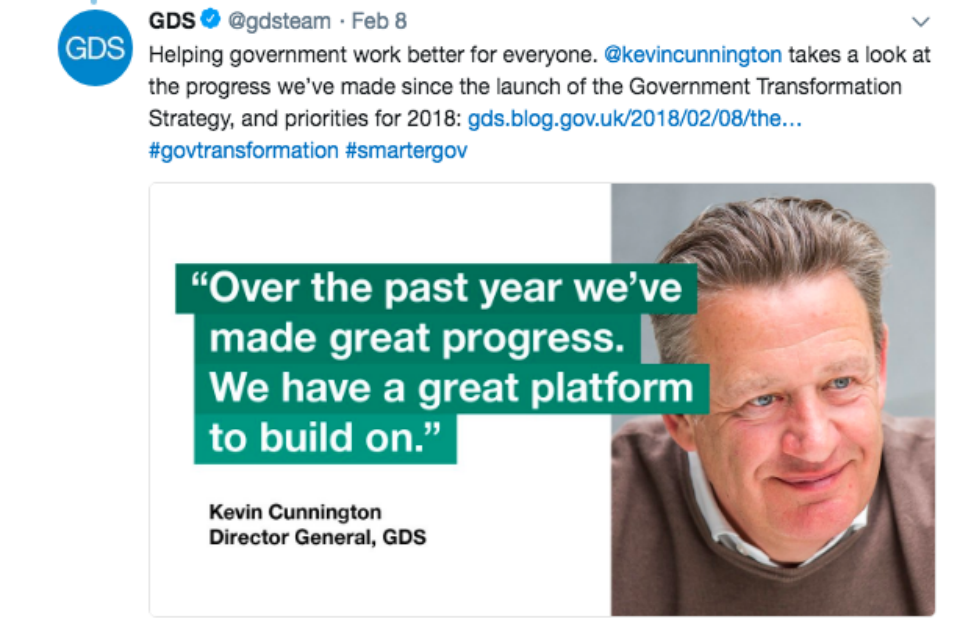 This is an example of using the @GDSteam channel to promote a cross-government campaign. The NHS's #MissingType campaign asked departments to share imagery removing the letters A, B, and O, corresponding to blood types, to encourage those who have never donated blood before to sign up as donors.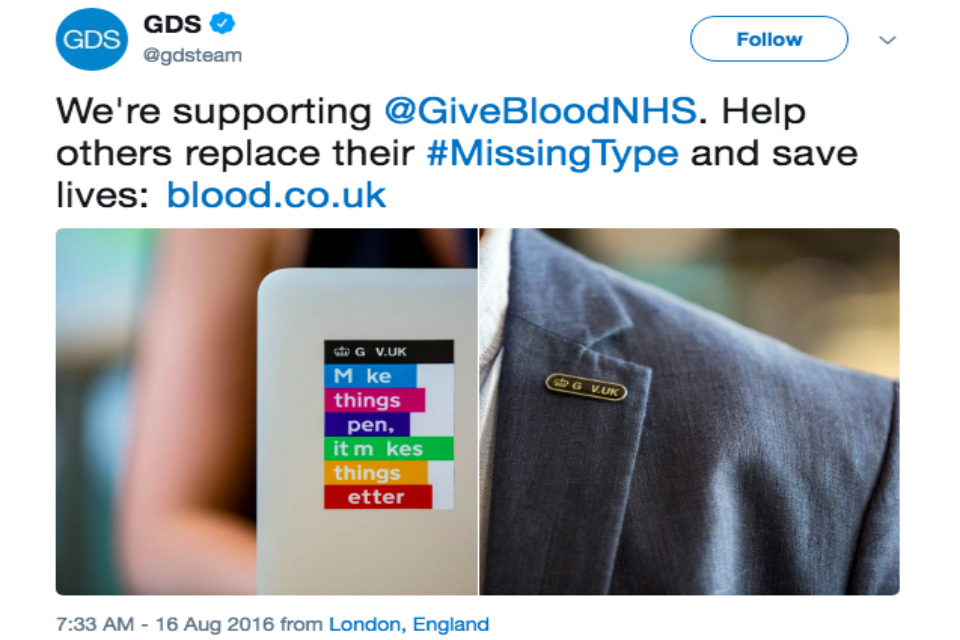 Creative production
Great social content has a consistent look and feel. This is particularly important if you're creating a series of images or videos. It can drive more traffic than almost anything else.
A creative team with dedicated social media resource is ideal. Involve content creators in the planning stage. They can help form the brief and come up with solutions. They have the expertise to create impactful and engaging content. They will also know how to repurpose content across channels.
We use a standard image format for @GOVUK that includes the GOV.UK logo, a call to action or statement and an illustrated icon. Consistency makes your visual identity stronger and helps to build trust.
Great social content is easily understood. Infographics should illustrate a single point. Avoid trying to communicate multiple messages.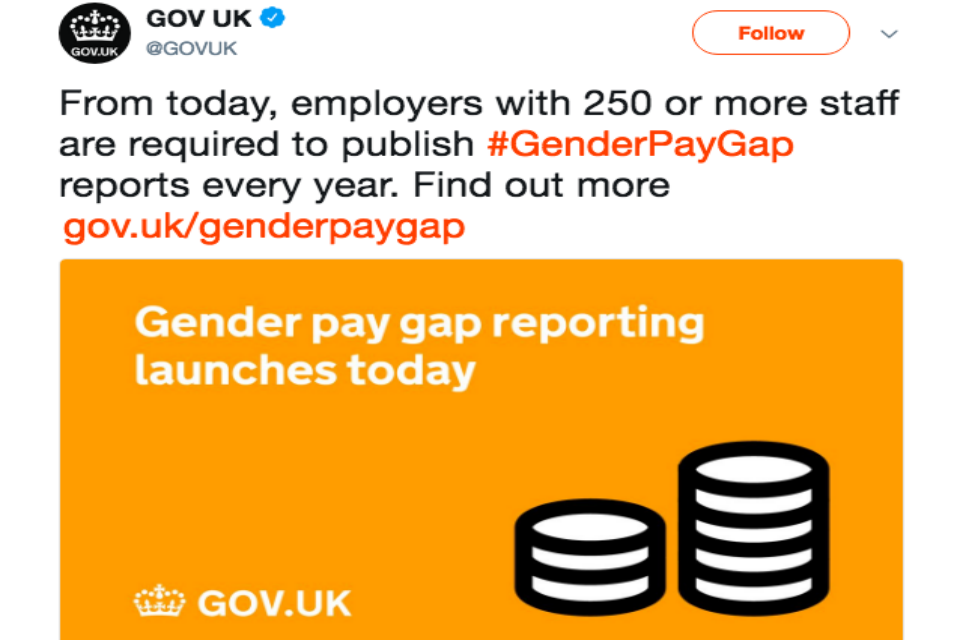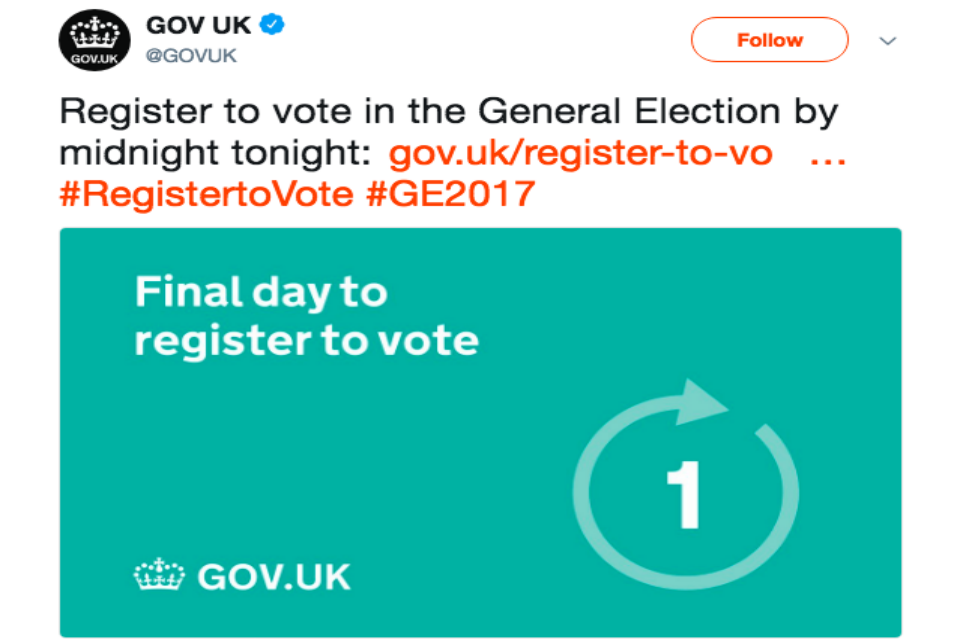 Tips for digital content production
Think about the user needs on the different platforms. Stories are growing 15x faster than feeds, so consider this format on channels like Instagram.
Keep things simple. If the image does not sell the story or convey the message on its own, it has not worked. Instead of a complex infographic, spread that information across several posts: one piece of information per post.
Remember, one size does not fit all. Files should meet social media platform specifications.
Consider whether you want to amplify your content through advertising. For example, Facebook will only let you use an image for advertising that has no more than 20% of text in it.
Consider accessibility during the planning stage.
The GOV.UK style guide and GDS design principles are great places to start when considering best practice in content production. They can help focus your thinking on what's important.
Creating an editorial calendar
We have an editorial calendar to manage publication and to keep track of events. We use Trello for day-to-day planning and Google Sheets for weekly and yearly planning.
Collaborating and awareness days
Collaboration is an important way to amplify content. To ensure we're not missing anything across government, we use Basecamp. It connects us to community managers in other government departments. This allows us to help support some of their communications and marketing campaigns, such as HRMC's Self Assessment campaign.
We also support national awareness days such as Remembrance Sunday and World Book Day.
We adopt an 80/20 rule for content. 80% is content we create and 20% of content is curated from elsewhere. For example, via a retweet or linking to another department's content.
The important thing to remember about editorial tie-ins is that you must have content that adds value. A rule of thumb for us when we're tweeting from @GOVUK is that it points back to information on GOV.UK.
Content for events
As with everything, you need to think about your objectives for campaigning around an event. Below is an example of the roles social media can play in supporting these.
Build awareness of your event:
let relevant people know that the event is happening
give people enough notice to be able to attend
make people aware of registration deadlines
encourage people to visit the registration site (if applicable)
Encourage people to engage or interact with your event:
invite people to participate in event activities
engage people with online conversation around the event
share event content
Gather feedback about your event:
capture positive sentiment and playing this back to attendees
Make sure you consider your audience, venue, wider communications plans and hashtag.
Things to consider before your event
Social media needs to align with your wider communication plans. Make sure your social media team is involved in event communications discussions. Initial conversations should happen at least 6 weeks in advance to plan and produce supporting content.
It may be that the event has a niche audience so make sure the channels you're going to use to promote your event are appropriate. Pushing out content on your main Twitter feed and LinkedIn may not work for your wider audience.
Consider having a hashtag for the event that you can promote in advance and signpost to on creative assets. You should also display the hashtag at the venue itself - this encourages attendees to use it on the day.
Things to consider on the day of your event
Encourage good interaction among attendees by checking the venue has good Wi-Fi. At check-in or registration, make sure the wifi network and password are clearly displayed. Display it where you'd expect attendees to tweet, take photos or videos.
Ensure that any speeches or presentations are given to your social media team in advance. This gives them the opportunity to pull out key messages and if necessary, create supporting visuals. It also gives them the opportunity to consider video or streaming services.
It helps to group content together around your event. Consider a short hashtag which clearly refers to the event and where possible, is unique, which will help you to evaluate performance.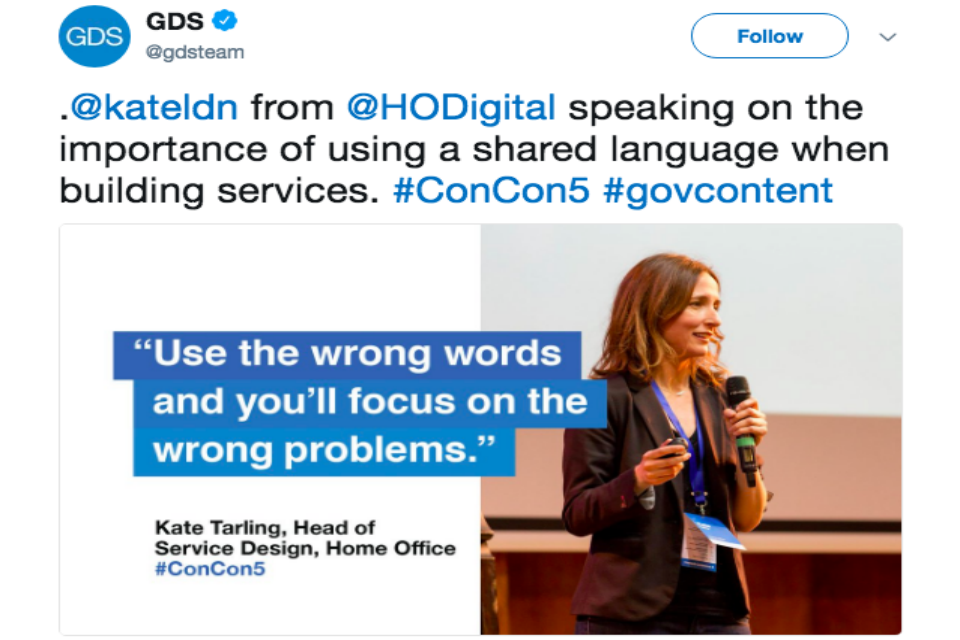 Measure and evaluate your performance
To ensure evaluation relates back to our objectives, we monitor insights continually and feed these back into the objectives - rather than evaluating at the end. We also produce a monthly detailed engagement report for internal stakeholders.
| Objective | Metrics | Data source |
| --- | --- | --- |
| Awareness | Number of online mentions across all channels | Social media monitoring tool |
|   | Reach of hashtag | Hashtag tracking tool / social monitoring tool |
|   | Impressions generated by content on owned social media platforms | Social media platform's native analytics tools |
| Engagement | Social media likes and comments | Social media platform's native analytics tools |
|   | Social media shares (including Twitter retweets) | Social media platform's native analytics tools |
|   | Video views and subscribers | Social media platform's native analytics tools |
|   | Blog subscribers | Blog analytics |
|   | Number of users adopting campaign hashtag | Hashtag tracking tool / social monitoring tool |
| Action | Clicks to website | Google Analytics |
|   | Downloads / requests for information | Google Analytics |
|   | Number of times owned content has been embedded elsewhere | Social monitoring tool |
| Advocacy | Sentiment | Social monitoring tool |
|   | User generated content developed outside of owned channels | Social monitoring tool |
We prefer to measure engagement rather than reach. It's a more tangible way of assessing whether people are consuming our content.
Tracking links
If you're planning a campaign across multiple channels and using influencers or an outreach programme, it's important to track the performance of individual posts.
One of the most effective ways to track the performance of your posts is by using UTM tracking. A UTM is a short piece of text added to a URL which works with analytics programs like Google Analytics to give insight into a user's journey after a link is clicked via social media. We use Google's UTM generator tool and then analyse the custom Google Analytics dashboard to monitor traffic.
The value of this is being able to segment your posts from each other and see in real time how different content or channels/influencers are performing. This means you can reevaluate your campaign strategy as the campaign is running to make sure your messaging is as effective as possible.
Benchmarking
It can be useful to set benchmarks to track your performance over time and use these to set standards for the future.
Benchmarks are not set across government. Every department meets different user needs, so it would not be fair to assess departments against one another.
There are many ways to benchmark performance. For Twitter and LinkedIn, you can export your data and set one measure you will track over time. This is the process we use at GDS:
We export our Twitter data monthly.
We calculate the average number of engagements per post per month.
We track the past engagement figures for the past 12 months on a graph.
We set the average of these 12 month figures as the baseline, or aim, for the next month.
We ensure we take data from the past 12 months. In practice this means refreshing the graph and monthly average baseline each month, so that the baseline is a robust measurement that reflects the previous 12 months.
For Instagram, you can follow the same method but use Instagram Insights or your social media management tool to gather the data, then manually analyse it.
Written content
We work hard to write our content in plain English, avoid acronyms and follow the guidelines in this playbook.
This is especially important in our citizen-focussed social media channels, such as @GOVUK. We have a duty to ensure all users can reach government information and services.
GOV.UK style guidelines suggest that written content should meet a reading age of 9 years.
Sometimes your content will be complex. Government statistics can be complicated at any reading age. The best way to approach it is to try to understand your audience and their needs and then be consistent.
You can check your content using Flesch–Kincaid readability metrics or Readable.
On specialist channels like @gdsteam, the topic and audience call for more technical language. We limit this on social media as far as possible, but try to keep the integrity of the message.
Where possible, thread content together, for example with quote re-tweets and replies, to build an understanding. Start with content that's easy to understand and then share more complicated messaging. The Office for National Statistics does this when sharing statistics. See an example on Twitter which uses migration statistics.
Images, animated GIFs and infographics
Consider the colour palette when creating images, graphics or infographics.
Web Content Accessibility Guidelines 2.0 guidance suggest a minimum contrast ratio of 4.5:1 to meet the AA level standard. Here's an online colour contrast checker you can use.
Include alternative text (alt text) when using images. This helps users of screen readers or assistive technologies. It's particularly useful if the image itself includes text.
Alt text should be short and only contain important information the user needs to know. If an image is being used for decorative purposes only, leave this blank.
Include key messages in the body of the post or add a hyperlink to a webpage where the user can access the information in HTML.
With infographics or images with a large amount of information in the image, provide a text alternative in the body text.
Animated GIFs and moving images can be distracting to some users. The speed of a GIF with information or data is also an issue as some may need more time to understand the image. We aim to use animated GIFs only when there is a particular need. In those cases, we ensure that the message is well conveyed in accompanying content.
Video and audio content
When we produce a video with audio, we add subtitles or closed captions and the text transcript. YouTube and Facebook allow you to add subtitles and captions. Facebook has a feature for adding subtitles to videos.
For video without audio, we include a description to ensure people with visual impairments can access the content.
Video descriptions should be in plain English. They should describe the key visual elements in the video. Every user needs to have the same information.
Audio-only content should be accompanied by a transcript or audio description. It should be available in HTML or as website content.
Accessibility
Interacting with government is often not a choice for people so our information should be as accessible and inclusive as possible.
The Equality Act 2010 says that information provided by government bodies should not exclude anyone.
This can be difficult on social media. We take steps to make sure our content is more inclusive and that we consider the needs of all our users.
Read more about the research we did for these accessibility guidelines in our blog post, making social media accessible. We continually review the accessibility guidelines.
Where you can find GDS on social media
The bulk of our social activity happens on Twitter. We use 5 different accounts, each with distinct audiences, supporting different programmes of work and objectives.
Twitter
@GOVUK
@gdsteam
@GOVUKdigimkt
@DigiCareersGov
@GDSAcademy
Instagram
LinkedIn
Others
A quick note on Facebook
GDS does not have a Facebook page. Initially this was a matter of resource. But with every new update to the Newsfeed algorithm it becomes increasingly difficult to get content seen unless you pay to advertise.
Facebook is a valuable platform. The huge, and if necessary, targeted reach of the platform makes it the perfect place to promote campaigns and engage users. The Cabinet Office digital team has a cross-government Facebook page to support departments in this way.
A quick note on Snapchat
GDS does not have a Snapchat channel. Research shows 71% of Snapchat users are under 34 years old and Instagram stories are now more popular than snaps. Some government departments have used the platform successfully, for example the Electoral Commission ran a specially-designed geofilter to encourage users in Scotland to register to vote on a paid-for-ad basis.
For more information and updates on Snapchat, see the Snapchat blog.
Channel guides - how GDS uses Twitter, LinkedIn, Instagram, Flickr, YouTube
Twitter
For an introduction to using Twitter professionally, we recommend reading Twitter's UK blog.
These are the techniques that work best for GDS and how we use them.
Getting verified
Being verified on Twitter signals trust. It shows that you're the official voice of your organisation. Find details on how to verify your account on the Twitter site.
Tweeting
When we link to content in tweets, we display the full URL links so users can see where they are being taken to. We do this because the way GOV.UK links are formatted means that they include a description of the content itself and show where the user will arrive to view the content.
This is important when it comes to building trust. It also reduces the chances of link corruption. URL-shortening services such as bit.ly or ow.ly should be avoided.
If you're linking to content on GOV.UK, you can request a short URL.
URL links now count as 23 characters no matter how long they are.
Keep tweets short: research shows the ideal length of a tweet is 71-100 characters.
Visual imagery is the lifeblood of Twitter. Research has shown people are more likely to remember visuals, rather than text. When people hear information, they're likely to remember only 10% of it 3 days later. When a relevant image accompanies the same information, people retained 65% of the information 3 days later.
82% of UK Twitter users access the platform via mobile. This has huge implications for the content you develop. No one wants to view a complicated infographic on a phone screen. Also consider video format - square posts with subtitles work well. Consider how users will view your content in the news feed. Look at Twitter size guidelines.
We have a private test account so we can trial and test images before publishing them.
Hashtags
Use hashtags when relevant but never more than 2, and keep these short. For specific events, make sure there's only one hashtag promoted. Remember, hashtags are a tool to share and connect with others around a topic or subject. They also allow users to see what is 'trending'.
We use Hashtagify to ensure we are using the right hashtags for the content we are sharing.
Government departments can track awareness and engagement for campaigns through hashtags. There are many free and low-cost tools available to do this (such as Keyhole, hashtracking.com and Tweetreach).
Additional tools and services
To keep on top of Twitter monitoring, we use Brandwatch and TweetDeck.
You can also sign up for Twitter Alerts. It's a breaking news service available to certain local, national and international institutions. It provides critical information to the general public. The service is only available to people using the official Twitter app for iPhone or Android. Check out @FCOtravel and @EnvAgency who are using this service.
Auto-generated clickable Twitter Cards work well for promoting links. If you're tweeting a link to a GOV.UK blog, most blog posts will auto-generate this if there's an image within the post.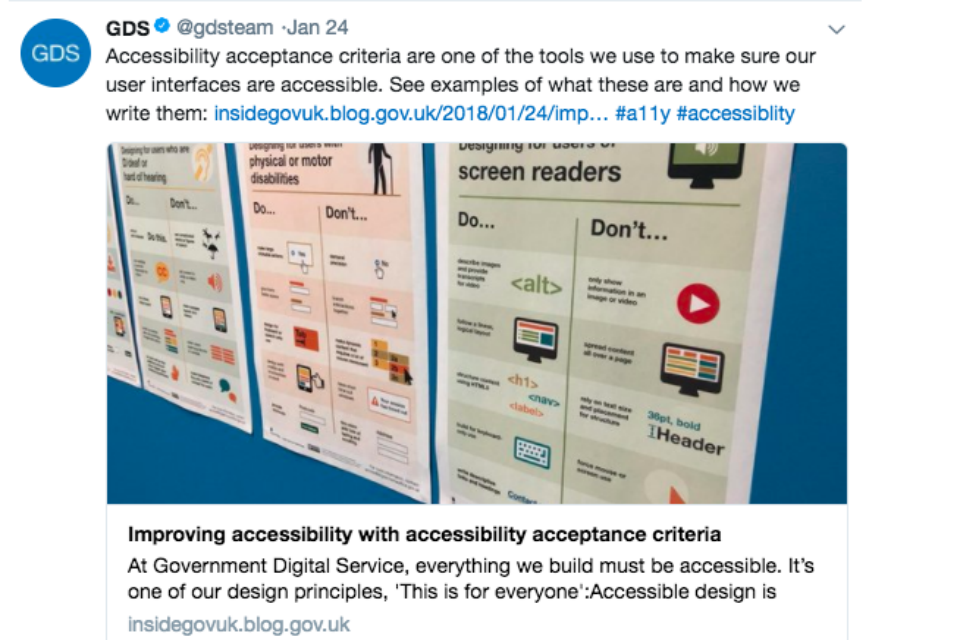 When you upload a video file to a tweet, Twitter allows you to trim it. Native video files up to 140 seconds long will autoplay in the news feed.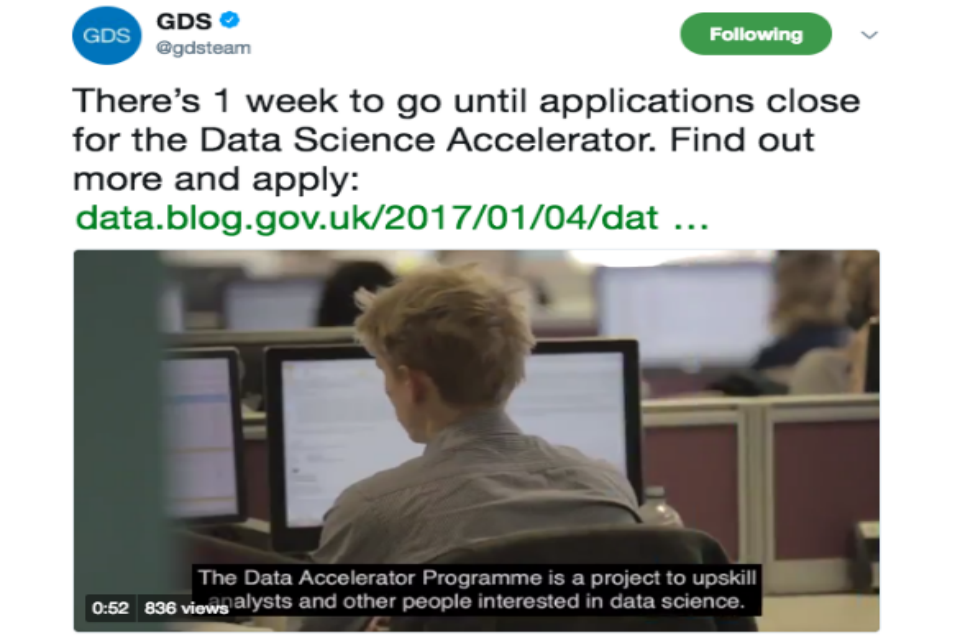 Instagram
Instagram is a great way to bring content to life, and we use this to showcase the work and culture of GDS.
Get the most out of Instagram
Get involved in things that are already happening on Instagram. Get inspiration from #workplacewednesday and #employeetakeover.
Check you are using the right hashtags with tools like Focalmark and Display Purposes. 9 hashtags per post is ideal.
Make sure your file sizes are optimised for Instagram.
Videos work well on Instagram too. You can also use Instagram videos apps such as Hyperlapse. Other third-party tools you may find useful include Layouts, VSCO and Flixel.
For the caption, up to 150 characters are visible and then the rest is visible once the text is clicked. Instagram does not support links. Links will not be accessible to the user unless they copy and paste them into a browser. One thing you may want to consider is using the caption to micro-blog. Here's a GDS example: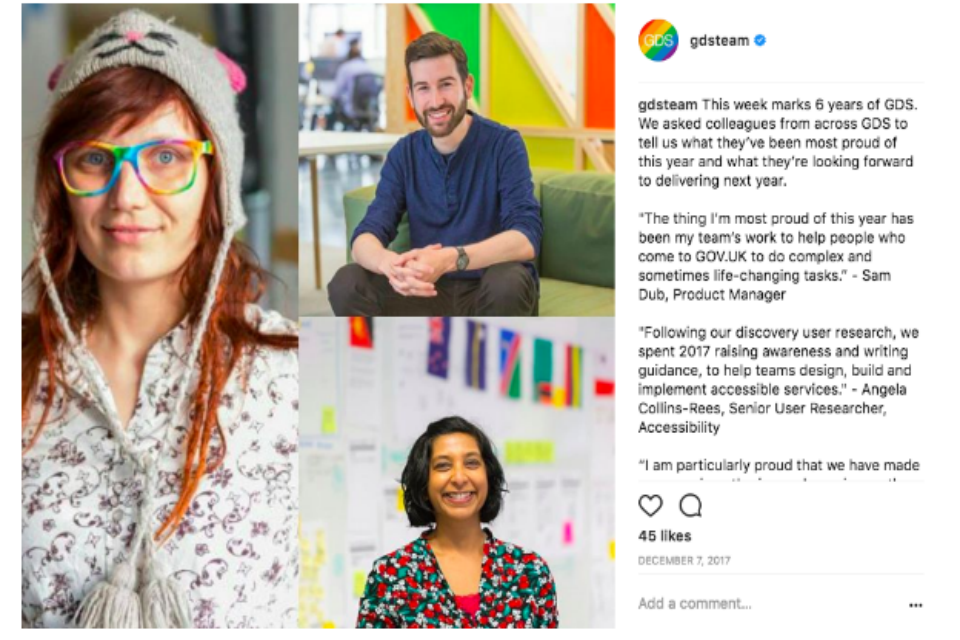 Instagram stories is another format to take advantage of. It's used by 400 million people every day. You can share stories with your audience instead of normal post updates and you can decide whether to let these disappear within 24 hours, or highlight them on your profile so they do not 'expire'.
If you're producing long-form video content, Instagram TV is a feature to explore. It hosts vertical videos that last up to an hour long.
Consider other ideas such as curated takeovers and collaboration posts with aligned organisations.
Schedule Instagram posts using services such as Schedugram or your social media publishing tool.
Instagram currently only permits verified accounts to access Instagram Insights. Some social media scheduling tools will allow you to see analytics for your Instagram account - we use Sprout Social for this.
Flickr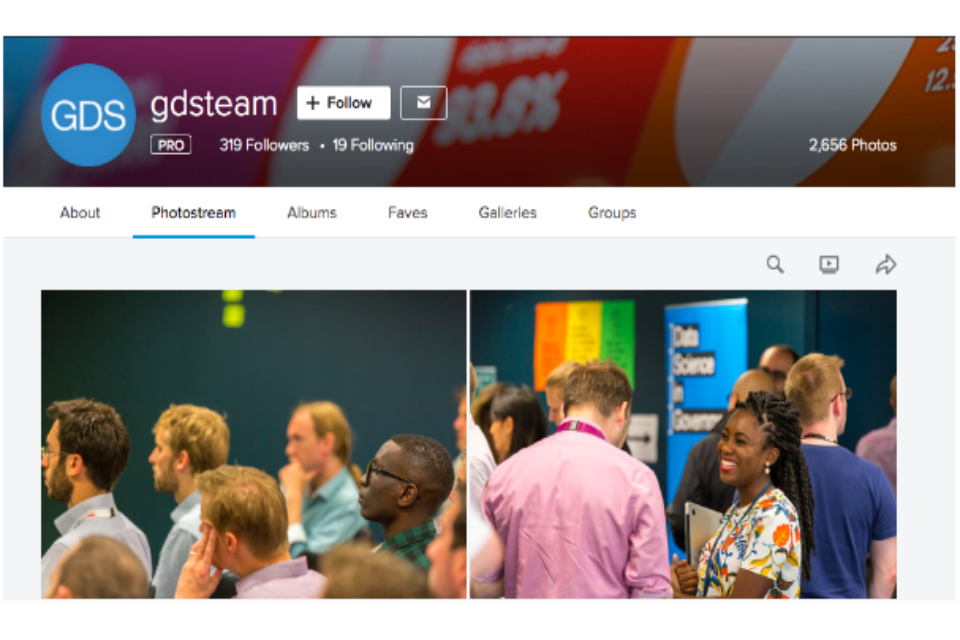 We love Flickr for hosting HD images. It's a valuable image resource when we create presentations. It's also great for creating albums that can then be shared to Twitter and displayed online.
Get the most out of Flickr
Make sure content is correctly titled and tagged. This will help with search engine optimisation (SEO). You can add as many tags as you like to Flickr as there's no limit, and it does not negatively impact the user experience.
Put images into albums. This allows users to find easily the content that they're looking for. It also allows you to share lovely looking photosets direct to Twitter. Remember that the copy you write for the set will appear in line with your tweet and photos.
Only post sharp, clear images.
We like to upload albums to showcase the work we're doing at GDS. This could be community meet-ups we've held, external events we've run or interesting things that happen in our offices.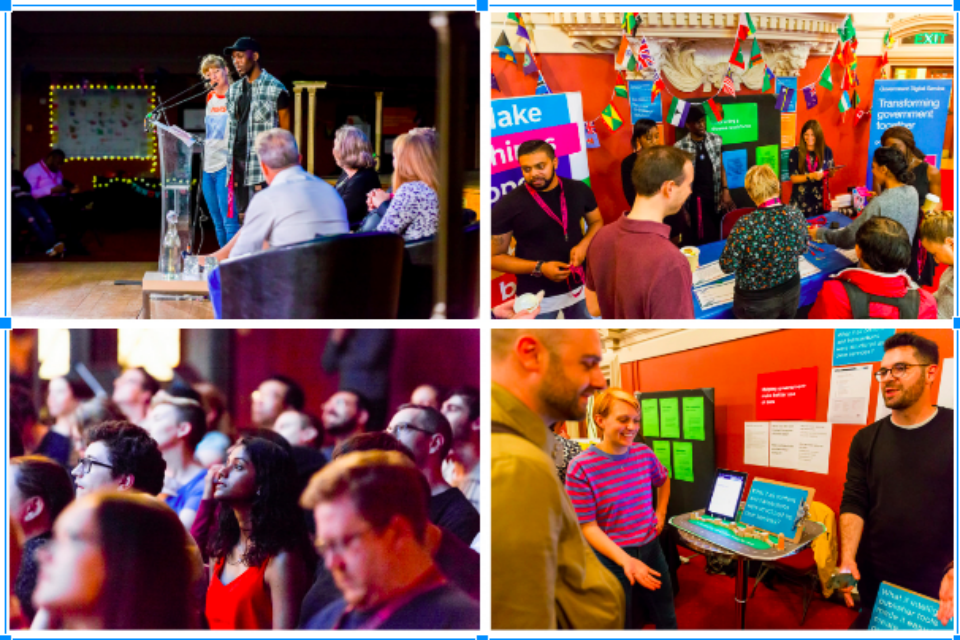 YouTube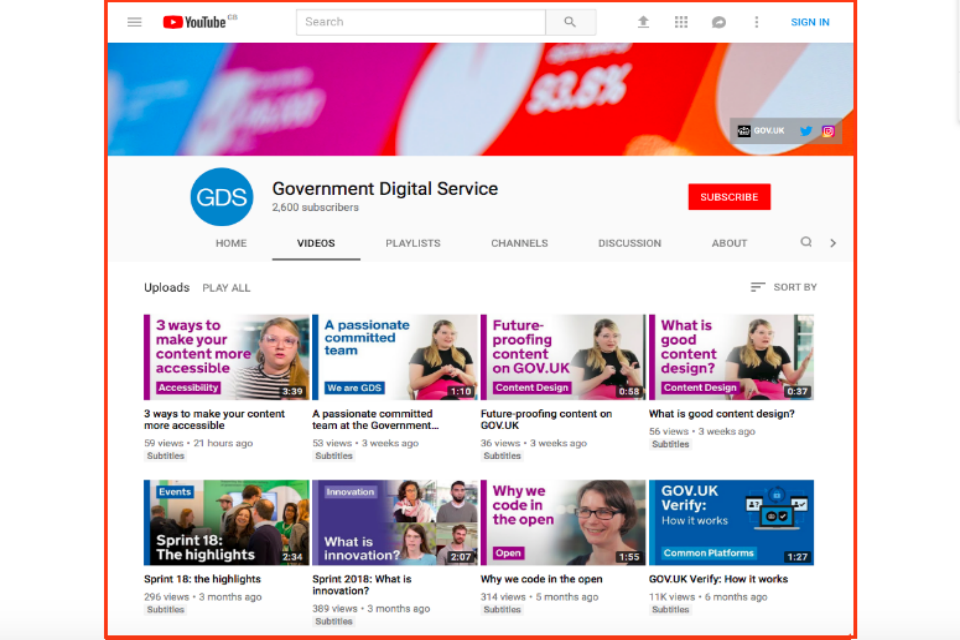 YouTube has more than a billion users. That's almost one-third of all people on the internet.
GDS is leading the digital transformation of government and our YouTube channel should reflect this.
A key GDS principle is to 'show what good looks like', and films provide an engaging and effective way of doing this.
We're taking a more strategic approach to creating content for our channel. We create timely content to support campaigns and we also produce timeless video content to grow our channel in a way that adds value.
We monitor retention, audience growth and engagement in order to determine the best format.
Some things to bear in mind - 8 top tips
Ensure the content is titled and tagged correctly. This is essential for SEO and discoverability.
Consider whether you want your video to be 'listed' or not - this means whether it will show only to users with the link, or not.
Add content to the relevant playlists.
Upload regularly - stagnant accounts indicate to your community that you cannot be bothered.
Ensure your video is mobile optimised. More than 50% of YouTube views come from mobile - this should be factored in when creating new content. Use subtitles as a lot of viewers watch in mute mode.
Always add a call to action (CTA) to the description or the text you're adding to share - when creating a video think about whether you need to have a CTA included as an end frame.
Consider accessibility - remember when uploading videos to YouTube for public consumption, you need to make them accessible. To ensure that everyone can get the most from your videos, it's important they're either captioned or embedded with a transcript (we cannot publish them if they do not meet these requirements).
Thumbnails - add an enticing thumbnail to your video so it encourages users to watch it. Video thumbnails let people see a quick snapshot of your video.
Learn more techniques and best practices through YouTube's Playbook Guides.
LinkedIn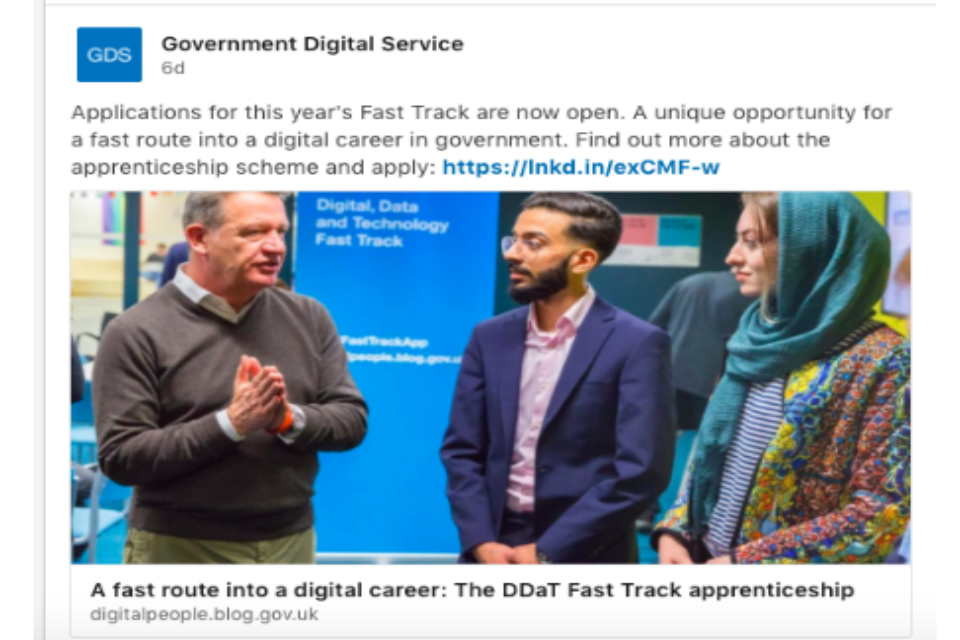 GDS has a company page on LinkedIn, where we share video updates and link to relevant pages on our blog. We've found that our updates on LinkedIn result in a higher click through and engagement rate than on our other channels. Especially if we post about current job vacancies.
Some things to consider when using LinkedIn
LinkedIn is a fantastic channel to showcase expertise and generate discussion. Be prepared to have more in-depth conversations with groups and individuals to add real value.
Get involved with relevant groups on LinkedIn to help promote your company page.
The channel offers great targeting options so if you want a post to only be seen by a specific group of users, you can set this up. However, do not make your targeting too niche as this could exclude other users who may be interested.
You can also create showcase pages for companies. This allows organisations with multiple products or services to target specific audiences. Another way of pointing to a sub-department or specific topic is to add this as a company page and affiliate it to your company page.
Think about using your employees as advocates to increase brand and employee engagement. For example, write long-form articles about their expertise area and share that on your company page.
Social media learning and trends
Social media is a fast-paced world. Platforms are continually developed, new features are continuously released and algorithms continue to change.
To keep your social media strategy up-to-date, it's important to consider reviewing your channels and staying up-to-date with social media developments and best practice.
Evaluate and iterate the strategy for each of your channels based on new developments and analytics. Undertake thorough analysis every so often (in addition to your standard reports) to deep dive into things like optimum content types and the times of day you're posting.
If you work in government communications and are interested in learning more about using social media in your work, the Government Communications Service run courses and events including Aspire Courses and communications exchanges.
Useful reference points to find out about the latest developments in social media platforms include:
If you want to get in touch with us about anything you've read here, please tweet @gdsteam or contact us.