Guidance
Local Currency Financing
From:

Part of:

Published:

24 November 2016

Last updated:

14 September 2017, see all updates
How Local Currency Financing works, its benefits, and its main features.
Overview
Under the Local Currency Finance Scheme UK Export Finance guarantees a buyer credit loan to an overseas borrower in local currency to finance the purchase of capital goods and/or services, from an exporter carrying on business in the UK. Loans can be made in one of around 40 eligible currencies for contracts with a value of at least £5 million.
A buyer credit in local currency essentially follows the same format as a conventional buyer credit in a standard currency such as Sterling, Euros or US Dollars except that it is funded from a bank in the buyer's country.
Local Currency Financing is particularly useful for projects which do not usually generate foreign currency revenue. For the overseas borrower (and buyer) it reduces foreign currency risk and avoids a variable debt service cost.
How to apply
Read the guide to the Buyer Credit Facility for details of how to apply.
Contact our customer service team to get help with Local Currency Financing.
How it works
The diagram shows how UK Export Finance guarantees a loan to a buyer that is purchasing capital or semi-capital goods/services from a UK exporter, financed in a local currency.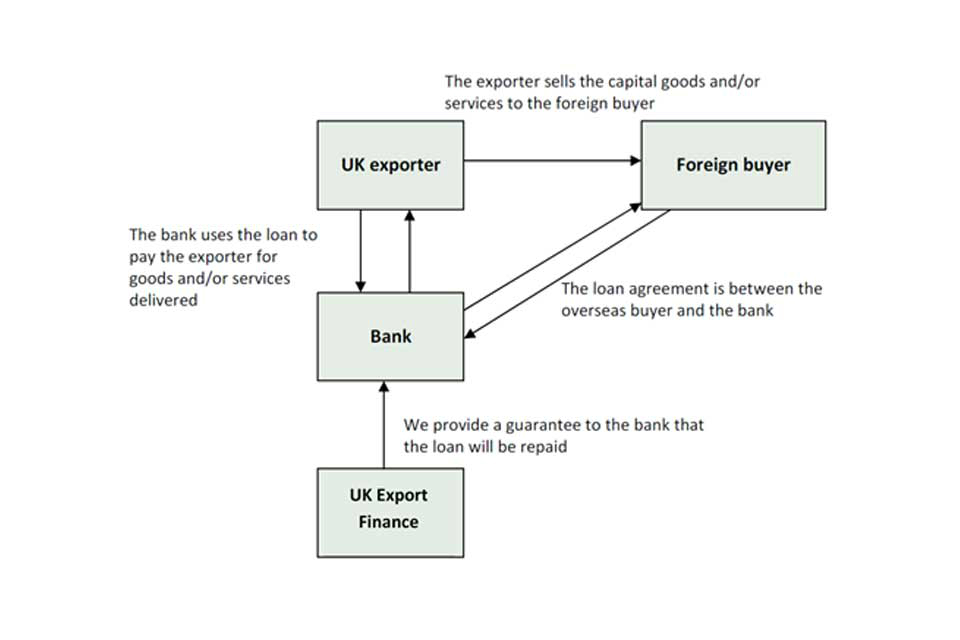 Benefits of local currency financing
The benefits of a buyer credit denominated in local currency are that:
the buyer/borrower has time to pay over a number of years at fixed or floating rates and repays in local currency
it is particularly suited to projects in sectors such as water/gas/electricity utilities, local transport, local municipalities which do not usually earn foreign currency revenue
it reduces foreign currency risk and eliminates a source of uncertainty over debt servicing cost of a loan for the overseas buyer/borrower
the bank in the buyer's country receives a guarantee from us for full repayment of the loan plus interest
Eligibility
The following criteria must be met:
the exporter must be carrying on business in the UK
the contract value must be at least the equivalent of £5 million in an acceptable local currency
there must be an acceptable financial institution to act as the loan funder/arranger/agent
Maximum amount
The maximum amount of the loan is 85% of the contract value. A minimum of 15% of the contract value must be paid directly to the exporter by the buyer before the loan starts to be repaid. Of the 15%, a down payment of at least 5% should be received upon contract signature.
We can consider support for foreign content (that is, the cost to the exporter of purchasing goods or services from sub-contractors outside the UK) of up to 80% of the export contract's value.
Term
The period for repayment of the loan must be at least 2 years.
Cost
There is no fee for the application. Premium will be paid by the borrower through the loan agreement. The amount is determined on a case by case basis.
Eligible Currencies
The following currencies are approved for local currency financing:
Australian Dollar
Bahraini Dinar
Botswana Pula
Brazilian Real
Canadian Dollar
Chilean Peso
Czech Koruna
Danish Krone
Egyptian Pound
Hong Kong Dollar
Hungarian Forint
Icelandic Krona
Indian Rupee
Indonesian Rupiah
Israeli new Shekel
Kenyan Shilling
Kuwaiti Dinar
Malaysian Ringgit
Mauritian Rupee
Mexican Peso
New Zealand Dollar
Norwegian Krone
Offshore Chinese Yuan
Omani Rial
Peruvian Sol
Polish Zloty
Qatari Riyal
Romanian Leu
Russian Ruble
Saudi Riyal
Singapore Dollar
South African Rand
South Korean Won
Swedish Krona
Swiss Franc
Thai Baht
Turkish Lira
UAE Dirham
Ugandan Shilling
Uruguayan Peso
Zambian Kwacha
We are willing to consider other currencies subject to satisfying eligibility standards.
For enquiries relating to currencies not listed above please contact customer.service@ukexportfinance.gov.uk.
Disclaimer
The above information is not intended to be a comprehensive description of Local Currency Financing and many details which are relevant to particular circumstances may have been omitted.
When considering applications, underwriters will look at each case on its merits.
This guide was last updated in November 2016.
Document information
Published: 24 November 2016
Updated: 14 September 2017
Updated to add currencies - September 2017
First published.