Guidance
Heat Networks Delivery Unit
Support and guidance for local authorities developing heat networks.
Overview
Local authorities have a key role to play in making heat networks succeed. Their involvement, particularly in the development stages, can help realise the benefits of heat networks, while also delivering jobs and growth. In order to address the capacity and capability challenges which local authorities identified as barriers to heat network deployment in the UK, the government set up the Heat Networks Delivery Unit (HNDU) in 2013.
The Heat Networks Delivery Unit provides grant funding and guidance to local authorities in England and Wales for heat network project development.
Since its inception, HNDU has run 7 funding rounds – awarding £17 million in total – and is currently running Round 8. Over 200 unique projects have so far been supported across 140 local authorities.
See the overview of government support for heat networks.
Scope
The Heat Networks Delivery Unit provides support to local authorities in England and Wales through the early stages of heat network development:
heat mapping
energy masterplanning
techno-economic feasibility
detailed project development
early commercialisation.
See the table below for details about each stage.
HNDU support does not provide funding for late commercialisation costs and costs associated with the construction, operation and maintenance of a heat network. The Heat Networks Investment Project (HNIP) is a £320m capital investment programme providing support for the capital costs of heat networks.
The process
Local authorities apply for HNDU support through bidding rounds. All bids are reviewed by HNDU assessors before final recommendations are approved by a panel of financial, commercial and policy specialists.
Grant funding is provided to successful local authorities under Section 31 of the Local Government Act. Eligible costs are defined as externally commissioned consultancy costs for heat network development work. HNDU funding comprises no more than 67% of eligible costs.
If successful, each local authority is supported by a team of specialists within HNDU.
Round 8
Round 8 is open for applications.
Round 8 is open from 17 May 2018 to 31 December 2018. For details on how to apply, please see the HNDU Round 8 guidance:
For more information on this or previous funding rounds, please see relevant documents on this page below or email hndu@beis.gov.uk. To request an application form, please email hndu@beis.gov.uk.
HNDU Pipeline
We are now publishing a quarterly HNDU project pipeline with accompanying spreadsheet summary.
Local authorities supported by HNDU
Local authorities supported by the Heat Networks Delivery Unit in rounds 1-6: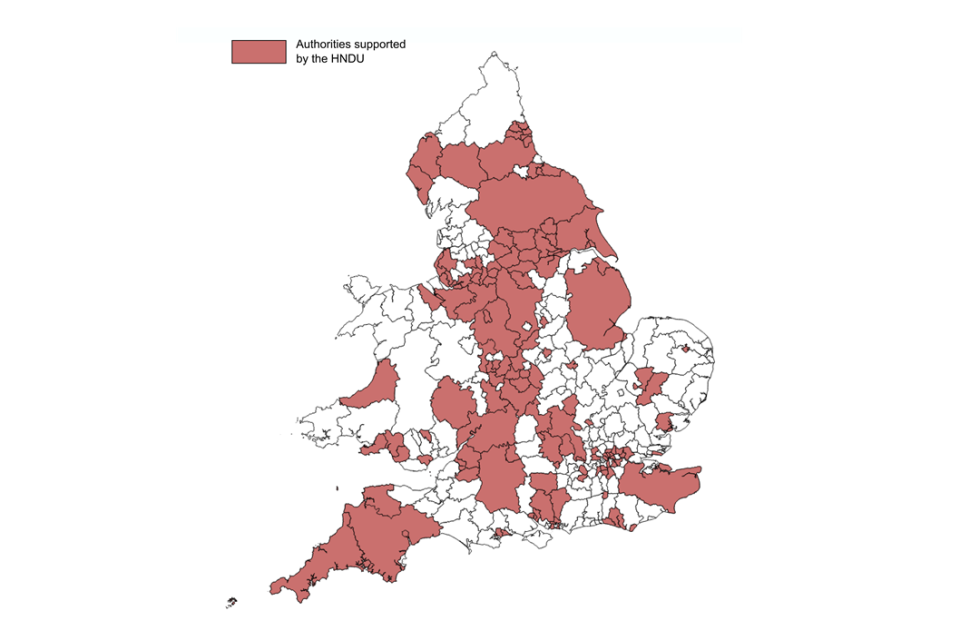 Project development stages supported by HNDU
| | |
| --- | --- |
| Phase | Detail |
| Heat mapping | Area-wide exploration, identification and prioritisation of heat network project opportunities |
| Energy masterplanning | Area-wide exploration, identification and prioritisation of heat network project opportunities |
| Feasibility study | Project specific - An increasingly detailed investigation of the technical feasibility, design, financial modelling, business modelling, customer contractual arrangements and delivery approach, up to business case |
| Detailed project development | Development of business/commercial model and financing options; development of outline business case (typically green book compliant depending on scheme size); development of detailed financial model; development of procurement strategy; further scheme design including development of proposed network route, network sizes, and customer connections, development of proposed energy centre solution and location; costing reviews to improve cost certainty; initial scoping and development of commercial agreements; soft market testing |
| Commercialisation | Reasonable legal costs such as in relation to developing customer commercial agreements, heat supply contracts, necessary land purchase, land access arrangements, etc; further development of tariff structure for customer contracts; further development of financial model and business case and associated commercial advice costs where necessary. Potential for preparatory works depending on scheme needs, assessed on a case-by-case basis |
Heat Network Guidance Documents
Heat networks: guidance for developers and supply chain
Related publications and tools
Evaluation of the Heat Networks Delivery Unit: Part 2 published April 2018
Published 15 September 2017
Last updated 16 May 2018
+ show all updates
HNDU Round 8 opens 17 May.
HNDU Pipeline documents removed from this page and republished here: https://www.gov.uk/government/publications/hndu-pipeline
First published.