Hallmarking: how businesses can comply with the law
How to comply with hallmarking law if your business supplies items described as precious metal (gold, silver, platinum or palladium).
Use the hallmarking guidance
An explanation of why precious metal items are hallmarked, the standards of hallmarking and the official symbols.
The Assay Offices have produced hallmarking guidance notes which cover:
why are precious metal items hallmarked
what needs to be hallmarked
what are the precious metal standards for hallmarking
what are the minimum requirements of a hallmark
how to get a sponsor's mark
use of more than one precious metal in an article
use of non-precious metals combined with precious metals
hallmarking gold plated silver items and Mokume Gane
exempt articles
adhesives and solder; filled hollow articles; plated articles; making an alteration to a hallmarked article
guidance on describing precious metals
use of the words 'silver', 'palladium', 'gold' and 'platinum' when used to describe base metal jewellery and watches.
Display the Dealer's Notice
Under the Hallmarking Act 1973 all dealers supplying precious metal items must display a notice explaining the approved hallmarks. This must be in the form produced by the British Hallmarking Council.
A new version, released in September 2019, became compulsory on 1 May 2020.
Display this notice in your premises where customers can see it. This applies to online retail sites as well as bricks and mortar premises. Read further guidance on selling articles of precious metal on the internet.
How to get the new notice issued September 2019
The new version is available as a free download from any of the Assay Office websites, and high quality printed versions are also available. For those requiring large quantities of notices artwork is available for retailers to produce their own signs. A version for online retailers is also now available.
The notices are available in 4 formats.
Hard copy
As previously, high quality hard copies of the Dealer's Notice will be available from the Assay Offices for a charge of £15 plus VAT and postage.
Electronic PDF file
The new notice is also available as a PDF file to download on the websites of the 4 Assay Offices, the BHC and Trading Standards. This must be printed out in black and white (minimum 300dpi, A4 size).
Online retailer version
A format for display in online shops is available, together with guidance for its display.
High resolution artwork
High resolution artwork is available electronically from each Assay Office, allowing retailers to print their own hard copies using a professional printer. Reproduction of the electronic versions must meet specific criteria.
The Dealer's Notice must be:
printed in black and white
clearly legible
printed in its entirety with no amendments, additions or deletions
printed a minimum A4 size (210 x 297 millimetres) in portrait format but can be larger if required
Assay Offices
Contact them or download from their websites: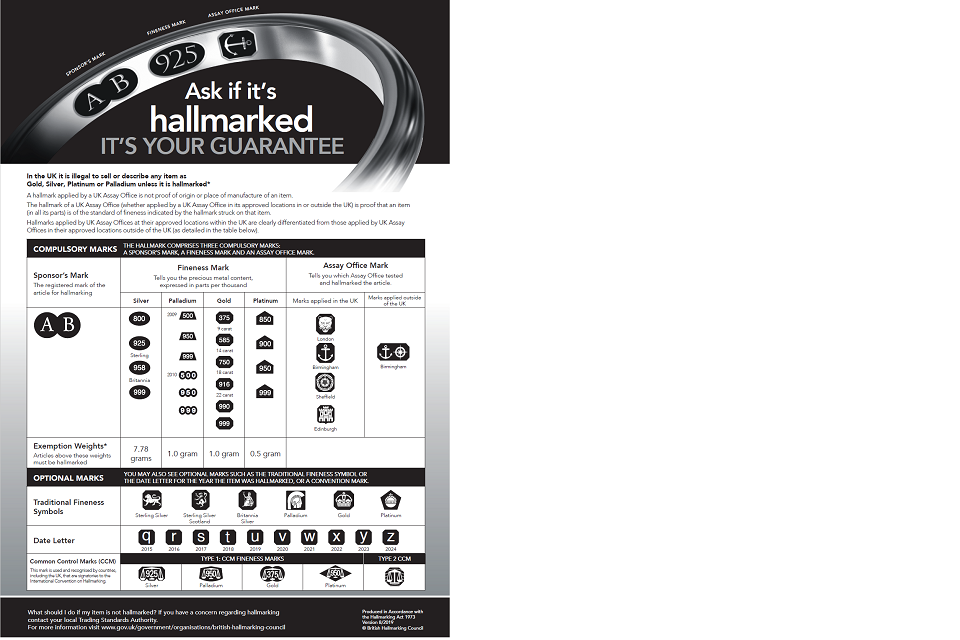 Published 23 August 2019
Last updated 23 September 2019
+ show all updates
The Dealer's Notice is being updated and the new version will be compulsory from 1 May 2020.

First published.