Information and guidance on Freeports operating within England.
1. What are Freeports?
Freeports are special areas within the UK's borders where different economic regulations apply. By delivering investment on specific sites benefitting from tax and customs incentives, Freeports will create thousands of high-quality jobs in some of our most disadvantaged communities. These sites have been carefully selected for their suitability for development by local authorities and key private partners and sit within an outer boundary, which represents the geographical location within which the benefits of Freeports are targeted and does not in itself confer any special tax, customs or other status.
Countries around the world have adopted Freeports or other kinds of Special Economic Zones (SEZs), but the government has worked in partnership with ports, businesses, local authorities, and wider stakeholders through a public consultation to develop a highly ambitious, world leading Freeports model for England.
Our Freeports model will include a comprehensive package of measures, comprising tax reliefs, customs, business rates retention, planning, regeneration, innovation and trade and investment support.
Eligible businesses in Freeports will enjoy a range of tax incentives, such as enhanced capital allowances, relief from stamp duty and employer national insurance contributions for additional employees. These tax reliefs are designed to encourage the maximum number of businesses to open, expand and invest in our Freeports which in turn will boost employment.
Freeports will benefit from a range of customs measures, allowing imports to enter the Freeport custom sites with simplified customs documentation and delay paying tariffs. This means that businesses operating inside designated areas in and around the port may manufacture goods using these imports, before exporting them again without paying the tariffs and benefit from simplified customs procedures.
Freeports will provide a supportive planning environment for the development of tax and customs sites through an extension of permitted development rights and incentivising use of local development orders.
The government will also support Freeports with innovation, with all businesses within Freeports able to access direct engagement with relevant regulators including the Freeport Regulation Engagement Network.
Here is a breakdown of the range of policy levers available to Freeports:
Tax
Eligible businesses will have access to a suite of tax reliefs including Business Rates, Stamp Duty Land Tax (SDLT), Employer National Insurance Contributions (NICs), Enhanced Structures and Building Allowance and Enhanced Capital Allowances designed to incentivise new investment within the boundaries of Freeport 'tax sites'.
Business Rates Retention
The council area in which the Freeport tax sites are located will be able to retain 100% of the business rates growth above an agreed baseline. This will be guaranteed for 25 years, giving councils the certainty, they need to borrow and to invest in regeneration and infrastructure that will support further growth.
Customs
Businesses operating within Freeport customs sites will have access to simplified customs arrangements. You can find more information using HMRC guidance on customs sites.
HMRC Freeports induction pack (PDF, 216 KB, 26 pages): guidance providing information on the tax and customs measures for businesses interested in operating within a Freeport.
HMRC Freeports business examples (PDF, 649 KB, 32 pages): a selection of business user journeys, operating within different sectors and operating models, covering both customs and tax site benefits within a Freeport.
Planning
Freeports will provide a supportive planning environment for the development of tax and customs sites through locally led measures such as Local Development Orders or permitted development right development.
Innovation
To support innovative firms to navigate regulation as they develop, test and apply new ideas and technologies, business within Freeports will enjoy direct access to relevant regulators through a Freeport Regulation Engagement Network. This will enable an early engagement between businesses and regulators, minimising bureaucracy and uncertainty. Innovation in Freeports creates new markets for UK products and services, and drives productivity improvements, bringing jobs and investment to Freeport regions.
Seed capital
Each Freeport will be granted up to £25 million of seed capital funding, primarily to be used to address infrastructure gaps in tax and/or customs sites that are holding back investment.
Trade and investment
The Department for Business and Trade will provide targeted and specific trade and investment promotion support to Freeports, helping them attract and secure investment and exporters.
As an example, some Freeports will use these levers to accelerate investment in offshore wind, which will attract national and international manufacturers and developers of offshore wind turbines. Bringing manufacturing to these areas will create well-paid jobs for local people, while also harnessing green energy to use in the freight sector supporting clean growth and helping to realise government's Net Zero ambitions by 2050.
There is no deregulatory agenda in Freeports, our Freeport model ensures that the UK's high standards with respect to security, health and safety, workers' rights, data protection, biosecurity, tax avoidance and the environment will not be compromised. Freeports – in the same way as every other business in the UK – will have to adhere to the UK's high regulatory standards. Moreover, Freeports will be subject to an annual audit, by HMRC and Border Force, to make sure security measures continue to meet the high standards expected from Freeport operators to mitigate security risks across physical, personnel, and cyber domains.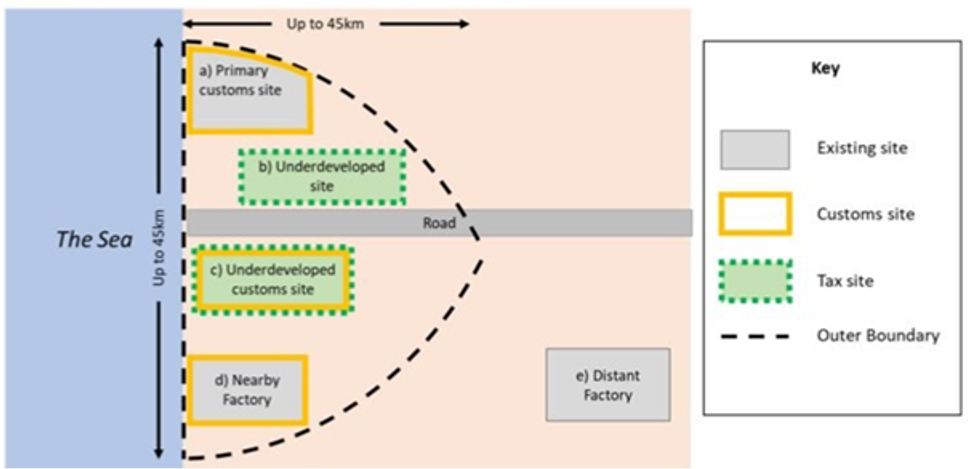 Figure 1: The image illustrates an example of a Freeport centred around a seaport. Freeport customs sites meeting the criteria can be designated at any location within the wider Freeport boundary. Although part of an existing port may be designated as a Freeport customs site, it is not a requirement to do so. Both existing premises and greenfield/brownfield sites are eligible for designation.
2. Why are they important?
Freeports will play a crucial part in our post-COVID-19 recovery, helping to build back better, driving clean growth and contribute to realising the levelling up agenda. At its core, our Freeport model has 3 objectives:
a) establish Freeports as national hubs for global trade and investment by focusing on delivering a diverse number of investment projects within the Freeport regions, make trade processes more efficient, maximise developments in production and acquire specialist expertise to secure Freeports position within supply chains.
b) create hotbeds for innovation by focusing on private and public sector investment in research and development; by being dynamic environments that bring innovators together to collaborate in new ways; and by offering spaces to develop and trial new ideas and technologies. This will create new markets for UK products and services and drive productivity improvements, bringing jobs and investment to Freeport regions.
c) promote regeneration through the creation of high-skilled jobs in ports linked to the areas around them, ensuring sustainable economic growth and regeneration for communities that need it most. Local economies will grow as tax measures drive private investment, carefully considered planning reforms facilitate construction and infrastructure is upgraded in Freeports.
3. Where are they located?
Freeport locations were selected through fair, open and transparent competitive processes.
The 8 English Freeports areas:
1. East Midlands Freeport, centring on East Midlands Airport
2. Freeport East (Felixstowe and Harwich)
3. Humber Freeport
4. Liverpool City Region Freeport
5. Plymouth and South Devon Freeport
6. Solent Freeport
7. Thames Freeport
8. Teesside Freeport
The 2 Scottish Green Freeports are:
1. Firth of Forth Green Freeport
2. Inverness and Cromarty Firth Green Freeport
The 2 Freeports in Wales are:
1. Anglesey Freeport
2. Celtic Freeport
This government will continue discussions with stakeholders in Northern Ireland about how best to deliver the benefits associated with Freeports there.
4. How we will deliver Freeports
The delivery of Freeports is locally led by a coalition of key stakeholders. These coalitions were originally formed to respond to the initial competition and have since transformed into a Freeport Governing Body responsible for delivering all aspects of the Freeport. This includes, but may not be limited to, planning, innovation, trade and investment promotion, tax site delivery and operation, customs site delivery and operation, the use of retained business rates, skills and regeneration, alignment with wider initiatives, stakeholder engagement, security and compliance, net zero, risk management in addition to monitoring and evaluation and reporting.
To support the delivery, the government is providing expertise to prospective Freeports in developing their overall strategic vision. In addition to this, the Freeports Hub is available to provide specialised, technical support to prospective Freeports.
Following successful bids, each prospective Freeport will develop an outline business case and define zones where tax reliefs and customs arrangements will apply. Each outline business case must be approved by government before a Freeport becomes operational.
Alongside completing their outline business case, prospective Freeports will work with HM Treasury and HMRC to review and confirm the boundaries of their proposed tax sites against the criteria outlined in the bidding prospectus, prior to approval and commencement of tax measures. HMRC will also complete an authorisation process for operators to run customs sites, and for businesses to operate within them.
This will be followed by a full business case, where Freeports will incorporate government feedback and supply more detail on the use of seed capital funding to assure government that public funds will be managed effectively. The first Freeport will be operational in late 2021.
November 2020: Bidding process opens in England
January 2021: Government publishes Q&A clarification documents for bidders
February 2021: Deadline for bids in England. 40 applications from sea, rail and airports
March 2021: Spring Budget, Chancellor announces 8 successful bidders
April 2021: Prospective Freeports begin developing business case and implementation plans
Late 2021 onwards: First Freeport becomes operational
5. Our partners
The government is actively working with several partners to deliver Freeports, including:
Prospective Freeports
East Midlands will be the only inland Freeport in England and create a globally connected, world-leading advanced manufacturing and logistics hub at the heart of the UK. Based around 3 complementary sites, the East Midlands Airport and Gateway Industrial Cluster (EMAGIC), Uniper's Ratcliffe-on-Soar site, and the East Midlands Intermodal Park (EMIP), the Freeport offers unique and exciting opportunities for new high-value, low carbon investment. With Net Zero, skills and innovation at its core, the Freeport is forecast to create thousands of new jobs in the region over the next 30 years and deliver £8.4 billion net additional gross added value to the UK economy.
Harwich and Felixstowe (known as Freeport East) will be centred upon the Port of Felixstowe, Harwich International Port and Gateway 14. It will be a major trade. manufacturing and green energy hub. Including the UK's largest container port and major ferry port, it connects the UK directly with markets around the world and is ideally placed to attract global investors looking to use the UK as a springboard to access European markets and beyond. As part of the East Coast Energy cluster and with instant access to the North Sea, Freeport East will support decarbonisation as a base for the manufacture and roll-out of offshore wind and a new Hydrogen Hub.
Humber will build on existing strengths of the region, including renewable energy, clean growth, and advanced manufacturing. This location has excellent connectivity to the UK manufacturing hinterland and supply chain and is ideally positioned to service the growing North Sea offshore wind industry. Key local facilities include major port complexes on both banks of the estuary such as Hull and Immingham, innovation hubs such as the Offshore Renewable Energy Catapult and the Rail Innovation Centre and is home to large scale manufacturing and processing industries.
Liverpool City Region will be a low carbon, multi-modal, multi-gateway trade platform with a network of sites attracting high value investment, supporting growth and employment to regenerate communities through industry, innovation, and collaboration. Centred on a mix of infrastructure including the deep-water container terminal at the Port of Liverpool – the UK's biggest western facing port, handling 45% of trade from the US – multiple rail heads, other water-based access, and the airport, it's the key coastal access point to the UK's largest concentration of manufacturing. Targeting key sectors including automotive, biomanufacturing/pharmaceuticals and maritime, Liverpool City Region Freeport will also support advanced manufacturing, logistics and energy.
Plymouth and South Devon will harness the power of high-value manufacturing sectors with marine, defence and space to deliver clean growth and provide high-quality future proof jobs. It will develop public and private sector partnerships between government, industry, the Port, and major landowners, and build on Plymouth's world-class assets to support innovation and research. It will attract new investment and provide supply chain opportunities across the South West, embedding commitment to tackle climate change, marine decarbonisation while generating new jobs and upskilling the local workforce. Plymouth and South Devon will provide a major uplift in investment to build a more resilient, sustainable, and productive economy.
Solent is a key location which makes it the UK's most important gateway to European and global markets, providing the closest direct access to over 70 ports globally and is a major opportunity for the UK as it seeks to develop new trading relationships. Solent has a track record in translating innovation and new technologies into commercial success. Building on long-standing relationships with 3 universities and world-class research assets, Solent will support increased research and development funding and attract investment specifically targeted at state-of-the-art growth sectors and ground-breaking approaches to decarbonisation and green innovation.
Teesside Freeport, covering 4,500 acres, will be Britain's biggest Freeport. It will stretch across the whole region and includes Teesworks, Wilton International, Teesside International Airport, Middlesbrough and Hartlepool, Liberty Steel, LV Shipping and the east coast of England's deepest port, RBT. It is the equivalent to 2,550 football pitches and is estimated to bring a £3.2billion boost to the economy. The Freeport complements the region's ambitions to develop an innovative, low carbon cluster building on strengths in the process, manufacturing, and offshore industries. Complementing this size and scale are excellent transport links, making it the UK's best connected freeport and a gateway to global markets via air, sea, rail and road.
Thames covers 1,700 acres of development land at the heart of Europe's largest consumer market, it is served by first-class onward road, rail and marine connections, alongside investment promotion, trade facilitation, skills development and automation services. Alongside this, it is supported by a dedicated Innovation Hub and local authorities committed to economic growth. Thames will grow clusters in manufacturing, logistics and clean energy, bringing investment into automated and electric vehicles, renewable energy and battery storage. Thames will see direct investment into upskilling local workers and piloting new technologies, and a targeted investment promotion strategy to transform strong economic foundations into centres of excellence.
Government partners
The Department for Business and Trade is working with prospective Freeports in England to establish a clear and relevant trade and investment approach. Ongoing engagement is focused on identifying key markets, developing each Freeport's trade and investment strategy, and identifying relevant and structured support that adds value to Freeport's existing services.
HM Revenue & Customs is responsible for the design, delivery and ongoing monitoring of the customs processes and procedures within Freeports, including authorisations and facilitation of goods movements; as well as the 4 direct tax measures:
Stamp Duty Land Tax (SDLT)
Employer National Insurance Contributions (NICs)
Capital Allowances; Enhanced Structures and Building Allowance and Enhanced Capital Allowances
The Department for Business, Energy and Industrial Strategy together with Innovate UK is responsible for delivering the UK Innovation Strategy, which aims to create the conditions for all businesses – including those within Freeports – to innovate and give them the confidence to do so.
As part of this, it is responsible for the Freeports Regulation Engagement Network (FREN) that will help innovative businesses within the Freeports to overcome the challenges of understanding regulation as they develop, test and apply new ideas and technologies. The network is intended to launch as Freeports become operational. The Department for Business, Energy and Industrial Strategy champions innovation, clean growth and net zero goals and is responsible for engagement to help Freeports play a role in meeting those goals.
The Department for Transport is responsible for engagement with the transport stakeholders to make sure all sure the core objectives align with existing departmental objectives and once operational, Freeports can successfully be integrated into the wider transport sector. Freeports support the Department for Transport's ambition for a freight strategy which builds on the UK's status as a global facing port nation. Freeports will amplify UK ports of all modes as hubs for innovation and investment, transforming our freight systems.
External partners
We are also working alongside the Freeports Hub, made up of consultants from a consortium led by  PA Consulting  alongside WSP and Locus Economica. The Freeports Hub provide specialised, technical support package to prospective Freeports. The consortium  was chosen as the supplier in an open and fair competition and have hands-on experience of delivering successful economic and industrial zones in multiple locations around the world.  
6. Can I benefit from a Freeport?
Guidance on investing in, operating or using a Freeport:
Watch a recorded webinar about UK Freeports and the possible benefits of locating in a Freeport customs site. You will:
get an overview of UK Freeports
find out about possible tax and customs benefits for 2 different businesses
General information on the available tax reliefs:
7. Key documents
8. Contact us
Published 27 October 2021
Last updated 23 March 2023
+ show all updates
Updated to reflect the 2 new Freeports announced in Wales: Anglesey Freeport, and Celtic Freeport.

Added link to HMRC Freeports business examples.

Added guidance providing information on the tax and customs measures for business interested in operating.

Added link to Freeports monitoring and evaluation strategy.

Added links to English Freeports: full business case guidance; and English Freeports: setup phase and delivery model guidance.

First published.