Guidance
Export Refinancing Facility
How the Export Refinancing Facility works, its benefits, eligibility and how to apply.
Overview
The Export Refinancing Facility (ERF) is an add on to UK Export Finance's standard Buyer Credit, in that it provides:
an undertaking to the bank that UK Export Finance will purchase the export loan by a given time; and
an undertaking to the borrower that UK Export Finance will provide a repayment guarantee for bonds issued (or other replacement refinancing) to refinance the loan
The ERF is available to banks funding non-sterling Buyer Credit Loans, typically with values above £50m that are intended to be refinanced through the debt capital markets (DCM) or other commercial loans. Such re-financings are priced competitively as a result of UK Export Finance's Guarantee of Payments Scheduled Principal, and interest due under the bonds.
Should such commercial refinancing be unavailable, UK Export Finance provides certainty to the borrower and to the banks that it will fund the loan until such time as markets reopen.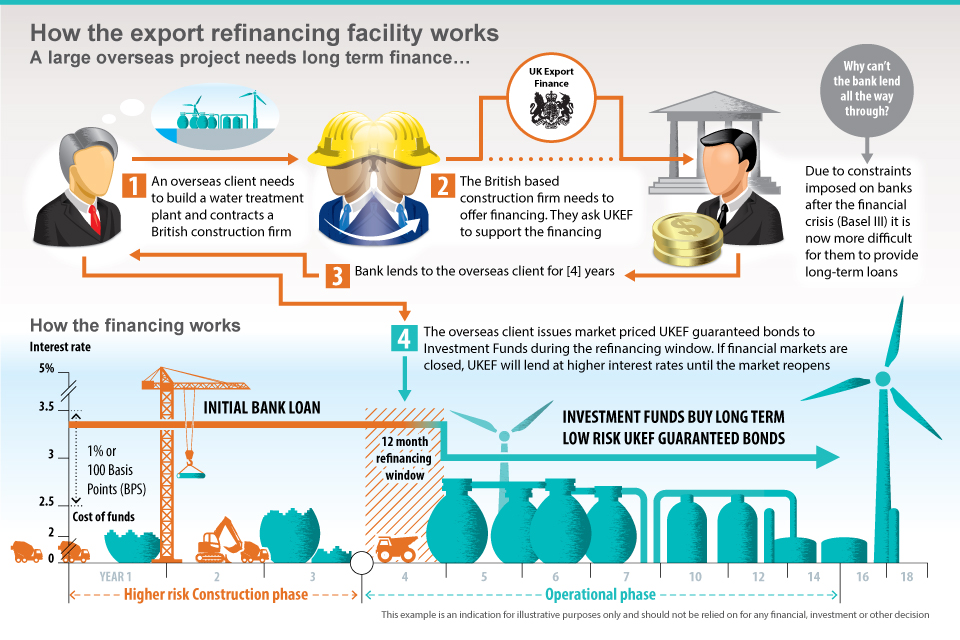 Full screen view of this infographic
Eligibility
The following criteria must be met:
the exporter must be carrying on business in the UK
loans to overseas borrowers in the EU are not eligible under the scheme
the loan value must be the equivalent of at least £50 million in a commercial non-sterling currency with a substantial investor base
if UK Export Finance is required to purchase the loan, a higher rate of interest (agreed at the outset) will be applied
How it works
The first diagram (below) shows how UK Export Finance provides a Buyer Credit Guarantee/ERF to a lender in support of the purchase by an overseas buyer of capital or semi-capital goods/services from a UK exporter.
The second diagram shows the expected refinancing arrangement, with the third diagram showing UK Export Finance taking out the loan, typically during a period of market disruption. For example, ERF provides the commercial bank confidence that one year after the final draw down, the loan will be taken out by UK Export Finance if it has not already been refinanced. Any UK Export Finance 'take out' is intended to be temporary, with the loan refinanced as and when markets return to normal.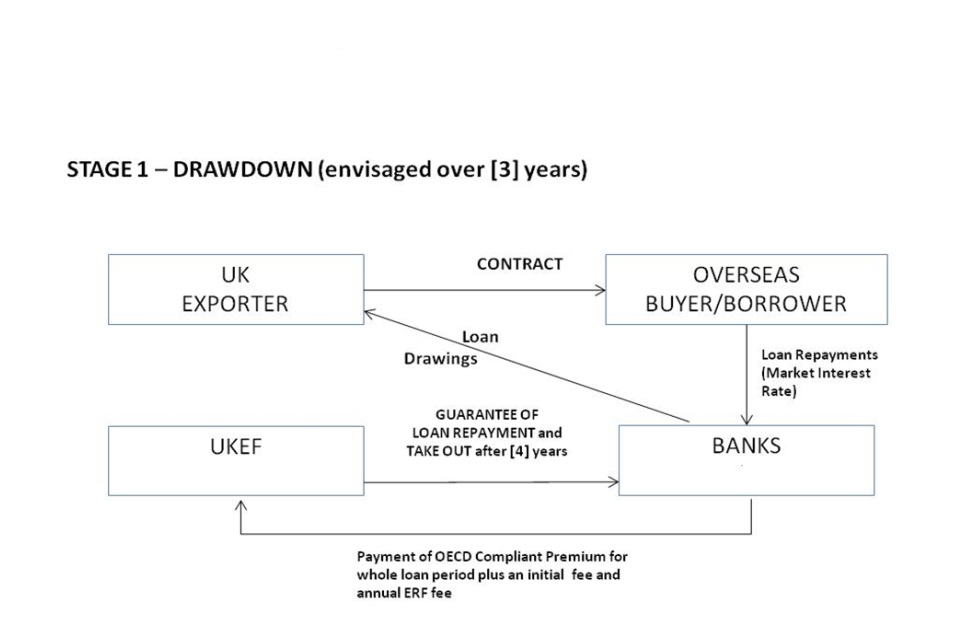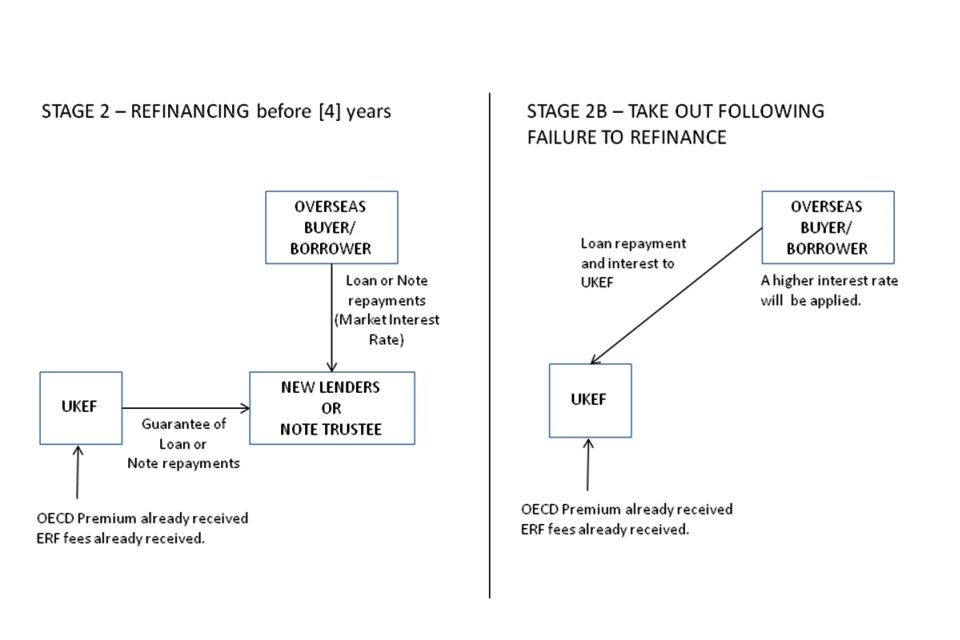 How to apply
It is recommended that you discuss the ERF with your bank before submitting an application.
The steps to apply for an ERF (Buyer Credit) facility are:
Read the
to check this is the facility you need.
Read the guide for applicants on business processes and factors to find out how we make decisions on applications.
Read the
related to the export contract we are asked to support, which includes what is meant by credit terms, what terms can be agreed, the amount of credit that can be supported, starting point of credit, length of credit and repayments of credit.
Read the quick guide to recourse which includes what recourse is, when it is sought and required, when we exercise recourse, from whom it is sought, the amount of recourse, release from recourse and the Lloyds recourse indemnity policy.
Use our country cover indicators tool to find out what cover is available for the country you want to do business in.
Contact customer services using the details below, to obtain an indication of how much premium you will need to pay.
Fill in the
and .
Fill in the sustainable lending questionnaire if necessary (the country cover indicators tool will tell you if you need to fill it in).
Send your application form and supporting documentation to the Business Group. The address is:
Business Group
UK Export Finance
1 Horse Guards Road
London
SW1A 2HQ

Please note that, as of 24 April 2017, UK Export Finance no longer offers the option for exporters to request Security of Information Arrangements ("Special Handling Arrangements") with regards to the provision of Agent's identities. Application forms on this page will be updated in due course. Applicants must therefore provide all the information requested in respect of any Agent.
Benefits of an Export Refinancing Facility
The benefits are:
the lending banks have a shorter term funding commitment and can adjust their loan pricing accordingly
the buyer or borrower has the opportunity to refinance the loan over a number of years at a (debt capital markets or other commercial) fixed rate of interest
the buyer/borrower can arrange a DCM or commercial refinancing placement during draw down of the buyer credit loan, and up to 12 months after the scheduled final draw down
If commercial refinancing has not taken place as scheduled, UK Export Finance will take over the loan at a higher rate of interest until such time as a refinancing occurs.
Maximum Amount
The maximum amount of the loan is 85% of the export contract's value. A minimum of 15% of the contract value must be paid directly to the exporter by the buyer before the loan starts to be repaid. Of the 15%, a down payment of at least 5% should be received upon contract signature.
We can consider support for foreign content (that is, the cost to the exporter of purchasing goods or services from sub-contractors outside the UK) of up to 80% of the export contract's value.
Term
The period for repayment of the loan must be at least 7 years.
Contact
New business enquiries
Our helpline is open from 9am to 5pm.
Disclaimer
This webpage has been prepared for information purposes only and does not constitute legal, financial or investment advice. Any party entering into a legal agreement should obtain comprehensive legal and financial advice. This document does not constitute an offer or commitment of any kind on the part of Her Britannic Majesty's Secretary of State acting by the Export Credits Guarantee Department ("UK Export Finance") to provide a guarantee, to enter into any form of financing or other transaction or to otherwise act, and is not intended to create any legally binding obligations. Any decision to provide such a guarantee or enter into any such transaction will be subject to, among other things, all necessary internal approvals and consents (including credit approval), satisfactory due diligence and definitive final documentation. The terms set out in this document are indicative only. The final terms of any guarantee or commitment provided by UK Export Finance will be modified to reflect the individual circumstances of the transaction of which it forms part and of the parties thereto and will be subject to the final determination and approval of UK Export Finance. This document does not constitute nor does it form part of an offer to sell or purchase, or the solicitation of an offer to sell or purchase, any securities or an offer or recommendation to enter into any transaction.
Published 19 March 2014
Last updated 24 April 2017
+ show all updates
Change to Security of Information Arrangements
First published.